Every Marvel fan is still emotionally recovering from the Multiverse Marvel movie Spider-Man: No Way Home (2021) that saw the return of Tobey Maguire and Andrew Garfield's respective Marvel characters to the big screen. To keep the secret under wraps, the two couldn't attend the movie's official premiere but still made a public appearance that only a few fans documented.
Related: Andrew Garfield Reveals He Improvised One Of The Best Lines From 'Spider-Man: No Way Home'
Seeing your favorite celebrity in the "real world" is a treat for fans. Still, when you spot Marvel legends Tobey Maguire, Andrew Garfield, and No Way Home director Jon Watts in Los Angeles the night Spider-Man swung into theaters is something else:
My heroes. #SpiderManNoWayHome
My heroes. #SpiderManNoWayHome pic.twitter.com/1u7LO137Bx

— Matt Ramos (@therealsupes) January 8, 2022
Related: Marvel's Simu Liu Comments On Role In 'Spider-Man: No Way Home'
To the left of "Spider-Men" Maguire and Garfield is director Jon Watts, with Marvel producer Amy Pascal being on his left, but unfortunately cropped out of the picture for an unknown reason.
The Spider-Verse is here, and fans were eager to find any signs of these two stars being around the opening night of No Way Home. Rather than attending the red carpet event, Garfield and Maguire snuck into local theaters dressed as they are above and watched crowd reactions to their Marvel appearances without anyone catching them!
Related: Marvel's 'Secret Invasion' Cast List Teases Big Name MCU Cameos
It's been 14 years since Tobey Maguire swung across the big screen as his iconic Marvel character, with Andrew Garfield waiting nearly a decade before putting on the suit again.
Garfield finally talked publicly about Spider-Man: No Way Home, sharing his excitement about his initial talks with Kevin Feige to join the ground-breaking project:
Andrew Garfield > everyone
Andrew Garfield > everyone pic.twitter.com/13dRwnkRnu

— Matt Ramos (@therealsupes) January 8, 2022
Related: Marvel's Kevin Feige Confirms Charlie Cox is Returning as Daredevil
Since jumping through those portals, Maguire and Garfield have been breaking trending records on social media platforms like Twitter, with fan campaigns for a The Amazing Spider-Man 3 (#MakeTASM3) being the next Snyder Cut.
Multiple reliable sources claim that Sony Pictures and Marvel Studios are bringing back both Garfield and Maguire, with the addition of Emma Stone returning as Spider-Gwen from an alternate universe:
Not only Andrew they want Emma Stone back as well
Not only Andrew they want Emma Stone back as well

— MyTimeToShineHello (@MyTimeToShineH) January 8, 2022
Related: 'Endgame' Director Celebrates Tom Holland 'Spider-Man' at Disneyland
The Marvel Collection is expanding with the Multiverse, but the adventures of these iconic characters aren't over yet. We'll reportedly hear updates on Maguire and Garfield's subsequent appearances as the superhero Spider-Man within the year!
More about Spider-Man: No Way Home
In Marvel's Spider-Man: No Way Home, Tom Holland (Peter Parker/Spider-Man) and Zendaya (MJ) are joined by Benedict Cumberbatch (Doctor Stephen Strange), Jon Favreau (Happy Hogan), Marisa Tomei (Aunt May), Jacob Batalon (Ned Leeds), and the villain with great power Alfred Molina's Doctor Octopus.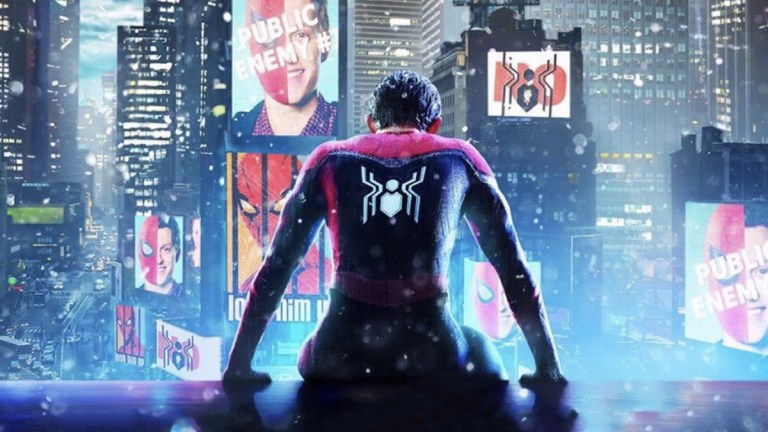 Related: Chloe Zhao Officially NOT Directing Any 'Star Wars' Movie, Fans Rejoice
The Marvel Universe is becoming much more than iconic characters/Earth's Mightiest Heroes like Star-Lord/Peter Quill (Chris Pratt), Iron Man (Robert Downey, Jr.), Captain America (Chris Evans), Thor (Chris Hemsworth), Doctor Strange (Benedict Cumberbatch), the Winter Soldier (Sebastian Stan), Hawkeye/Clint Barton (Jeremy Renner), Black Widow/Natasha Romanoff (Scarlett Johansson), and Captain Marvel/Carol Danvers (Brie Larson).
Related: Production on Nick Fury Series Could Start in 2021!
Tom Holland's Avenger is leading the way for Marvel Cinematic Universe newcomers Kate Bishop,  Ms. Marvel/Kamala Khan (Iman Vellani), Moon Knight (Oscar Isaac), Agatha Harkness (Kathryn Hahn), She-Hulk (Tatiana Maslany), Eternals' Thena (Angelina Jolie), and more — especially with his next Spider-Man trilogy that's currently in the works.
Did you like No Way Home? Let us know in the comments below!