Every Daredevil (2018) and even Marvel fan was shocked to see Matt Murdock (Charlie Cox) appear as Peter Parker's (Tom Holland) attorney in Spider-Man: No Way Home (2021). However, many fans questioned the short amount of screen time the Marvel character received, and shocking new details reveal that Marvel cut numerous interrogation and court hearing scenes featuring Matt Murdock.
Related: Andrew Garfield "Definitely Open" to Returning as Spider-Man "If It Felt Right"
Everyone's favorite lawyer from Hell's Kitchen of Marvel's New York joined the list of groundbreaking appearances in No Way Home, including Tobey Maguire and Andrew Garfield hopping back in the suits as their iconic characters.
Fans noticed numerous changes from official trailers to the final cut of the Multiverse Marvel movie. Still, new details report that multiple scenes featuring Matt Murdock were cut from the film:
#SpiderManNoWayHome Leaked Deleted Scenes/Alternate Ending
Potential 4chan #SpiderManNoWayHome Leaked Deleted Scenes/Alternate Ending pic.twitter.com/3e9mFSATTO

— Spider-Man NWH Updates and Leaks 🕷🕸 (@Spider_Leaks) December 28, 2021
Related: Owen Wilson Reportedly Set to Reprise 'Loki' Role in 'Doctor Strange 2'
In the photo above, you can see countless epic moments that were unfortunately shelved for the sake of running time for the two-and-a-half-hour-long movie. However, please take this photo with a grain of salt, as there is no confirmation that it is accurate. But, it's worth noting that the Lexi Rabe section aligns with her confession that her filmed scenes were cut, as well as early reports of a much longer apartment scene featuring Matt Murdock/Daredevil.
Nonetheless, you can read,
Exteneded version of Peter's interrogation where Matt Murdock arrives to demand Peter's release.
Related: Marvel's Simu Liu Comments On Role In 'Spider-Man: No Way Home'
Hold the phone; the scene mentioned above was THE Matt Murdock entrance that countless fans speculated and theorized over before Spider-Man: No Way Home officially hit theaters, channeling the Murdock we see in Daredevil and Defenders (2017).
Related: Marvel's 'Secret Invasion' Cast List Teases Big Name MCU Cameos
Another deleted scene reads,
Peter's court hearing, where Matt proves Peter's innocence, but Peter's Stark Tech is apprehended by Damage Control.
Related: Tragedy Strikes as Marvel Comics Are Lost and Ruined
Another thrilling moment that was supposed to occur in No Way Home was Peter Parker's public hearing, one that Murdock alludes to in Aunt May's apartment during his brief moments in the current version of the movie.
Here, fans would have witnessed Murdock in action, which every Daredevil fan was hoping for.
Cutting this scene creates a massive plothole, as Peter Parker is theoretically free to go after being framed and most likely charged with the murder of Quentin Beck/Mysterio (Jake Gyllenhaal).
We never get to see the charges dropped against Peter, leading to confusion and a bit of disappointment among fans.
This isn't to say that No Way Home isn't a good Marvel movie because it's excellent. Considering that massive volume of positive ratings from critics and fans — and the fact that it's listed among IMDb's Top 10 movies of all time helps too!
Hopefully, we'll get to see these deleted scenes in the extended version of the movie on its Blu-Ray release, which is reported to release in Spring 2022. You can pre-order it here.
More about Spider-Man: No Way Home
In Marvel's Spider-Man: No Way Home, Tom Holland (Peter Parker/Spider-Man) and Zendaya (MJ) are joined by Benedict Cumberbatch (Doctor Stephen Strange), Jon Favreau (Happy Hogan), Marisa Tomei (Aunt May), Jacob Batalon (Ned Leeds), and the villain with great power Alfred Molina's Doctor Octopus.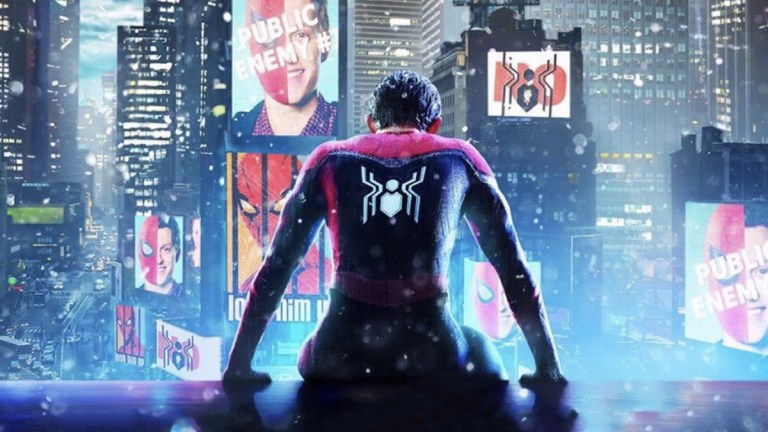 Related: Chloe Zhao Officially NOT Directing Any 'Star Wars' Movie, Fans Rejoice
The Marvel Universe is becoming much more than iconic characters/Earth's Mightiest Heroes like Star-Lord/Peter Quill (Chris Pratt), Iron Man (Robert Downey, Jr.), Captain America (Chris Evans), Thor (Chris Hemsworth), Doctor Strange (Benedict Cumberbatch), the Winter Soldier (Sebastian Stan), Hawkeye/Clint Barton (Jeremy Renner), Black Widow/Natasha Romanoff (Scarlett Johansson), and Captain Marvel/Carol Danvers (Brie Larson).
Related: Production on Nick Fury Series Could Start in 2021!
Tom Holland's Avenger is leading the way for Marvel Cinematic Universe newcomers Kate Bishop,  Ms. Marvel/Kamala Khan (Iman Vellani), Moon Knight (Oscar Isaac), Agatha Harkness (Kathryn Hahn), She-Hulk (Tatiana Maslany), Eternals' Thena (Angelina Jolie), and more — especially with his next Spider-Man trilogy that's currently in the works.
What do you think about Spider-Man: No Way Home? Let us know in the comments below!