** SPOILER ALERT** Contains SPOILERS for 'WandaVision' Episode 5
I didn't see that coming.
The Marvel Cinematic Universe just created what might be one of the most extraordinary crossover events in film history. Despite the groundbreaking Luke Skywalker cameo (CGI de-aged Mark Hamill) in The Mandalorian Season 2 finale episode, Marvel just rolled the dice and came up a big winner with its shocking moment.
No one was prepared to end WandaVision's episode 5, not even the studio behind the scenes.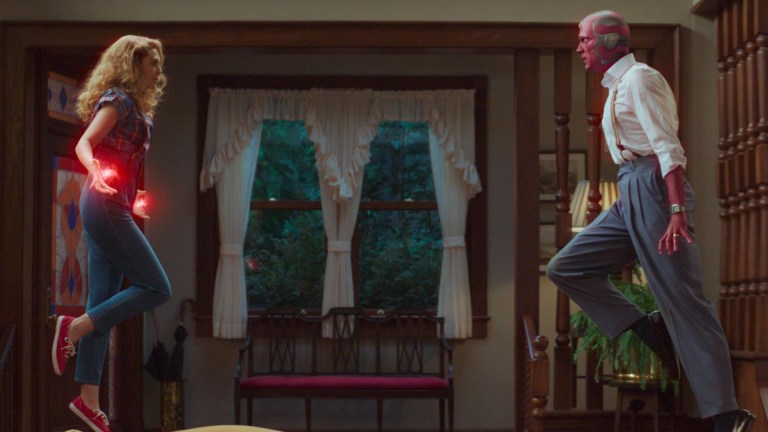 Related: 'WandaVision' Easter Egg May Reveal Agnes's True Identity
Okay, so, wow. Earlier this week, actress Elizabeth Olsen couldn't contain her excitement for a special cameo appearance in her WandaVision series, claiming it was on par with Luke Skywalker's unexpected arrival. If the cameo she hinted to was the one in episode 5, "On a Very Special Episode…", Olsen was on the nose.
A whole slew of events took place in episode 5, including more context and exposition about Westview's altered reality and Elizabeth Olsen's Scarlet Witch. The sitcom series flashed forward to a tubular 1980s theme, showcasing spandex, Jazzercise, big hair, and neon! Not only did Wanda and Vision's twins grow to 10-years-old in a day, but they also got a dog.
Of course, Agnes, the Vision residence's "Nosy Neighbor," popped up at the most convenient times. On top of that, she's the first Westview citizen (not counting Monica Rambeau's Geraldine) to hear about Wanda's powers.
Despite learning that Wanda broke into SWORD headquarters to steal Vision's corpse and proceeded to hijack "Westview's" citizens, Paul Bettany's Vision finally caught onto Wanda's game. Tapping into co-worker Norm's psyche, the titular character learned that their idealized suburban lives weren't so perfect. Confronting his Avenger wife about the matter — whose children also ratted her out in front of Agnes –, Vision realized that Wanda's powers were beyond even his control.
However, no one expected the return of her late brother Pietro Maximoff — who's been "recast," as Darcy Lewis (Kat Dennings) noted.
Related: A Post-Credit Scene For 'WandaVision' Could Be Coming
Excuse me, I need a moment. I'm holding back tears as I write. Though it seems I'm hopping onto the "Quicksilver's the best!" bandwagon, I've been a loyal fan of Evan Peters's Quicksilver character from the X-Men franchise since his on-screen debut in 2014. Peters later returned for X-Men: Apocalypse, Deadpool 2, and Dark Phoenix, gaining a massive following.
Since the actor's name was attached to Marvel Studios' WandaVision last year, every Marvel fan began speculating about Quicksilver's return, but nobody necessarily expected it to happen quite like this. Right when Wanda's bubble officially popped and Infinity War seemed to repeat itself, the doorbell rang. Every big Marvel fan instantly recognized the back of one person's silver head. The classic sitcom welcomed the young Avenger with applause while fans across the world screamed.
Elizabeth Olsen's Scarlet Witch was as surprised as any Marvel fan.
What started as a fan theory became official after The Walt Disney Studios acquired 20th Century Fox (now 20th Century Studios) in 2019 for a reported $71.3 billion. Then-Disney CEO — and acting Executive Chairman — Bob Iger's biggest gamble quickly turned into an entertainment industry revolution.
The Mouse House officially added the Fantastic Four, X-Men, and Deadpool to their Marvel library. On top of that, The Simpsons and James Cameron's Avatar officially joined Mickey and the gang.
Related: Is David Schwimmer in 'WandaVision'? Fans Have the Answer
Every Marvel fan was left speechless seeing Pietro's return, but the fact that it's 20th Century Studios' Quicksilver just confirmed something huge: the Multiverse. No, J.J. Jamerson's cameo in Spider-Man: Far From Home wasn't the start of the Multiverse (or was it?!). Wanda's powers are growing out of control, so much so that she seemingly reincarnated her late-brother.
Quicksilver's introduction into the Marvel Cinematic Universe was a long process, and it came at a pretty penny. While it may seem misleading, this crossover between the X-Men and the Marvel Cinematic Universe cost $71.3 billion. In no way would 20th Century Fox let go of the Mutants without selling the entire company (which they did).
Did Disney purchase 20th Century Studios just to crossover Marvel characters? The short answer is no. However, it must have been part of Disney's overall plan with Marvel's head honcho Kevin Feige.
The Heskicks video below explains the situation:
Me: Explaining who Quicksilver is to my wife who hasn't seen Xmen or Marvel movies… pic.twitter.com/SDjzSPgwEE

— Heskicks (@Heskicks) February 6, 2021
So, two studios owned Quicksilver, but they looked completely different? While the truth is confusing, Quicksilver's recast from actor Aaron Taylor-Johnson to Evan Peters just tore the Marvel Cinematic Universe wide open in a whole new way.
Now, all we need is Doctor Strange on the tv series , and Tobey Maguire could appear in no time!
Did this scene blow you away? Let us know in the comments below!