Sci-fi fans have long waited for a reboot of the cult-classic Dune (1984), and 2021 will finally be the year we can see Dennis Villeneuve's (Arrival, Blade Runner 2049, Sicario, Prisoners) ambitious take on the franchise. With no Star Wars feature film releasing in 2021 — and considering the Star Wars sequel trilogy debacle — Dune (2021) could very well save the science fiction genre.
Related: There's a New 'Star Wars' Trilogy (and It's Better Than Ever)
Not familiar with Dune? No worries, here's a synopsis from IMDb:
A mythic and emotionally charged hero's journey, "Dune" tells the story of Paul Atreides, a brilliant and gifted young man born into a great destiny beyond his understanding, must travel to the most dangerous planet in the universe to ensure the future of his family and his people. As malevolent forces explode into conflict over the planet's exclusive supply of the most precious resource in existence-a commodity capable of unlocking humanity's greatest potential-only those who can conquer their fear will survive.
Virtually, a colony of royal space peacekeepers travels to a rogue and cursed planet to collect a precious and highly addictive substance called "Melange" (AKA Spice). While Paul Atreides, son of King Leto Atreides I, supports his father's endeavors, the King is suddenly killed by The Baron, a rival ruler searching for Spice. It's very nerdy (nerdier than Lord of the Rings, folks).
Unlike Star Wars, with its obvious tension between the light side and the dark side of the Force and thrilling space battles throughout the galaxy, Dune's novelization and 1984 film adaptation are a slow, in-depth look at the end of innocence and  coming-of-age tensions due to political motives told through a fictional space war. Think Rebel Without a Cause meets The Lion King, but both are introduced to Lawrence of Arabia.
Dune will showcase a powerhouse of talent with Oscar-nominated Timothée Chalamet (Lady Bird, Little Women, Interstellar) and Golden Globe Winner Zendaya (Spider-Man: Far From Home, The Greatest Showman) playing the lead roles of Paul Atreides (Muad'dib) and Chani. Starring alongside them is Rebecca Ferguson (Mission Impossible: Rogue Nation, The Greatest Showman), Oscar Isaac (Drive, Star Wars: The Force Awakens, Ex Machina), Jason Momoa (Aquaman, Game of Thrones), Dave Bautista (Guardians of the Galaxy, Blade Runner 2049, Spectre), Stellan Skarsgård (Good Will Hunting, Pirates of the Caribbean: Dead Man's Chest), Javier Bardem (No Country for Old Men, Skyfall), and Josh Brolin (Goonies, Avengers: Infinity War, No Country for Old Men).
Okay, wow. Give that cast one more look. There arguably hasn't been an ensemble cast like this since The Lord of the Rings trilogy.
With these actors and ambitious overall project comes a high budget — and Warner Bros. has not spared a penny as Dune reportedly received a $165 million budget. Oscar-winner Hans Zimmer (The Lion King, Interstellar, Inception) is set to compose the film's score, adding to the upcoming space-opera's overwhelming amount of name recognition.
While Dune may seem only to captivate a small demographic (middle-aged men who grew up with the graphic novel, Star Trek, and Battlestar Galactica, AKA Dwight Schrute from The Office), the new take on Dune looks as though it could be more captivating and thrilling than recent Mission Impossible and James Bond films.
That's a good thing since the science-fiction genre in the film is in dire need of repair. It's no secret that the Star Wars Skywalker Saga's sequel trilogy caused a rift in the galaxy, dividing fans of both Star Wars and science fiction at large. There's a blurred line between the genre and films that take place in space. For instance, Interstellar is a fantastic movie by legendary director Christopher Nolan (The Dark Knight, Inception, Tenet). The film is technical "science-fiction" but didn't feature the stereotypes of deadly space creatures or otherworldly antagonists (other than Matt Damon's character). Still, the movie stands out and captivates audiences of all generations.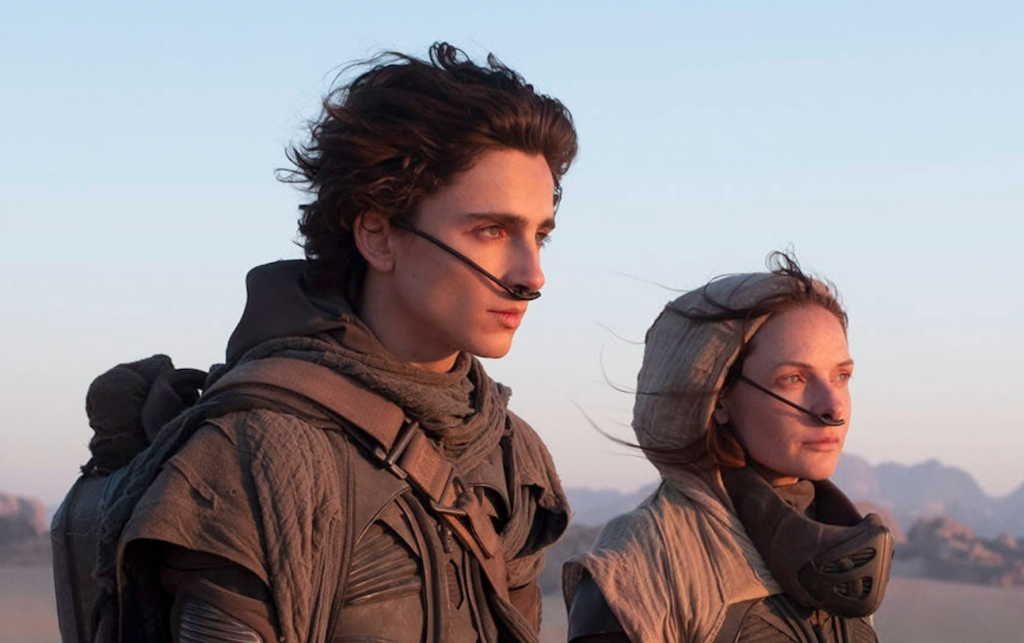 Related: Should Disney Buy 'Lord of the Rings' (And Add It to the Parks)?
Denis Villeneuve's Dune can re-introduce audiences back to the "nerdiness" of unrealistic space creatures and deep-dive storylines, while offering a visually stunning setting that will appeal to audiences who may not typically enjoy this type of film.
While there is no Star Wars film set to release this year, Disney and Lucasfilm have announced at least 11 new Star Wars streaming series over the next few years — The Book of Boba Fett and Star Wars: The Bad Batch are set for 2021 release dates — and three feature-length movies in the works.
However, Star Wars has a cemented reputation with a comfortable audience. Everything about the Star Wars universe is known through canon and Legends tales. These stories are often retold or introduced in new and thrilling mediums, but Dune is unique.
The creative team behind it can tell the perplexing and psycho-political drama in a fresh and easy-to-understand manner that speaks to moviegoers of all generations.
Warner Bros. has real potential with Dune, as it can help save sci-fi and, potentially, outdo recent Star Wars feature-length films. There's a concrete storyline with a passionate cast, crew, and production studio (who hopefully aren't forced to make significant edits).
While Warner Bros. has cast in a negative light lately due to film flops like Wonder Woman 1984, there's a chance to redeem themselves through Dune.
Dune was rescheduled to an October 2021 release date in select theaters and will be available for at-home screening options through HBO Max.
Do you think Dune can top recent Star Wars films? Let us know in the comments below!
Editor's Note: The opinions expressed in this article do not necessarily reflect the opinions of Inside the Magic overall.