Star Wars fans are one with the Force after Disney and Lucasfilm confirmed OBI-WAN KENOBI: An Original Series is set for a 2022 release on Disney+. Star Wars: Episodes I-III actors Ewan McGregor (Obi-Wan Kenobi) and Hayden Christensen (Anakin Skywalker/Darth Vader) are set to return as their iconic Skywalker Saga characters, and fans can't wait to see how the series will dive deeper into their broken relationship.
Related: Fans Call For Change at Lucasfilm After Exec Mocks 'Star Wars' Fan
The tail-end of Star Wars: Episode III – Revenge of the Sith (2005) showcased the fall of Anakin Skywalker and his seduction to the dark side by Sheev Palpatine, as well as the execution of the Jedi through Order 66. On the planet Mustafar, Obi-Wan Kenobi was forced to duel his Padawan — now Sith Lord Darth Vader — and leaves his "brother" badly injured and drowning in rage (pretty savage for such a reserved dude).
For years, fans begged Lucasfilm to make a Star Wars movie centered around Obi-Wan Kenobi. Many wondered how the Jedi Master hid from the Empire, took on the pseudonym Ben Kenobi, and learned how to disguise his Force connection to Anakin Skywalker.
While Star Wars: The Clone Wars season eight offered a detailed look into the end days of Anakin Skywalker, Star Wars fans still weren't satisfied. Darth Vader did make a brief appearance in The Clone Wars' series finale, and the sith lord was completely under Palpatine's control. From that point on, Disney kept quiet on Vader would appear again on future Disney+ Star Wars series.
The Mandalorian paved the way for an Obi-Wan Kenobi series, with the inclusion of numerous Star Wars canon and Legends characters, such as Ashoka Tano (Rosario Dawson), bounty hunter Boba Fett (Temuera Morrison), and the mention of Grand Admiral Thrawn.
And, now, Star Wars fans are receiving the perfect mixture of the prequel trilogy and original trilogy.
Related: 'Mandalorian' Spinoff Could Potentially Erase 'Star Wars' Sequels
OBI-WAN KENOBI: An Original Series is in no way a Mandalorian spinoff, but rather the godfather of all Star Wars Disney+ series (or maybe even recent Star Wars movies).
Star Wars fans were taken aback by Darth Vader's appearance in 2016's Rogue One: A Star Wars Story. Cinema's greatest villain was captured like never before. Darth Vader exuded pure rage that was deadlier than unrefined Coaxium, especially with Rebel soldiers' execution at the end of the movie.
Finally, Darth Vader was portrayed the way George Lucas always intended when Vader faced ground enemies. The ex-Jedi Master — er, I mean Knight — let powers of the dark side and Sith take over as he sliced through the hallway of Rebel fighters in Rogue One. Possibly not even Obi-Wan Kenobi at his height could have stopped Darth Vader during this scene.
Related: Chris Pine Says Next 'Star Wars' Movie Storyline is "Really, Really Great"
OBI-WAN KENOBI: An Original Series will take place about 10 years after Revenge of the Sith and approximately 20 years before the events of  Rogue One: A Star Wars Story. With Anakin Skywalker just losing his life — in essence — to Darth Vader, as he succumbed to the dark side of the Force, his vengeance for Kenobi is fresh.
More so than Darth Maul, Darth Vader craves the destruction of his old Jedi Master.
Vader's power may be more dominant in OBI-WAN KENOBI than in Rogue One, as many argue that Anakin's powers peaked in Revenge of the Sith and the following years. At this point in the Star Wars timeline, Anakin is still thought to have been "The Chosen One" (Luke Skywalker would later claim that title). The midi-chlorian count in Darth Vader's blood is still unholy, and fans are betting his Force-wielding has only begun.
While known details about this upcoming Disney+ are minimal, fans suspect Darth Vader could be more powerful than we've ever seen him. Hopefully, there'll be flashbacks to Anakin Skywalker during the Clone Wars and see a deeper look into Palpatine's deception.
And, if we're lucky, there'll be some mention of the Death Star, Princess Leia, or even Luke Skywalker.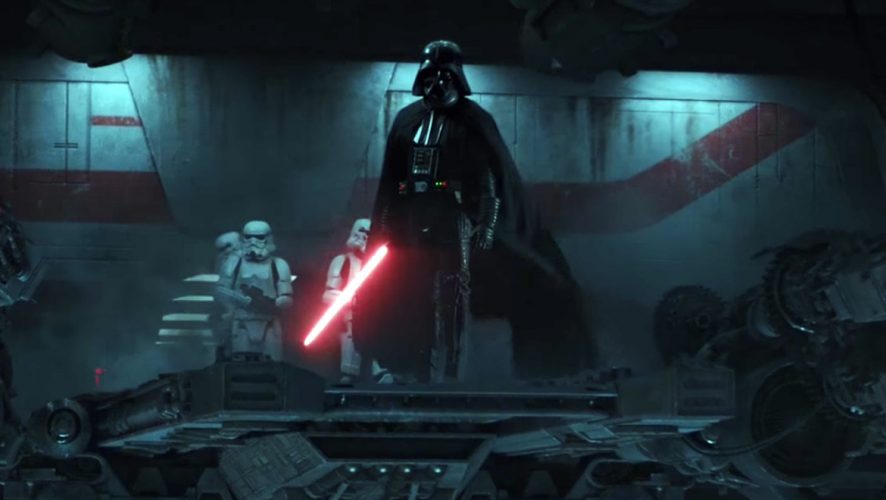 Related: 'Mandalorian' Cast Faced Rattlesnakes, Poison Oak While Filming On-Location
Especially with Hayden Christensen returning to reprise his role as the iconic villain, the chemistry between Obi-Wan Kenobi and Dark Lord Vader will be enigmatic. Though scenes including Vader could be flashbacks or events that don't include Kenobi, we'll see the supervillain rise to unseen heights of fury and rage.
Personally, this Star Wars fan hopes to see the appearance of Darth Vader's suit — the original suit — with red-tinted eyes and a fierce lightsaber battle with Vader and Kenobi.
Are you excited about the OBI-WAN KENOBI: An Original Series? Let us know in the comments below!