Star Wars fans are still losing it over The Mandalorian's Season 2 finale and can't wait for next year's Star Wars releases on Disney+. At this time, The Book of Boba Fett and animated series Star Wars: The Bad Batch have been confirmed for 2021.
On Christmas Day, Disney+ released a brand new Disney Gallery: Star Wars: The Mandalorian and viewers got a behind-the-scenes look at how The Mandalorian Season 2 was made.
Related: Did R2-D2 Make a Cameo Earlier in 'The Mandalorian' Season 2?
Star Wars fans were delighted to see Jon Favreau and Dave Filoni make multiple hilarious appearances. On top of that, Pedro Pascal (Din Djarin), Gina Carano (Cara Dune), Temura Morrison (Boba Fett), Carl Weathers (Greef Kraga), and Ming-Na Wen (Fennec Shand) all gave a more in-depth look into their bounty hunter characters, as well as some interesting facts about filming.
The Mandalorian changed special effects in Hollywood using a revolutionary wraparound LED screen known as the StageCraft or "The Volume." For the first time, visual effects engineers and FX wizards used a real-time, responsive LED screen, rather than a blue or green screen. Now, characters can see what exactly is around them and how the world is moving with them. Ice planets — such as Maldo Kreis — and desert planets — like Tatooine — were all constructed through dozens of screens on a soundstage.
No actual travel to a galaxy far, far away required! The Star Wars Universe came to life like never before. The Mandalorian season two honored the classic Star Wars story and told a brilliant new one with groundbreaking visual effects.
Up until the sophomore season of the hit show, the series never filmed on-location. Many fans have probably never realized this, as The Mandalorian looks too believable for much of the series.
However, Season 2, Episode 6 — "Chapter 14: The Tragedy" — didn't wholly rely on LED or blue screens for filming.
Related: Might Din Djarin's Story End as Ruler of New Mandalore?
The first time the series shot on-location was for Boba Fett's epic return and reclaiming of his legendary beskar armor, which Djarin had previously earned back from Marshal Cobb Vanth (Timothy Olyphant) in Season 2, Episode 1 — "Chapter 9: The Marshal".
The rest of The Mandalorian — including work done in The Volume — took place on Hollywood/Burbank backlots.
"We had to take the show to location for the first time because of its scope. The Volume's incredible, but it has limitations," said Director of Photography David Klein. Mando's DOP went on to state:
Whenever we're going to do direct sun we usually go to the back lot, but the backlot wasn't big enough for this so we ended up in Simi Valley. The terrain was so difficult, everything we wanted to take up onto those rocks we had to hand carry. It's dry up there in Simi Valley, we couldn't have any fire, no explosions; except for when Fennec's running on the rocks, those are practical, those are practical explosions.
The explosions you saw in that episode were added in post-production, but the intense showdowns between Boba Fett and platoons of stormtroopers all took place in Simi Valley, California.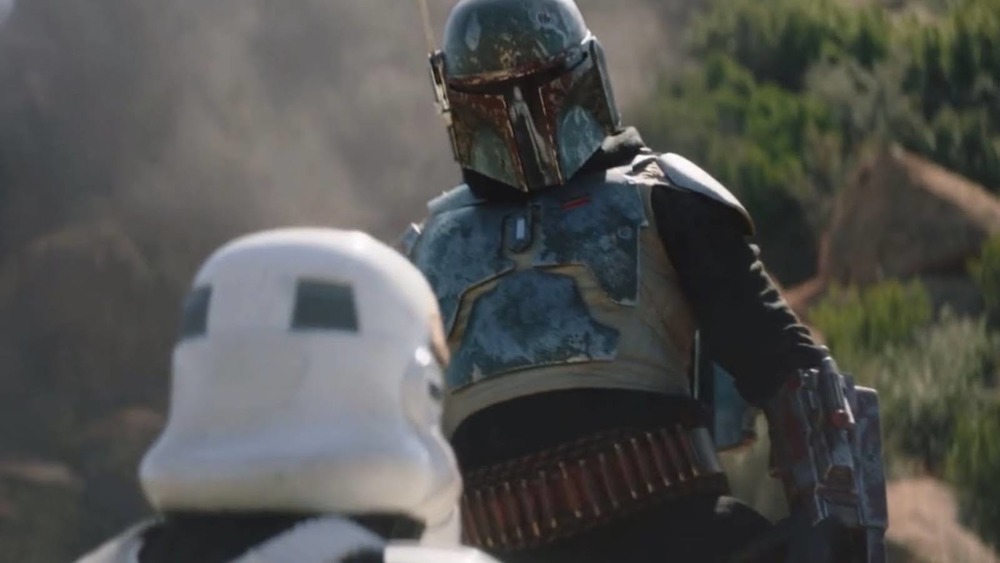 Actress Ming-Na Wen (Fennec Shand) said, "I love doing physical stuff, every day we're running, we're jumping, we're parkouring up these rocky mountain peaks." But, with real-life locations come real-life problems. Wen went on to say:
There was one point where we were really high up in the rocks and I'm watching the camera men carry these fifty pound (rigs) and I'm trying to traverse and we're trying to avoid poison oaks and we're trying to avoid rattlesnakes and divots and stuff. I was like, okay, let's go back to the volume.
The Mandalorian's cast and crew were ready to film on the StageCraft after that episode, but thank the Maker "Chapter 14: The Tragedy" took place on location, or we may not have gotten such an impressive and action-packed Boba Fett return.
Source: Comicbook.com
Did you know about this? Let us know in the comments below!