Marvel and Sony just spoiled a big Spider-Man: No Way Home surprise coming to the Marvel Cinematic Universe in a new Venom: Let There Be Carnage ad.
Related: 'Venom: Let There Be Carnage' Post-Credit Scene to Open Spider-Verse
The Spider-Verse is the talk of the town with every Marvel fan as they await the arrival of Spider-Man: No Way Home (2021). With the events of Doctor Strange (Benedict Cumberbatch) and Peter Parker/Spider-Man (Tom Holland) tampering with the multiverse coinciding with the death of Kang the Conqueror (Jonathan Majors) in Loki, Venom is more than likely to appear in the MCU.
In the video below, Sony's tagline choice for a Venom: Let There Be Carnage (2021) TV spot shakes the possibility even more.
Related: Tom Hardy Ready to Face Tom Holland in Spider-Man vs. Venom Crossover
"The Universe is Expanding" is a bold choice of words, considering the numerous rumors that suggest heroes from alternate timelines, like the X-Men and Fantastic Four, are bound to star in the same world as Captain America (Chris Evans), Thor (Chris Hemsworth), Black Panther (Chadwick Boseman), and Captain Marvel (Brie Larson).
Tom Hardy recently stated that he "would do anything" to have his Eddie Brock/Venom antihero go head-to-head with the Avenger Spider-Man.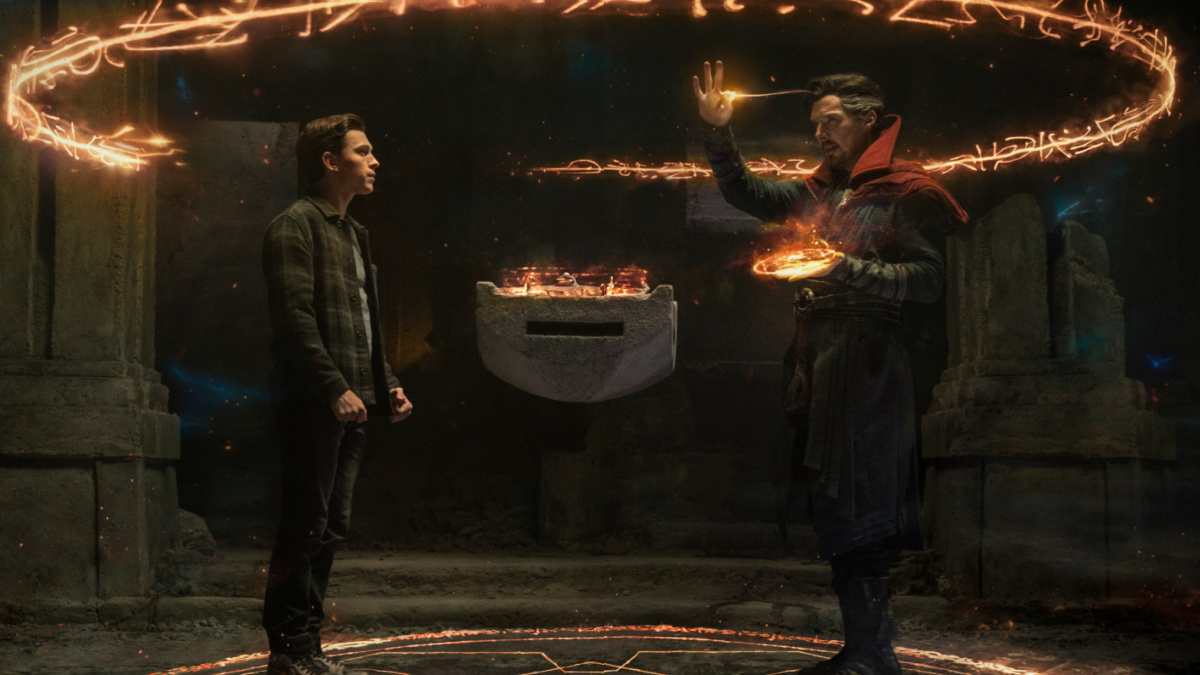 Now, in a surprising turn of events, it appears that Hardy may have been alluding to this truth.
Of all the words in the dictionary, why did Sony and Marvel choose to focus on "The Universe is Expanding"?
The trailer doesn't contain more than the usual bits from the Venom sequel that fans have already seen, but the punchy voiceover stands out and makes you wonder what's planned for these Marvel characters.
Credit: Marvel Studios / Sony

Related: Rumor: Tom Hardy's 'Venom' Could Appear in 'Spider-Man 3'
Undoubtedly, Venom is joining the MCU at some point. Given that Tobey Maguire and Andrew Garfield are more than likely reprising their iconic characters for a multiverse mashup in Marvel's New York with No Way Home, fans would be on board to see Venom step into this universe.
Venom could even join the Sinister Six in No Way Home, falling in line with Alfred Molina's Doctor Octopus and Green Goblin (Willem Dafoe) as they attempt to squish a spider. Neither Sony nor Marvel Studios have confirmed that Venom is appearing in the upcoming Spider-Man movie, but it could happen.
Marvel President Victoria Alonso recently shared that Marvel Studios has over 30 unnamed projects in the works — expanding the Marvel universe and Marvel collection with Marvel films in theaters and TV shows/series about Earth's Mightiest Heroes like never before.
Given that Marvel head Kevin Feige and Disney could strike a new deal with Sony Pictures to expand Tom Holland's Spider-Man contract, Marvel fans could see a Marvel movie of Spider-Man vs. Venom soon.
For now, we'll have to wait and see.
Do you think Marvel is adding Venom to the MCU? Let us know in the comments below!