Every Marvel fan was completely blown away by the official trailer for Marvel's Spider-Man: No Way Home (2021), featuring the likes of new Marvel Cinematic Universe villains from various timelines of alternate universes.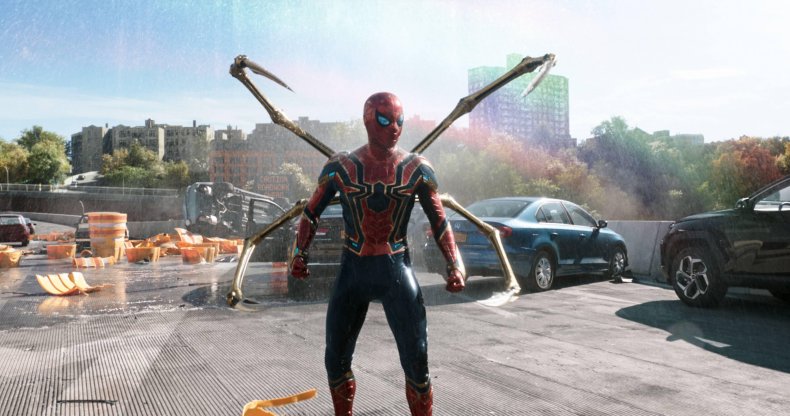 Related: Marvel Fans Are Convinced They Saw Daredevil in 'Spider-Man: No Way Home' Trailer
The Multiverse is here, and the Marvel Universe is setting up the introduction of the Sinister Six, a supergroup of Marvel characters seeking to destroy Peter Parker/Spider-Man.
The lineup of the Sinister Six changes throughout Marvel Comics, but for No Way Home, fans are speculating the group will consist of Alfred Molina's Doctor Octopus, Electro (Jaime Foxx), Sandman (Thomas Haden Church), Lizard (Rhys Ifans), Willem Dafoe's Green Goblin, and Michael Keaton's Vulture in the upcoming Marvel movie.
Though we don't see Vulture anywhere in the trailer, one hidden villain completes the Sinister Six!
Peter Parker's secret identity as Spider-Man has been revealed to the world by Mysterio, and Parker's entire world is turned upside down. Picking up immediately after Far From Home (2019), Peter and MJ (Zendaya) are seen swinging through Marvel's New York as they escape hordes of people trying to take pictures of Spider-Man.
In the trailer, fans saw Peter, MJ, Aunt May (Marisa Tomei), and Ned (Jacob Batalon) being interrogated by the police after Peter Parker is framed for the death of Mysterio.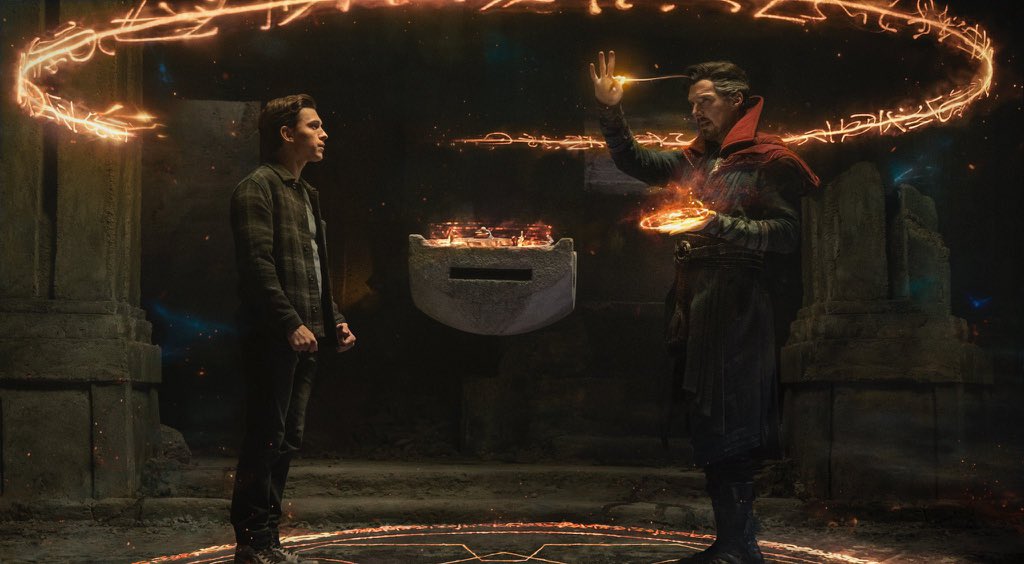 Related: Did You See Multiple Spider-Men in 'No Way Home' Trailer?
Without the help of Earth's Mightiest Heroes, like Captain America, Black Panther, Iron Man, or even Captain Marvel, Peter turns to Doctor Strange (Benedict Cumberbatch). Spider-Man and Doctor Strange accidentally open a rift in the Multiverse when a spell goes wrong in the Sanctum Sanctorum, unleashing a deadly batch of supervillains, like Alfred Molina's Doctor Octopus from previous Spider-Man franchises.
The trailer blew away fans' expectations after giving a sneak peek of Electro's yellow lightning bolts, changing the color of Jaime Foxx's electro's blue electricity in Andrew Garfield's The Amazing Spider-Man 2 (2014) to a comic-accurate yellow.
In the video above, you can see slowed clips from the Spider-Man: No Way Home trailer featuring five villains: Doctor Octopus, Electro, Sandman, Lizard, and Green Goblin.
These villains are coming together from Tobey Maguire, and Andrew Garfield's Spider-Man franchises after Doctor Strange and Peter Parker accidentally open a rift in the Multiverse (Sylvie's events in Loki are also to blame for this).
Lizard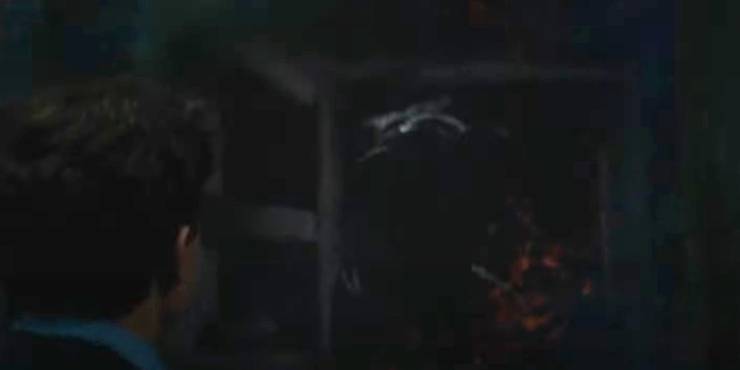 The hardest villain to spot in the trailer is Rhys Ifans' Lizard from Andrew Garfield's The Amazing Spider-Man (2012), as he's shrouded in darkness and looks nearly identical to Tom Hardy's Venom.
In that split-second moment — which you can see above — you can see Peter Parker (Tom Holland) supposedly talking to someone off-camera (possibly Doctor Strange), only to be nearly eaten by Lizard if it wasn't for a barrier created by Doctor Strange separating the two.
A lot of fans began speculating that this could be Venom attempting to attack Peter. After numerous rumors that Tom Holland is reportedly appearing in Venom Let There Be Carnage, fans began spinning the Peter Parker vs. Venom wheel once again.
Looking closer when the clip is slowed, some fans suggest that you can see Lizard's tail and hear his roar.
Sorry to burst anyone's bubble, but that shadowed figure is definitely Lizard, not Venom — our hidden villain.
Sandman and Electro
In the trailer, we also see the return of Sandman, the main villain in Tobey Maguire's Spider-Man 3 (2007). It appears that Sandman, Electro, and possibly the Green Goblin (who's shrouded in sand) are attacking Peter Parker in his new Black and Gold suit, one that we previously saw in toys released for the film.
While Marvel hasn't confirmed if Thomas Haden Church is joining the MCU by reprising his role of Sandman, we're definitely seeing variants of each villain.
As a result, Sandman will be out to attack Peter Parker, even though he and Tobey Maguire made peace at the end of Spider-Man 3.
Green Goblin
The money shot of the entire trailer resulted in the menacing cackle of Willem Dafoe's Green Goblin as a Pumpkin Bomb rolls near a car on a highway.
Willem Dafoe long denied having any involvement in No Way Home, but he and Alfred Molina will be sharing the screen after two decades.
It's unclear if we'll officially see Dafoe as Norman Osborn/Green Goblin in the upcoming official trailer for Spider-Man: No Way Home (speculated to come out around October), but it's safe to bet he'll have a grand entrance in the movie.
Green Goblin was the main antagonist of Sam Raimi's Spider-Man (2002) and had a massive influence over the entire franchise postmortem. Tobey Maguire's Peter Parker/Spider-Man bested the Goblin, resulting in his accidental death.
However, a variant of the Green Goblin is alive and ready to exact revenge on Parker in this alternate dimension.
Doctor Octopus
The most shocking reveal in the No Way Home trailer was Alfred Molina's Doctor Octopus, especially when the legendary Marvel character chillingly said, "Hello, Peter."
Fans burst with excitement overseeing the metal tentacles of Doc Ock, and Alfred Molina looks more menacing in No Way Home than he did in Spider-Man 2 (2004).
At the end of Spider-Man 2, Professor Octavius comes to his senses and redeems himself, killing his inner demon Doctor Octopus. However, he sacrifices himself to save Peter and Marvel's New York.
However, we see another variant (thanks for Loki), one that's out for Spider-Man and doesn't hold an ounce of grace or mercy.
Vulture
While we didn't see Michael Keaton's Vulture in the teaser trailer, it's safe to say that Adrian Toomes/Vulture will escape from prison and join the five others villains to form the Sinister Six.
Related: Disney Reportedly Wants to Buy Out Sony For 'Spider-Man' Rights
There's been teased rumors that Michael Keaton has a cameo in Venom Let There Be Carnage and Toomes escapes from prison, but Sony quickly shot down those remarks and deemed them false.
No Way Home is the perfect chance for Vulture to redeem his character, either for good or for bad.
Joining Toomes could be Scorpion (Michael Mando), another member in the rotating lineup of the Sinister Six.
Scorpion was the last scene in prison with Adrian Toomes, and if one escapes, the other most likely would as well. But, Marvel might keep Michael Mando's Scorpion for a later movie, as they've already introduced five villains for No Way Home.
No Way Home recently shattered the 24-hour trailer viewership of Avengers: Endgame (2019), indicating that fans and Marvel alike are ready for one of the most important films in the MCU's history.
Marvel fans, mark your calendars for December 17, 2021 when Spider-Man: No Way Home's hits theaters.
Which villain are you most excited to see? Let us know in the comments below!