The end-credit scene of Venom: Let There Be Carnage (2021) is apparently the most important post-credit scene in Marvel history. Reportedly, it's opening the door for Venom to join the Marvel Cinematic Universe.
Related: Tom Hardy "Would Do Anything" to Bring Venom to the MCU
Earlier this month, legendary actor Tom Hardy (Inception, Mad Max: Fury Road) stated in an interview that he "would do anything" to bring his villainous Venom into the MCU.
Tom Holland's Spider-Man is Marvel's New York ringleader, alongside Doctor Strange (Benedict Cumberbatch). The two are opening up the Multiverse in Spider-Man: No Way Home (2021) with a failed spell from Strange. After the death of Kang the Conqueror (Jonathan Majors) colliding with Strange's miscalculated spell in No Way Home, a doorway across the Multiverse is opening.
While Venom: Let There Be Carnage is set in a contained setting of San Francisco, with Eddie Brock/Venom going against Woody Harrelson's Cletus Cassidy/Carnage, it's plausible that the end credit scenes of the movie allude to Tom Holland's Spider-Man.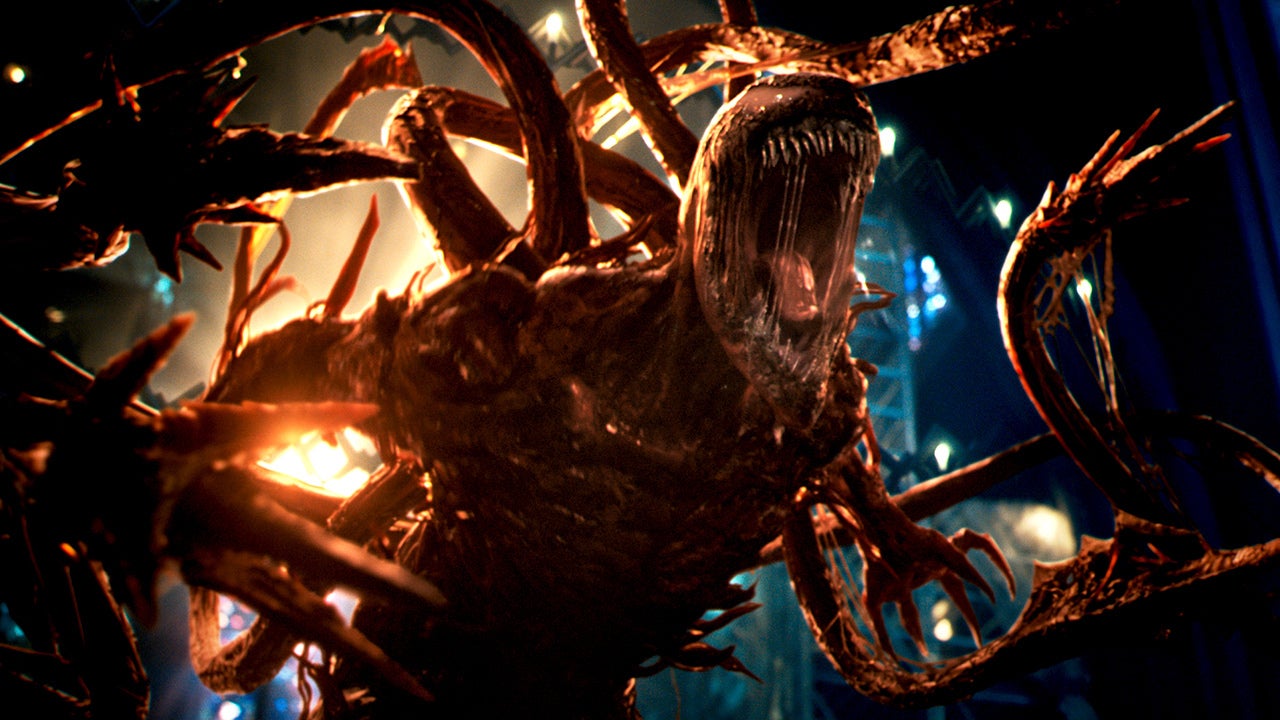 Related: Marvel's Next Massive Crossover Event in the MCU May Debut By October
Live-Action Spider-Verse
There have been rumors that Venom is crossing over into the Marvel Cinematic Universe and that the historical event could happen in October. Tom Hardy's Eddie Brock would finally go against Peter Parker/Spider-Man, and even Captain America (Anthony Mackie) or Kate Bishop (Hailee Steinfeld).
Venom: Let There Be Carnage hits theaters on October 1, 2021, aligning with various Marvel fans' early speculation and whispers.
Related: Copyright Termination Filed, Fate of Spider-Man and Doctor Strange Uncertain
In Marvel Comics, Venom attempts to kill Spider-Man, but soon realizes that he's a hero and eventually partners with Parker to take down Carnage.
In this case, with Carnage being the main villain of the Venom sequel, the last post-credit scene in Let There Be Carnage could see Venom being transported into Tom Holland's Marvel Universe to seek out the web-slinger.
Marvel Movies on Instagram shared:
Venom: Let There Be Carnage's post-credit scene is reportedly one of the most shocking post-credit scenes ever.
Let There Be Carnage Sneak Peek
Earlier this week, a select group of Marvel fans were given a sneak peek of Venom: Let There Be Carnage in the United Kingdom, with Tom Hardy and director Andy Serkis (Black Panther, The Lord of the Rings series) kicking off the event beforehand.
Right before the screening begun, Hardy stated:
"Promise me, that whatever you see, you'll let it stay here."
While there are only rumors floating around, fans who witnessed the film's early screening are employing others to stay until the final credit scene.
Supposedly, this end credit is changing the Marvel Collection and Marvel Universe completely.
Venom's Sinister Six in the MCU
Related: Move Over, Tom Holland: Andrew Garfield Wanted His Own 'Spider-Man: Sinister Six' Movie
While it's unlikely that Venom will become an Avenger, every Marvel fan hopes that he joins the Sinister Six — who's appearing in Spider-Man: No Way Home.
Venom very well could join Alfred Molina's Doctor Octopus, Electro (Jaime Foxx), Sandman (Thomas Haden Church), Lizard (Rhys Ifans), Willem Dafoe's Green Goblin, and Michael Keaton's Vulture. A supervillain would have to surrender their role to Venom, but that probably won't be too hard considering someone might meet their end in No Way Home.
Considering the recent Ditko Estate copyright termination for iconic characters Iron Man, Doctor Strange, Thor, and Spider-Man, a future Spider-Verse will look very different if Sony and Disney lose some creative control over their characters.
Nonetheless, be sure to stick around for the final end credit scene in Venom: Let There Be Carnage on October 1, 2021!
Do you think Venom will join the Marvel Cinematic Universe? Let us know in the comments below!