The Amazing Spider-Man (2012) ushered in a new era of Peter Parker/Spider-Man with actor Andrew Garfield swinging through Marvel's New York. Though the series met an unfortunate after two feature films, the Marvel actor recently confirmed that he was ready to put back on the suit for a Sinister Six movie.
Related: Andrew Garfield Rejects Involvement in 'Spider-Man': It Will Be "Really Disappointing"
Marvel's Spider-Man: No Way Home is one month closer to being released in theaters. Every Marvel fan is speculating whether or not previous Peter Parker actors Tobey Maguire and Andrew Garfield will appear alongside Tom Holland in the Marvel movie.
The upcoming Marvel film is set to feature Alfred Molina's Doctor Octopus, Electro (Jaime Foxx), Sandman (Thomas Haden Church), Lizard (Rhys Ifans), Willem Dafoe's Green Goblin, and Michael Keaton's Vulture.
With Andrew Garfield's name tossed into the mix of Multiverse-travelers in No Way Home, Garfield himself recently shared with Collider that he'd still like to see a Sinister Six installment into his Spider-Man franchise.
Related: Benedict Cumberbatch Declares Final MCU 'Spider-Man' Movie "Vastly Brilliant"
Garfield told Collider:
"I don't know how close it got [to getting made], but I definitely had a few meetings, and it was really exciting. I've got to say, because I love Drew so much, and I love Cabin in the Woods, and the other stuff that he's made. We just got on like a house on fire. I loved his vision, he's so unique and odd and off-kilter and unconventional in his creative choices. So that was definitely a fun couple of months, but life."
Garfield collaborated with director Marc Webb for The Amazing Spider-Man (2012) and The Amazing Spider-Man 2 (2014) as the legendary superhero. While wrapping up production on his sequel film, writer and director Drew Goddard was reportedly brought onto the scene with Sony to plan a never-made Sinister Six movie.
The former Spider-Man actor went on to say that it "would've been cool" to be involved in that film, which, at the  time, never came to be. Per the interview, Garfield still sounds hopeful that a Sinister Six movie could be made in the future.
"It would have been cool. Maybe one day he'll get to do it, but it would've been cool."
Reportedly, the iconic characters teased at the end of The Amazing Spider-Man 2 would have included Electro (Jamie Foxx), Rhino (Paul Giamatti), Harry Osborn's Green Goblin (Dane DeHaan), Doctor Octopus, Mysterio, and the Vulture.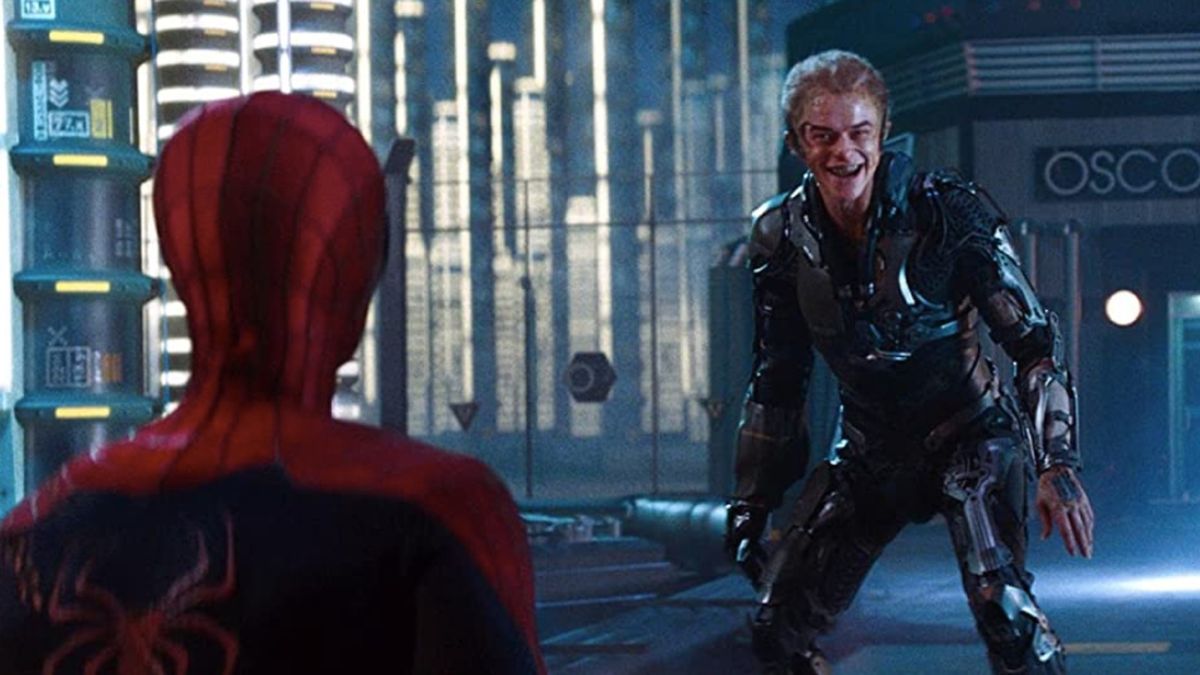 Related: Andrew Garfield Is the Most Popular Spider-Man, According to Twitter
Sony originally announced that the Sinister Six would debut in 2016, reshuffling The Amazing Spider-Man 3 from that year to the Summer of 2018. Sony would again pull the plug on Garfield's franchise in favor of rebooting the character once more with Tom Holland in the Marvel Cinematic Universe with Captain America: The Winter Soldier (2016).
The Marvel Universe is constantly expanding, opening the dimensional doorway for legendary villains to terrorize the MCU.
Without the help of Earth's Mightiest Heroes, like Captain America, Black Panther, Iron Man, or even Captain Marvel, Peter turns to Doctor Strange (Benedict Cumberbatch). Spider-Man and Doctor Strange accidentally open a rift in the Multiverse when a spell goes wrong in the Sanctum Sanctorum, unleashing a deadly batch of supervillains, like Alfred Molina's Doctor Octopus and Willem Dafoe's Green Goblin from previous Spider-Man franchises.
Every Marvel fan is betting that both Tobey Maguire and Andrew Garfield join Tom Holland to fight villains from their universes.
The Marvel collection is growing with each new superhero film and series on Disney+. Marvel films are expanding after the events of Loki, and Marvel characters are being introduced to variants of each character.
Marvel fans, mark your calendars for Spider-Man: No Way Home's theatrical debut on December 17, 2021.