A long time ago, in a galaxy not so far away, George Lucas and Steven Spielberg came in to save the day for The Walt Disney Company and their theme parks.
With the start of a new decade in the early 1980s, then Disney CEO Michael Eisner began drafting "outside talent" to come into Disney projects on films, television, and theme parks to bring new life into the company. After Walt Disney's passing in 1966, The Walt Disney Company had fallen into the "dark ages" for its entertainment and media. Their animation studio was struggling, film production companies were staggering, and theme parks became "boring."
Related: Here's Why Steven Spielberg Won't Direct "Indiana Jones 5"
On September 22, 1984, after a seven-month heated battle with the board of Disney directors and a hostile takeover attempt, Michael Eisner and the late Frank G. Wells were announced as CEO and COO of The Walt Disney Company. The first action they took was to reassure Imagineering and the Disney theme parks that they would stay at the top for the company.
After restoring peace to Walt's proverbial "Magic Kingdom", Eisner and Wells promised to hire A-list celebrity talents to revitalize the company. Two of these talents were master storytellers — Steven Spielberg and George Lucas, nonetheless.
By 1984, Spielberg and Lucas were household names. Jaws, E.T. the Extra-Terrestrial, Star Wars, and Indiana Jones redefined what "successful" movies looked like and smashed box-office records. On top of that, Lucas and Spielberg were best friends since the early 1970s when the two met in Southern California. In 1981, the two teamed up to create one of the most beloved and successful franchises of all-time: Indiana Jones.
Funnily enough, Michael Eisner was the Chairman of Paramount Pictures and the only studio executive that believed in Spielberg and Lucas' idea for an adventure/archeologists film, Raiders of the Lost Ark. Eisner funded the film and solidified a strong relationship with the two directors.
In 1985, Disney, Spielberg, and Lucas were ready to strike a deal to revive the company and bring new stories to the big screen and theme parks alike.
Star Tours (1987)
After Disneyland's 30th anniversary, Imagineering was longing for a brand new thrill/action attraction after Michael Eisner's son called the park "boring." However, Frank and Michael knew of the parks' potential and thought, "What would Walt do?"
Eisner followed his instincts and went with Imagineer Tony Baxter's pitch of a Star Wars-themed attraction titled "Star Tours." This marked the first attraction to appear in a Disney park that was not a Disney-branded property — at least until 2012 when Disney acquired Lucasfilm — and brought in the outside talent of George Lucas.
Imagineering knew of the phenomenon of Star Wars from the mind of George Lucas and believed that his films were held in the same esteem in public as Disney films.
Related: Disney, Lucasfilm Set to Release First Non-'Star Wars' or Indiana Jones Project
After the opening of the successful Captain EO (a 3-D musical starring Michael Jackson) just down the street from the future Star Tours attraction, Lucas and Disney made a partnership to create Star Tours.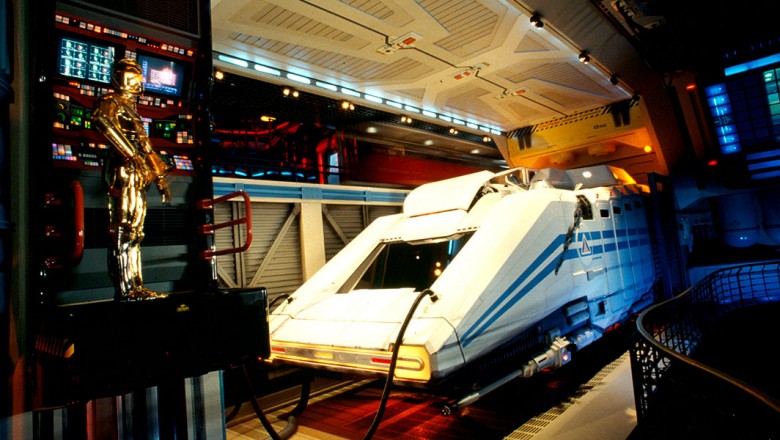 Disney Imagineers purchased four military-grade flight simulators for $500,000 apiece. Lucas rallied his team of special effect wizards from Industrial Light & Magic to program the first-person perspective film projected inside the StarSpeeder 3000.
On January 7, 1987, George Lucas joined Mickey Mouse to open Star Tours to thousands of guests officially. Lines were four hours long and extended to Main Street USA! Disneyland Park stayed open for 60-hours during the opening of the attraction, and attendance rose.
Captain EO (1986)
Ready to breathe fresh air into Disney, Michael Eisner brought in Francis Ford Coppola (The Godfather) to direct and George Lucas to executive produce the first-ever "4D" film that featured in-theater effects, such as smoke, laser, and movement synchronized to the film.
Jackson was a huge fan of Disneyland and loved visiting the theme parks after-hours or, sometimes, in disguise. He was also an avid fan of Walt Disney and was thrilled to be approached by the company to star in a brand new attraction. Coming off his Thriller album's success, Jackson wanted to create another "movie" music video with the Thriller music video.
With Lucas and Francis Ford Coppola set to write the film's story, Jackson choreographed the entire 17-minute movie and starred as the heroic Captain EO with his rag-tag team of "losers" (you'll have to watch the film!).
After completing a year-and-a-half production with Anjelica Huston as the evil Supreme Leader and performing two new songs written by Jackson, Captain EO opened to huge crowds at Epcot Center on September 12, 1986, and Disneyland Park on September 18, 1986.
Taking on a Star Wars-like plot and setting, thanks to Lucas' Industrial Light & Magic team, Captain EO was a:
Captain EO (film) 3D musical science-fiction adventure film… Captain EO and his crew of mythical space creatures—Hooter, Fuzzball, the Geex, Major Domo, Minor Domo—discover a colorless planet where they are confronted by the Supreme Leader and her forces of darkness. Using the power of music, dance, and light, EO and his crew are able to turn the black-and-white land into a magical world of color and happiness. 

https://www.youtube.com/watch?v=kg2zuRBlRt0
Disneyland stayed open for 60-straight hours as Michael Jackson fans flocked to the Magic Eye Theater in Tomorrowland to watch the $15 million "music video." Captain EO was the first move by Eisner and Wells to help modernize the theme parks.
Roger Rabbit (1988)
P-p-please Eddie!
After a string of box-office flops from Disney throughout the 70s and 80s, the company was in dire need of boosting their credibility in Hollywood once again.
Production for Who Framed Roger Rabbit began years before shooting even began after producers feared high production costs. The film stayed on the shelf at the Walt Disney Studios for many years until directors Robert Zemeckis and Steven Spielberg showed interest in Roger.
Nearing a dissolve of the film production section of The Walt Disney Company, Robert Zemeckis was brought into the film as director, and Steven Spielberg served as executive producer with Frank Marshall and current Lucasfilm President Kathleen Kennedy (Raiders of the Lost Ark, E.T.). With Spielberg's Amblin Entertainment and Lucas' Industrial Light & Magic set to create the never-before-seen animation, Who Framed Roger Rabbit began production in Elstree Studios in London and Los Angeles. The film opened in theaters on June 22, 1988, and grossed over $300 million, becoming one of the most successful films of that year.
Related: OpEd: "Who Framed Roger Rabbit" is Disney's Best Renaissance Live-Action Movie
However, Roger Rabbit almost never saw the light of day when studio executives threatened to cut the movie after seeing Jessica Rabbit and learning the dark plot twisted with adult humor. It wasn't until Steven Spielberg stormed into Disney's offices and negotiated with executives that the filmed be released as "PG" and under Touchstone Pictures.
The film was a smash hit with critics and fans alike. The movie won four Academy Awards, including Visual Effects and a Special Achievement in Animation Direction.
Who Framed Roger Rabbit has become a "Disney" classic, and its legacy lives on to this day with Roger Rabbit's Car Toon Spin at Disneyland Park's Toontown in California. On top of that, the film is credited as the start of Disney's "Renaissance" era and revitalized its movie studios.
Indiana Jones Adventure
The enhanced motion vehicle dark ride in Disneyland, based on the famous Indiana Jones franchise, has become one of the most popular attractions in Disney park history.
This attraction marked the fourth collaboration between George Lucas and Disney, after the Disney attractions of Captain EO, Star Tours, and Indiana Jones Epic Stunt Spectacular at Walt Disney World.
Related: Disneyland's Indiana Jones Ride – Forgotten History & Fun Facts
On a streak of successes in both the theme parks and box office, Michael Eisner and Frank G. Wells were ready to create a ground-breaking immersive experience with their team of Imagineers. The company approached Lucas with another attraction based on his films, and he happily agreed to know Disney can successfully turn his movies into rides.
There was every reason for Eisner not to fund the future Indiana Jones Adventure. Though The Walt Disney Company was coming into their "Golden Age" in profits and popularity, this new attraction was deemed too expensive. Analysts believed Adventureland did not need a thrill ride, and many worried Indiana Jones was no longer relevant.
Imagineer Tony Baxter stated:
Michael [Eisner] had been given a million reasons why we shouldn't do it. It was too exspensive. The park didn't need something in Adventureland. They had no room in Adventureland. And there was a whole document that came out. And as quick as Michael got that, he fired a document back saying, 'Here's whu we can't afford not to do it. It's emotionally relevant.'"
Eisner nor Wells would not allow Disneyland to pass up this tremendous opportunity to implement state-of-the-art technology with an emotionally relevant character like Indiana Jones. Fans still loved the movies, and Eisner knew the potential of including an outside talent like George Lucas to make the Indiana Jones Adventure a never-before-seen experience.
Though there's no confirmed source, many have stated that the attraction cost around $100 million!
Combining the immersive theme like in Pirates of the Caribbean and the excitement of Star Tours, the Indiana Jones Adventure was a breakthrough attraction with a motion-based ride system that made you feel like you're falling off cliffs and hopping over stones. George Lucas convinced John Williams to produce the soundtrack for the attraction, and Lucas was heavily involved with Imagineers to capture an Indiana Jones experience perfectly.
On March 4, 1995, in celebration of Disneyland's 40th anniversary, Indiana Jones Adventure in the Lost River Delta opened with invited celebrity guests like George Lucas, Carrie Fisher, Arnold Schwarzenegger, Dan Akroyd, and the cast of Full House. Disneyland Park attendance grew exponentially, and Lucas and Spielberg's Indiana Jones franchise proved to be a hit with guests, critics, and Disney executives alike. Disneyland was drawing back teenagers and young adult crowds while still attending to younger guests and families.
Frank G. Wells' "gut feeling" paid off, and the R&D development for Indiana Jones Adventure proved that long-term innovation could drive business and increase park attendance.
Two other incarnations of the attraction were built in Tokyo Disneyland and Disneyland Paris after the popularity of Indiana Jones Adventure grew overseas.
Steven Spielberg and George Lucas are real underdogs when it comes to helping to revitalize The Walt Disney Company during Disney's darkest period in the late 70s/early 80s. Spielberg's continuous relationship with the company and his Amblin Entertainment and Lucasfilm and the new Star Wars adventures like The Mandalorian help drive success in the organization.
Their films and partnerships will live on forever in history books, but they'll always be experienced in theme parks. Without their involvement with Captain EO, Star Tours, Roger Rabbit, and Indiana Jones Adventure, The Walt Disney Company would be very different today! Thanks, George and Steven!
What impact do Lucas and Spielberg have on your life? Let us know in the comments below!