Disney has been treating Guests to delicious Disney snacks since it opened Disneyland Park 65 years ago in 1955. From the Churro Carts to Dole Whip, food has become an attraction of its own at the Disney Parks. It's even flowed into the homes of Disney fans around the world as people have started to make their own home kitchen Mickey Waffle and Mickey Pretzel, as well as grabbing a Mickey ice cream bar and ice cream cookie sandwich from the frozen section of the grocery store.
Fun Facts About Disney Snacks
Speaking of Churros and Mickey Pretzels, D23 released some fun facts about these Disney snacks — and many of these facts are pretty wild if you ask me!
"And consider this: If the number of churros consumed annually at Disneyland Resort were laid end-to-end, they would stretch 1,162 miles and could line the Disneyland Resort Monorail Track 468 times. Also, if the number of Mickey-shaped soft pretzels sold annually at Walt Disney World Resort were laid ear-to-ear, they would stretch 352 miles and could circle Spaceship Earth at EPCOT 3,600 times."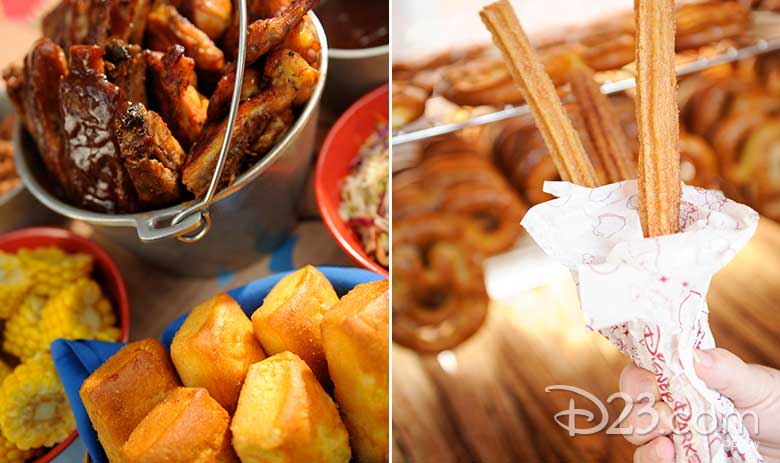 Disney Parks Food Through the Ages
Let's take a look at what Disney dining has looked like since the original Disney Resort opened. It's changed a lot over the years from the beginning. Many of the food stops at a Disney theme park were (and some still are) sponsored by some big name companies like Dole and Coke. One of them is the iconic Little Red Wagon at Disneyland Park which is a reminder of what the Plaza Inn used to be, Swift's Red Wagon Inn. I mean, how could you deny yourself a giant corn dog meal with an iced cold beverage from The Main Street Refreshment Corner across the way or fried chicken and pot roast from the Plaza Inn.
Now Disney dining at both Disneyland Resort and Walt Disney World Resort have grown to have many incredible options for Quick Service to Dine-In Restaurants. In fact, D23 says, "These days, the parks in the U.S. use more than 49,900 different recipes at just over 710 food and beverage locations, including more than 130 table-service restaurants and 420 quick-service restaurants. To put that in perspective, if Walt Disney World and Disneyland Resorts were a single restaurant chain, it would rank as the 30th largest restaurant chain in America."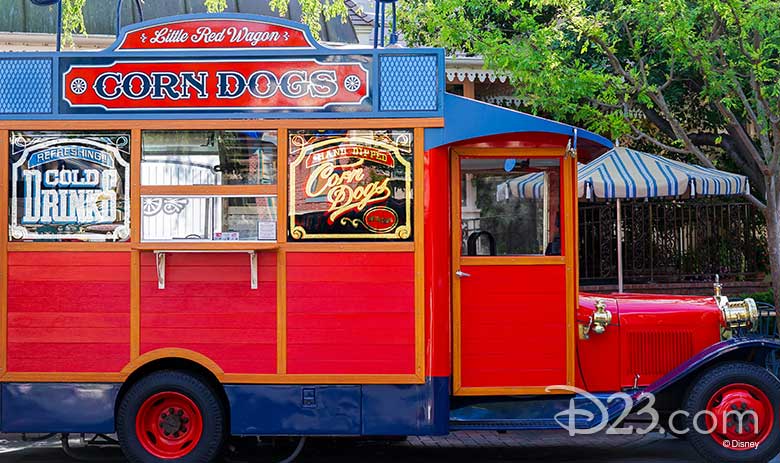 Themed and Character Dining
Whether you're heading to Disneyland Resort or Walt Disney World Resort, many Guests plan their Disney vacation around one or more of these dining experiences. Culinary Director of Magic Kingdom, Robert Gilbert told D23, "It is said that Walt knew food could be much more than just something that you ate. It could also be entertaining and part of the experience. He wanted his food to be part of the show and help tell stories."
Robert Adams, culinary director, Disney's Hollywood Studios, agrees: "Walt was a great storyteller and restaurants were themed to the lands they were in," he says. "Eventually, performance-theming was developed in order to have the cast really play a part in the show of the restaurants. Guests have always considered Disney restaurants more than just a place to get a meal. They often plan their vacations around making sure they experience certain restaurants, much like they plan for the attractions."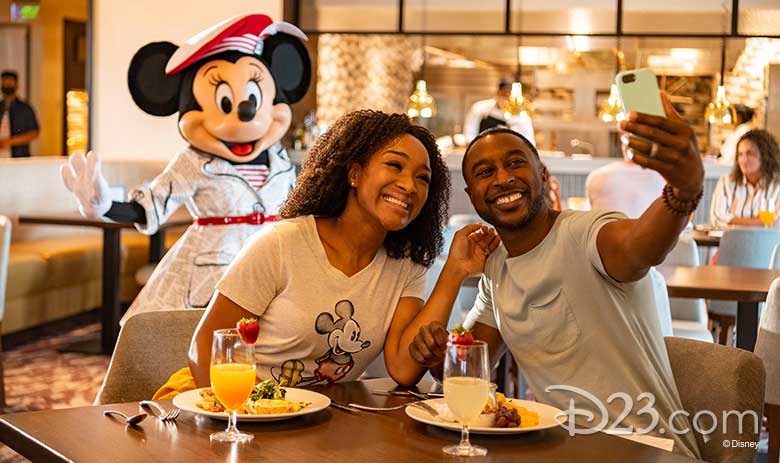 Festivals
Festivals have started to become a huge part in attracting more crowds to the Disney Parks as well. Whether it Festival of the Holidays or the Food and Wine Festival at Disney California Adventure or Flower and Garden or the International Food and Wine Festival at EPCOT, Guests are spending their days tasting their way around the different marketplace booths only to break for an attraction or two. It's developed so much that there are options for vegan and allergy friendly Guests too, which is more accommodating that some restaurants outside of the resorts.
Disney Theme Park Food You Can Make at Home
Disney dining has created an atmosphere that people crave for not only in the Disney Parks. Locals to Southern California and Central Florida will head over to Downtown Disney District, Disney Springs, and Disney's BoardWalk just to taste the magic. Some are willing to even have Disney Parks food delivered to their home if they could.
What's your favorite Disney food item, Disney Park snack, or Disney Resort restaurant? Let us know in the comments below!