Star Wars is one of the most beloved and popular franchises in history, with 11 feature films and numerous shows comprising Lucasfilm's multi-billion-dollar library of award-winning entertainment. With the Skywalker Saga sequel trilogy officially wrapped up and Lucasfilm looking to the future of the Star Wars universe with new streaming shows, fans are still confused over one major pothole in Star Wars: The Force Awakens (2015): how did Maz Kanata get Luke Skywalker's original lightsaber?
One of the most important scenes in movie history takes place in Star Wars: Episode V – The Empire Strikes Back (1980), where Darth Vader reveals his true identity to his son, Luke Skywalker (Mark Hamill), after severing his right hand and lightsaber from his arm. The "No, I am your father" line is constantly misquoted but well remembered. But, it seems that Luke Skywalker's original blue lightsaber was somewhat forgotten by pop culture.
In Star Wars: Episode VI – Return of the Jedi (1983), fans saw Luke's newest lightsaber — this time with a green blade. In a deleted scene, the audience was given a close-up look at the Jedi Knight constructing his new lightsaber outside of Jabba the Hutt's palace on Tatooine.
Still, we never knew what happened to the classic blue lightsaber after Skywalker lost his hand on Bespin.
Related: 'The Mandalorian's' "Next Chapter" Has Finished Filming
Three decades later and Luke Skywalker's (technically, Anakin Skywalker's second lightsaber) magically shows up in the hands of a brand new Star Wars character — Maz Kanata. The Star Wars universe is ever-expanding, and in Star Wars: Episode VII – The Force Awakens (2015), fans were met with a plethora of new characters.
Joining Han Solo (Harrison Ford), Chewbacca (Joonas Suotamo), and Princess General Leia Organa (Carrie Fisher), was Rey (Daisy Ridley), Finn (John Boyega), Poe Dameron (Oscar Isaac), and Maz Kanata (Lupita Nyong'o).
Maz Kanata has a much smaller role than the aforementioned characters in the sequel trilogy, but somehow she was in possession of what is arguably the most important object in the original trilogy?
Say what you will about JJ Abrams and Rian Johnson's turbulent three films that comprise the tail end of the Skywalker Saga, but there are loads of unanswered questions that were never resolved by the time Star Wars: Episode IX – The Rise of Skywalker (2019) came to theaters.
One of them being how Maz Kanata, a brand new character with a limited backstory, obtained the lightsaber.
In The Force Awakens, Han Solo questions how Maz got ahold of Luke's famed lightsaber. Kanata simply replied, "A good question – for another time."
That response is fine, as fans assumed The Last Jedi or The Rise of Skywalker would answer that question. Theoretically, Rian Johnson's Star Wars: Episode VIII – The Last Jedi (2017) should have answered this tough question, as it featured the return of Luke Skywalker and gave some in-depth looks at his life after Return of the Jedi.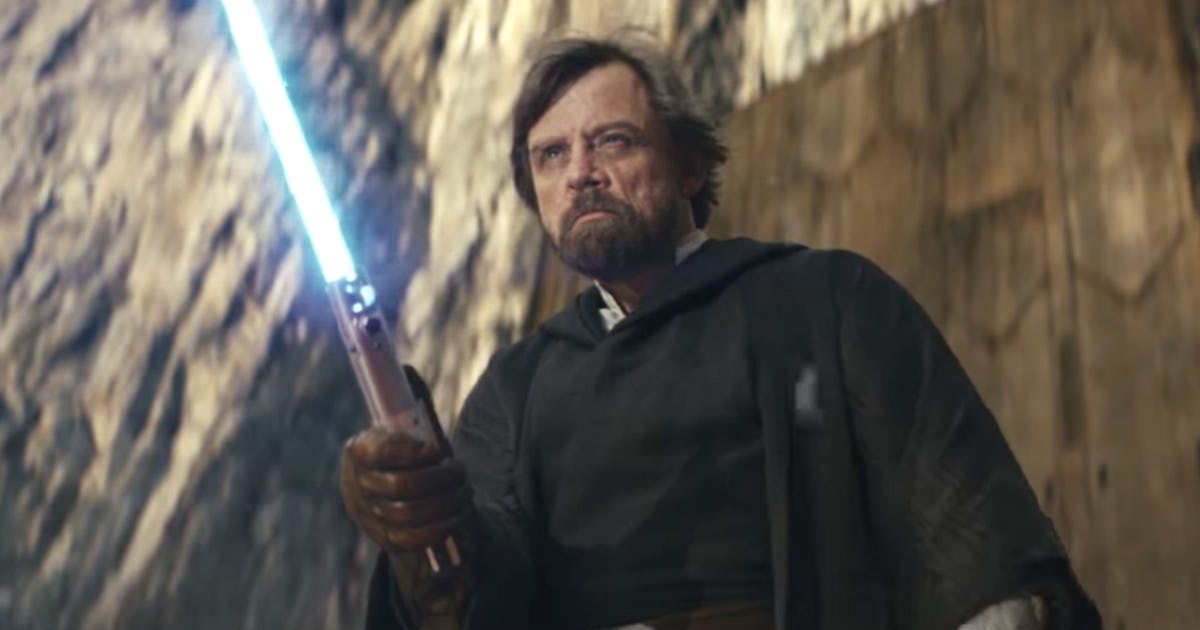 For Ben Kenobi's sake, Luke even duels Kylo Ren/Ben Solo (Adam Driver) on Krate with his original lightsaber! And he throws it off a cliff on Ahch-To. But, the films failed to produce a storyline of any sorts explaining how the lightsaber — assuming it floated through space after falling out of Cloud City — was saved.
Alas, we never learned how Luke's severed hand holding his old blue lightsaber found its way in Maz Kanata's basement on Takodana. Perhaps future projects, like The Mandalorian or the rumored Skywalker series set to feature Mara Jade Skywalker, could explain this plothole as the Star Wars saga and universe expands.
How do you think Maz Kanata got Luke's lightsaber? Let us know in the comments below!