Margot Robbie will set sail in a new female-fronted Pirates of the Caribbean movie, but the new Caribbean film is a reboot of the popular franchise, not a reboot.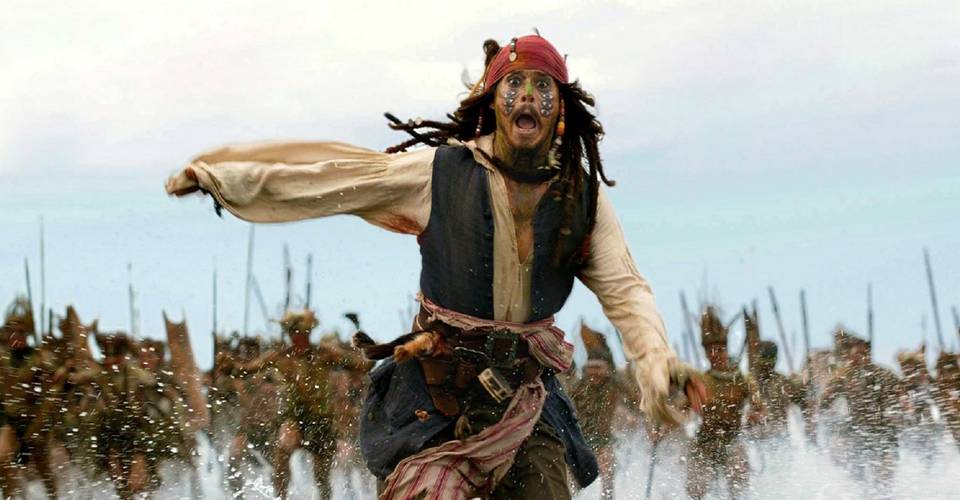 Related: Johnny Depp's 'Pirates' Co-Star Comes to His Defense Amid Controversy
There's been a flurry of news surrounding actor and Disney Legend Johnny Depp and his famed Captain Jack Sparrow role in recent months. Since Pirates of the Caribbean: The Curse of the Black Pearl (2003) and Dead Man's Chest (2006), Depp has led the $4.5 billion franchise, appearing in a total of five films.
Much like actor Harrison Ford is Indiana Jones or Robert Downey, Jr. is Tony Stark/Iron Man, many consider Johhny Depp as the only person capable of playing Captain Jack Sparrow.
Disney even added Jack Sparrow animatronics to the Pirates of the Caribbean ride at Disneyland Resort, Walt Disney World Resort, Disneyland Paris, and Tokyo Disneyland. The character is so popular across the globe, it's almost impossible to think anyone else could be the face of the Caribbean franchise.
Related: Johnny Depp Fans Have Had Enough, Launch Boycott Against Hollywood
Last June, The Walt Disney Company announced that Margot Robbie would star in a female-led Pirates of the Caribbean movie with Birds of Prey writer Christina Hodson. News of Robbie starring in a Pirates of the Caribbean reboot split many fans, as they feel the new movie should be a spin-off of Jack Sparrow's adventures, not a way to replace him.
What's going on with Johnny Depp?
Depp, unfortunately, has had a challenging time recently. Constantly in the spotlight, the Pirates of the Caribbean and Fantastic Beasts star and his fans have had a turbulent year, especially after Johnny Depp lost his libel lawsuit against U.K. News Group newspaper publication, The Sun.
In 2018, The Sun reported that Depp abused his ex-wife Amber Heard (Zack Snyder's Justice League) on various occasions throughout their relationship. In the wake of his court loss last fall, Depp was ultimately fired from Disney's Pirates franchise and Warner Bros. Fantastic Beasts films.
Related: Depp Back on Board? Disney Reportedly Considers Petition for Actor's Return!
It is important to note that Disney has not officially confirmed the plot of the upcoming Pirates of the Caribbean 6 installment. However, Disney did state that the new movie with Margot Robbie will be a Caribbean reboot, creating an entire new Pirates universe with Robbie's characters in the shoes of Johnny Depp's Jack Sparrow.
Pirates of the Caribbean has developed a devoted fandom over its nearly 20 years of movie history — it's not quite on the level of Star Wars, but people still love these characters. The franchise has gained a massive following when director Gore Verbinski and producer Jerry Bruckheimer created a box-office smashing, swashbuckling Disney movie all about privateers and buccaneers.
Jack Sparrow is a fan-favorite character for many audiences, and imaging the series going on with a different pirate captain might not fare well on most seas. In fact, over half a million supporters have signed a petition for Depp's return to Pirates.
However, combined with the relatively lackluster — compared to the success of other movies in the series — Pirates of the Caribbean: Dead Men Tell No Tales (2017) and Johnny Depp's chaotic personal life, Disney decided to part ways with the actor.
More on Margot Robbie's Pirates of the Caribbean
Fans were split when news broke that Margot Robbie would lead a reported reboot of the Pirates franchise, particularly that the new movie will not be connected to previous installments of the series. Instead, Margot's Pirates film will serve as a way for Disney to begin a new journey in the same movie universe.
To completely scrap the beloved movies and their characters — including Will Turner (Orlando Bloom) and Elizabeth Swann (Keira Knightley) — would disservice fans and do more harm than good to patch up Johnny Depp's tumultuous career at the moment.
Related: Should Disney Parks Remove Depp From Pirates? Guests Speak Out
Inside the Magic's Kelly Coffey put this situation perfectly:
"As a huge Johnny Depp fan, and lover of all things 'Pirates', I would love to see Margot Robbie's POTC be a spin-off rather than a continuation of the films in the franchise.
Personally, I feel as though regardless of what is happening in Depp's personal life, you can't have the 'Pirates' films continue without Depp's Jack Sparrow. And let's just say Disney did want to continue the films with a Jack Sparrow character in the films, no one can ever replace Depp as the character.
So having Robbie come in as part of a spin-off rather than a continuation of the already-successful franchise is a great idea as she can have her very own storyline instead of competing and living up to the standards of the already successful films."

Credit: Columbia Pictures

Related: Can Anyone Ever Replace Johnny Depp's Characters? Fans Speak Out
Margot Robbie is a fantastic actress and is a huge box-office draw. Gaining an Oscar nod for her groundbreaking roles in Bombshell (2019) and I, Tonya (2017) solidified the Australian actress as a Hollywood heavy-hitter. Her upcoming portrayal of Harley Quinn in James Gunn's The Suicide Squad (2021) is sure to steal the hearts of DC fans and further boost her credibility as an actress with a wide range of abilities.
Her future involvement with Disney and Pirates could still occur in the pre-existing franchise and introduce new characters while respecting previous ones. Rather than rebranding Jack Sparrow as Margot Robbie's character, her pirate role could center around the infamous "Redhead" pirate from the attractions or even an entirely new one.
Without a doubt, Robbie would nail a portrayal of a pirate because, well, she just could. Margot Robbie is a once-in-a-generation kind of actress, one that exudes talent that others only dream of coming close to reciprocating. But, re-writing Captain Jack Sparrow without Johnny Depp is like trying to replace Harry Potter with a different actor.
Inside the Magic's Krysten Swensen made a great point:
"I absolutely loved the first 3! Thought they were great. 4 and 5 seemed to really push it and probably could have been left out, though Dead Men Tell No Tales was a great subtitle. I think if they try to keep going with the Pirates movies, it will just seem as though they are beating a dead horse."
Related: Johnny Depp's 'Pirates' Considered "Doomed to Fail"
All good franchises must end at some point — and perhaps Pirates of the Caribbean should have ended with At World's End or On Stranger Tides.
It's reported that Johnny Depp has expressed a new sense of interest and awareness in portraying his Jack Sparrow character once more, and there is, of course, a slim chance that the petition we previously mentioned could impact casting decisions.
No matter where you stand with the Johnny Depp saga, one fact cannot be ignored:
Johnny Depp is a fantastic actor
. Depp, in a way, single-handedly created a "feel-good movie" franchise that you can't help but watch. That being said, the actors following him with the
Pirates 
franchise will have big shoes (or should I say "boots") to fill.
Do you think that Margot Robbie's movie should be a spinoff or reboot? Let us know in the comments below!
Editor's Note: The opinions expressed in this article are not necessarily the opinions of Inside the Magic overall.