Marvel's What If…? episode 5 features an all-star cast of Marvel zombies and the new Spider-Man (Hudson Thames) reversing Tobey Maguire's iconic train scene in Spider-Man 2 (2004).
The Marvel Cinematic Universe exploded after the events of Loki, featuring the titular villain (Tom Hiddleston) and Sylvie (Sophia Di Martino), killing Marvel's next villain, Kang the Conqueror (Jonathon Majors).
What turned out to be way more important than originally thought of, Marvel's What If…? deals with new stories of iconic characters in alternate universes. What If…? has been in the spotlight for replacing legendary Marvel actors, like Robert Downey, Jr. (Iron Man) and Benedict Cumberbatch (Doctor Strange), with new voice actors to tell new tales in the Marvel Universe.
The late Chadwick Boseman kicked off his final Marvel Studios project as a T'Challa (Black Panther)/Star-Lord, with Thanos (Josh Brolin) and Yondu (Michael Rooker) at his side. The original series opened with Agent Peggy Carter (Hayley Atwell) taking the Super Soldier Serum instead of Steve Rogers (voiced by Josh Keaton).
Related: Benedict Cumberbatch Declares Final MCU 'Spider-Man' Movie "Vastly Brilliant"
The new Spider-Man, voiced by actor Hudson Thames, made his MCU debut in "What If… Zombies?" Taking the mask from actor Tom Holland, the web-crawler in an alternate timeline joined together with Hope Van Dyne (Evangeline Lily), Okoye (Danai Gurira), Bucky Barnes (Sebastian Stan), and Bruce Banner (Mark Ruffalo) as they traverse through a zombie-filled New York City.
Marvel's New York was littered with terrifying zombie characters, including Captain America and Scarlett Witch. The rag-tag Avenger group realized Jan van Dyne and Hank Pym (Michael Douglas) had inadvertently infected the United States with a virus.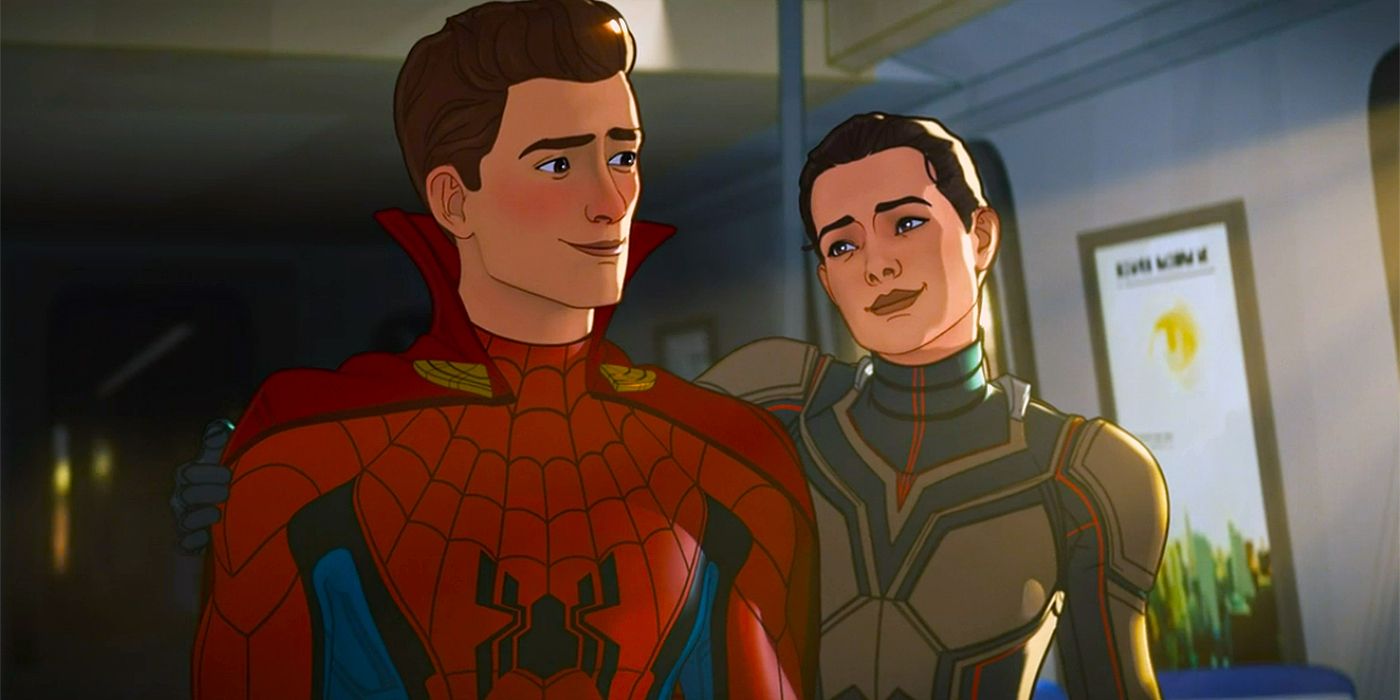 Following a beacon of light to Camp Leigh to cure the virus, Peter Parker and crew opt to travel by train. Filling an NYC subway in the heart of Grand Central Station, Peter Parker is enlisted to jumpstart the train with his webs.
Tobey Maguire (The Great Gatsby, Pleasantville) has been the talk of the town among every Marvel fan after rumors and reported leaked photos from Spider-Man: No Way Home (2021) surfaced, suggesting that Maguire and Andrew Garfield are putting back on the Spider-Man suit for a major Marvel crossover and Multiverse event.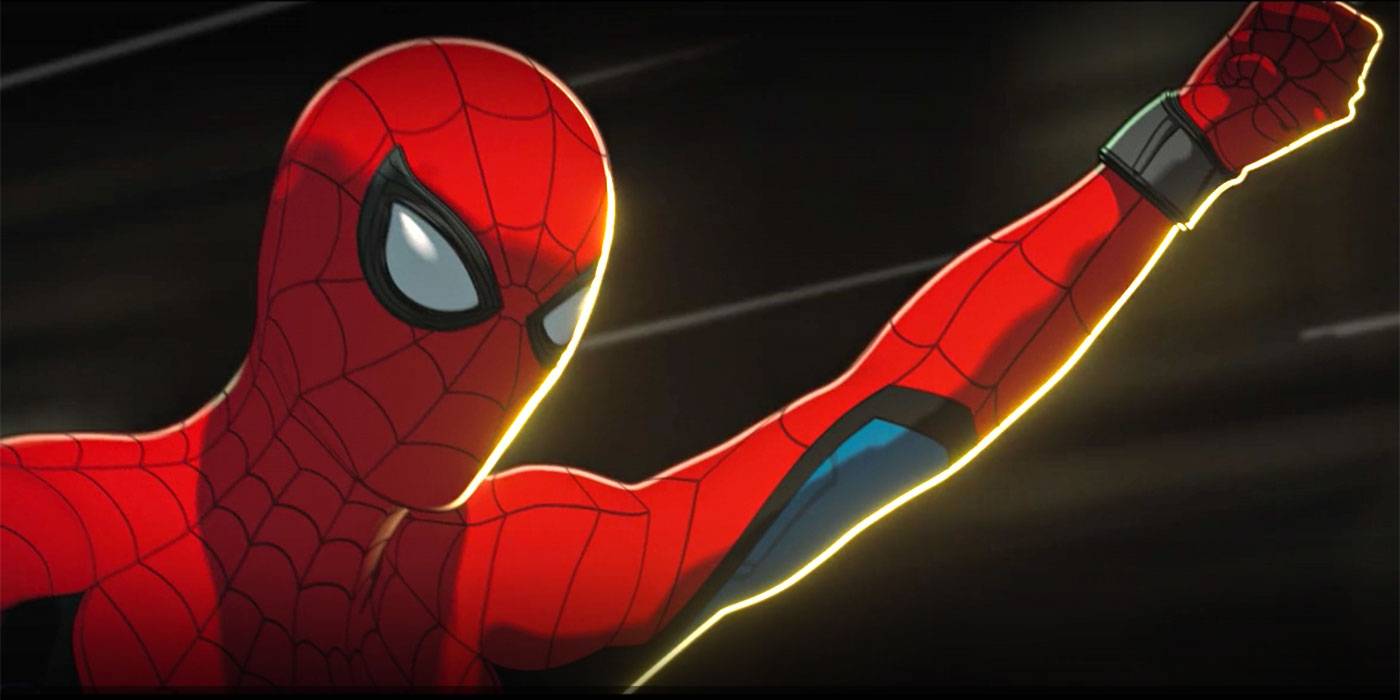 Related: Marvel's Next Massive Crossover Event in the MCU May Debut By October
Undoubtedly perfect timing, Kevin Feige and Marvel Studios paid a huge homage to Sam Raimi's Spider-Man 2 with Peter Parker having to pull a train, rather than stopping one.
Maguire's Spider-Man franchise is regarded as one of the best superhero trilogies ever, but it doesn't come without a hefty amount of internet memes.
While using his webs to slow a runaway subway, Maguire's face is infamous and makes this sequence unforgettable among Spidey fans. In Spider-Man 2, Alfred Molina's Doctor Octopus destroys the breaks on a train before escaping from Spider-Man. Choosing to risk his life to save dozens of innocent civilians, Parker thrusts himself to the nose of the train, slings his webs to the sides of buildings, and forcefully brings the speeding subway to a near-fatal stop.
The Marvel Cinematic Universe is begging to blend numerous Marvel Universes into one, including Andrew Garfield's The Amazing Spider-Man with supervillains Electro (Jaime Foxx) and Lizard (Rhys Ifans) appearing in No Way Home.
Now, they've perfectly reversed Tobey Maguire's iconic Spider-Man moment by building up the same amount of suspense around the What If…? train scenes, as well as visual nods to Raimi's film.
Related: Move Over, Tom Holland: Andrew Garfield Wanted His Own 'Spider-Man: Sinister Six' Movie
It's not entirely clear if this parallel between the two Spider-Men were intentional, but the famous train scene had to have crossed the mind of a What If…? writer at some point.
Nonetheless, it was a fun nod to Tobey Maguire and served as a reminder of what's coming to the Marvel collection with Spider-Man: No Way Home. Episode 5 echoes the fact that Spidey universes are set to overlap in Phase 4 and bridges together Maguire's iteration with the MCU like never before.
Did you catch this Spider-Man reference? Let us know in the comments below!