Destined to be together in the Star Wars universe, Anakin Skywalker and Padmé Amidala were secretly married on Naboo in Star Wars: Episode II – Attack of the Clones (2002). Somewhat surprisingly, Anakin and Pamdé's love story once featured a reference to author J.R.R. Tolkien's The Silmarillion.
Related: 'Andor' Set Photo Hints Surprising 'Rogue One' Character Will Be Back
Renowned author J.R.R. Tolkien, best known for The Lord of the Rings (1954-1955), created the foundation for Middle-Earth and continues, even today, to influence countless creative geniuses. So much so that young Anakin (Hayden Christensen) and Padmé's (Natalie Portman) love story took from a chapter of The Silmarillion (1977), a continuation of Tolkien's Lord of the Rings universe.
In Legends continuity, Padmé and Anakin followed a very similar path to Attack of the Clones. The original Naboo myth connected the Star Wars couple to The Lord of the Rings couple with The Silmarillion chapter "The Tale of Beren and Lúthien."
Before Bilbo, Baggins found the One Ring in Gollum's cave, and Frodo, Legolas, Gandalf, and their companions embarked on a perilous quest through the Gondor and Mordor to destroy the dark lord Sauron's ruling ring at Mount Doom, two star-crossed lovers met in The Silmarillion.
Released after Tolkien's passing, The Silmarillion documents the trying love story of Beren, a mortal man who instantly falls in love with Lúthien, an immortal elf. In ancient times and far before evil Sauron corrupts the King of Gondor, Beren and Lúthien risk everything to pursue their secret love.
Related: First Look at How Mena Massoud Might Look as Ezra Bridger
Much like Aragorn and Arwen's love affair in The Lord of the Rings trilogy books and films adapted by Peter Jackson, Beren and Lúthien defy the pre-establish rules of Middle Earth to follow their hearts. In the process, Beren loses his hand, a jewel heist takes place, and Lúthien gambles her immortality to break her love back to life. In the end, they are finally able to pursue their love, but both were forced to live as mortals and die the death of men.
In Legends, when Anakin and Padmé secretly married on Naboo, the ceremony was officiated by Maxiron Agolerga, a bishop of the Brothers of Cognizance. Padmé requested that the pontifex keep the marriage a secret and limited the information about the event. When giving their names to Maxiron, Padmé called herself Veré while Anakin used the pseudonym Set.
Related: New Details Seemingly Confirm 'Mandalorian' Timeline Jump
Maxiron Agolerga and Anakin and Padmé lying about their names come from a Star Wars Databank entry by Tim Veekoven. Maxiron remains a canonical part of this Star Wars saga, but in the prequel trilogy an old man marries the two, causing conflicting sources for Maxiron's backstory in Legends. Since this Middle Earth-connected marriage doesn't take place in the Star Wars movies and Skywalker saga, most Star Wars fans don't know about this.
Nonetheless, Veekhoven's inspiration for Padmé choosing to get married under fake names, Veré and Set, came from The Silmarillion's chapter "The Tale of Beren and Lúthien." Veekhoven's Naboo myth states that Veré was a beautiful, immortal woman who fell in love with Set, a mortal man. They too hid their love and defied pre-conceived standards.
Reportedly, Anakin and Padmé's love story was a reimagined telling of Beren and Lúthien's in The Silmarillion, and the story trickled down to Padmé and Anakin's secret wedding.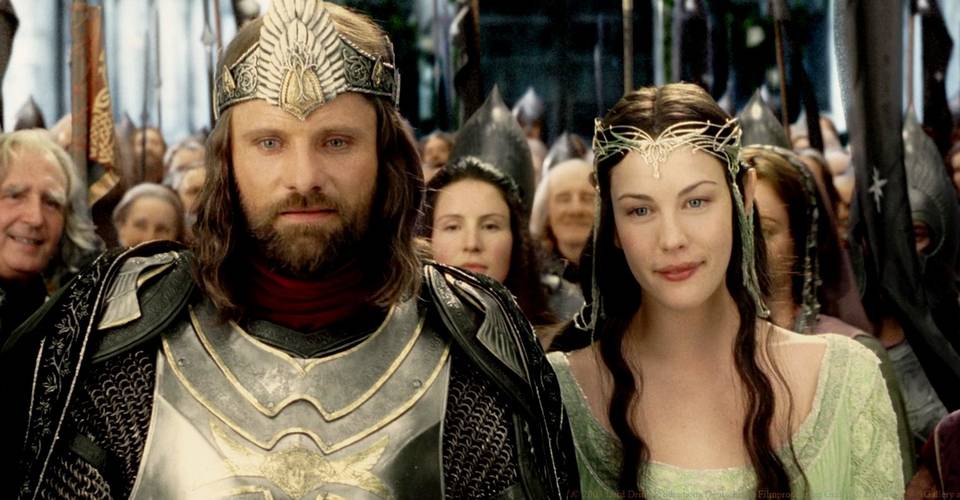 Related: One Lightsaber to Rule Them All: 'Star Wars' Meets 'Lord of the Rings'
Parallels between both couples are evident, from Beren and Anakin both losing their hands, their instant fixation with someone whom they couldn't be with, and Lúthien and Padmé's sacrifices for their husbands. There is no longer a tie to the Star Wars and The Lord of the Rings couple in canon, but the connection is still fascinating. Numerous stories follow a similar pattern between lovebirds, but it's interesting to note George Lucas's and J.R.R. Tolkien's work similarities, in particular.
With so much in store for The Mandalorian, The Book of Boba Fett, and upcoming Star Wars films, Star Wars fans will see more connections between these franchises in the future. Perhaps Amazon's Lord of the Rings series will touch on Beren and Luthien's love story?
Did you know about this? Let us know in the comments below!