Matt Lanter became every boy's hero when he took on the voice role of Anakin Skywalker in The Clone Wars in 2008. He became one of Hollywood's most legendary characters and helped create a new Star Wars story under the wing of creator George Lucas.
For over ten years — and the Walt Disney Company acquisition of Lucasfilm — Matt Lanter voiced one of the most essential characters in the Star Wars Universe. But he wasn't a Star Wars fan when he first took the job.
Related: Fan Suggests George Lucas, Stan Lee Replace Disney Partners Statue
When The Clone Wars animated movie released in 2008, live-action actor Hayden Christensen was fresh off the soundstage as Anakin Skywalker in the Star Wars prequels — Star Wars: Episode I – The Phantom Menace (1999), Star Wars: Episode II – Attack of the Clones (2002), and Star Wars: Episode III: Revenge of the Sith.
The latter film is widely regarded as one of the most important movies in the Skywalker Saga. Any future portrayal of the turbulent Anakin Skywalker/Darth Vader would be tough to beat.
Matt Lanter was up for the challenge. And, Star Wars creator Lucas was ready to dive deeper into the tumultuous fall of Jedi Knight Anakin Skywalker to the dark side at the hands of Chancellor Palpatine/Darth Sidious. He knew a TV series was the best answer. Adding executive producer Dave Filoni, who is now at the helm of the hit Disney+ series The Mandalorian alongside Jon Favreau, was a brilliant move that set up Clone Wars to embark on a new Star Wars journey interweaved throughout the events of the prequels.
Lanter began his Star Wars career towards George Lucas' s but was honored to have worked with Star Wars creator. In an exclusive interview with Looper, Lanter said:
George is an awesome guy. Super creative, very soft-spoken, and shy… All of our stories came through Dave [Filoni] and through George. George was in there giving notes, coming up with new story ideas. So what's really unique — and maybe people don't really realize — is we were the last Star Wars project to really be from George alone. So kind of a cool thing.
Related: George Lucas Reportedly "Heavily Involved" in 'Mandalorian' Season 3
As humble as he is, Lanter did share:
Truthfully, I wasn't as huge of a fan of Star Wars at that time as I am now. So it would have been exceptionally intimidating to be sitting in front of him [now]. But at the time, it really wasn't.
By all means, Lanter probably felt he was in over his head but knew the importance of the moment:
I mean, at the time it was just, I was like, 'Okay, yeah. I mean, obviously, I know who you are.' It was great, but I wasn't nervous. And it was just, it was great.
Don't worry, though, after working that closely with George Lucas, Matt Lanter's love for Star Wars grew like Anakin's love for Padmé Amidala. So much so that Dave Filoni called up Lanter while filming The Mandalorian Season 1 to invite his old colleague to the set.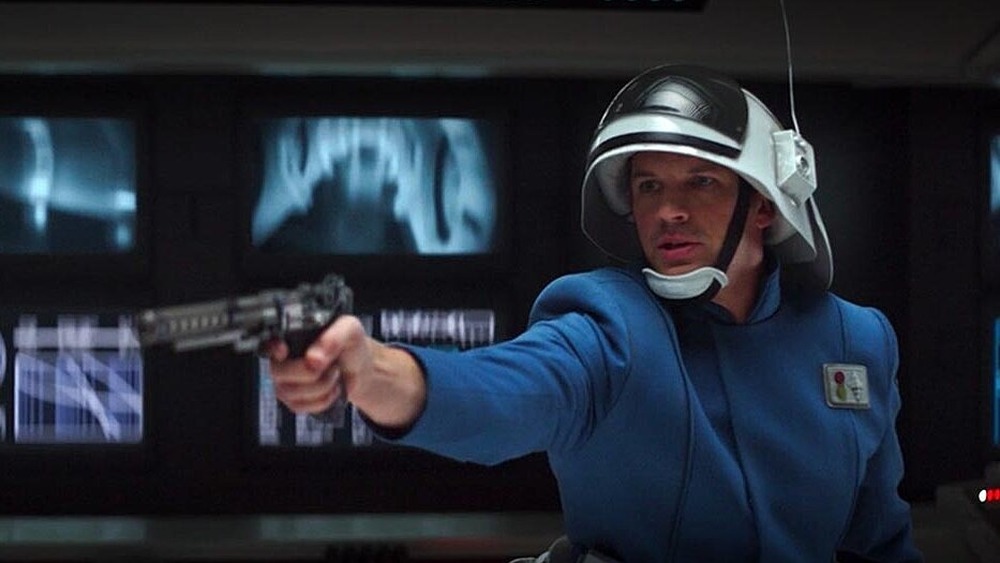 Lanter shared:
The Mandalorian was great. Dave [Filoni] called me up and just said, 'Is this something you'd want to do?' And I said, 'Are you kidding me?!' It was a really, really unique experience. Not that many people get to be on a Star Wars live-action set… I was like a kid in a candy store being a fan of Star Wars.
In "Chapter 6: The Prisoner", Lanter made a cameo appearance as a New Republic officer on a Republic prison ship. While Din Djarin (Pedro Pascal) and his companions infiltrate the cruiser to retrieve some precious cargo, Lanter's character attempts to deescalate the situation. It didn't end well.
Lanter's career with Lucasfilm has been ongoing. He also lent his voice in Star Wars: Episode VII – The Force Awakens (2015) and is game to play a live-action Anakin Skywalker or another Star Wars character in the upcoming Disney+ spinoff series, like Ashoka.
We'll see Hayden Christensen portray Anakin Skywalker/Darth Vader once more in the upcoming Kenobi series on Disney+, in which the prequel trilogy and original trilogy collide like never before.
Did you know this about Matt Lanter? Let us know in the comments below!