**SPOILERS for The Mandalorian Season 2 Finale ahead**
Just like that, season two of The Mandalorian on Disney+ came to a glorious finish and shocked fans once more. The season wrapped up nicely like a Christmas present, and now we're counting down until season three of The Mandalorian releases Christmas 2021. With so many loose ends tied up in the finale, fans may wonder where the hit Star Wars series is heading next.
In the emotional and overwhelming finale, The Mandalorian dipped into Star Wars history and opened a world of possibilities for a third (and fourth) season. Let's take a look at some possible directions the series could bring.
Mando Messed Up
Star Wars fans of all ages had become massive fans of The Mandalorian, especially when Jon Favreau and Dave Filoni connected the new series to Star Wars lore yesterday.
Related: Luke Skywalker, Kylo Ren, Grogu, & How They'll Shape 'Star Wars'
Including the Darksaber and The Clone Wars/Rebels character Bo-Katan was a massive risk that Lucasfilm/Disney took, but it worked perfectly. Fans were delighted to see actress Katee Sackhoff portray her Lady Bo-Katan in live-action, and her character proved most helpful in the Mandalorian finale.
However, her quest to reclaim the Darksaber from Moff Gideon and retake Mandalore went a little haywire at the end.
Once Din Djarin finds little Grogu in the holding cell on Gideon's cruiser, the Moff is already there with the Darksaber ignited. In a tantalizing joust between Mando and Gideon, Moff Gideon is disarmed by the Mandalorian and bested in combat.
Related: Gina Carano Ranks as One of the World's Biggest Stars Right Now
No one realized that whoever rightfully defeats the Darksaber's wielder in combat earns the weapon — much like the control over wands in Harry Potter. Now, Din Djarin is the rightful ruler of Mandalore. He messed up.
So, now, Bo-Katan has got Mando on her radar. On top of that, he took off his helmet in front of her, so now he can't go into hiding! Just kidding — as we know, Din Djarin honestly didn't care about wielding the Darksaber and offered the weapon to Bo-Katan numerous times.
Moff Gideon indulged in the situation and noted that the story of the Darksaber's "powers" was the only force stopping Bo-Katan from taking the Darksaber from Mando, not Djarin himself. If he wants to lose the saber, Bo-Katan will have to best the Mandalorian in a fair fight. It won't be a comfortable process handing over the weapon.
Season 3 will deal with the outcomes of Mando's wielding of the Darksaber, and we may see Bo-Katan separate from the company of Din Djarin even more. Be prepared for an unenthused and angered Kryze in the next season.
Finding a New Way
Despite how some may feel, Din Djarin removed his helmet in the presence of living beings — TWICE! Once in front of Imperial troopers and Mayfield on Borak in Chapter 15: The Believer, and once again in the season finale of The Mandalorian.
In the second instance, Djarin finally revealed his face to a surprised Grogu to permit him to leave with Luke Skywalker.
Since first meeting Bo-Katan and her Nite Owls, Mando learned that not all Mandalorians keep their helmets. From episode three of the second season onward, we could see Djarin was kicking around the idea of allowing his helmet to come off.
Now that he did so in front of seven lifeforms on Gideon's cruiser, we might see more of the hero's face in Season 3 — if he, in fact, frequently appears in Season 3, which is looking increasingly like it could be The Book of Boba Fett.
Related: Pedro Pascal's Maskless Performance Proves Favreau & Filoni Got Casting Right
If Din Djarin does appear on a regular basis, Season 3 could deal with him removing his helmet in front of others again since the Mandalorian is coming to terms with his views of The Way and where he stands with fellow Mandalorians.
Not everyone realizes that in many scenes we don't see actor Pedro Pascal's face; there's another actor under that beskar armor. Much of the time, Pascal merely lends his voice to The Mandalorian while a stunt double performs on-set.
On top of that, the Mandalorian no longer has Grogu. The "MacGuffin" of the first two seasons is Grogu and Mando's quest to return the creature to his kin and unlock his abilities. Not to worry, the youngling is in the care of Luke Skywalker (who took down a platoon of Dark Troopers!). But, where does that leave the Mandalorian?
Personally, I feel that he should settle down with the nice lady from Chapter 4: Sanctuary, but that's just a pipe dream. Could he take up a relationship with Cara Dune (Gina Carano)? The Guild would most likely not welcome Mando back, considering the damage he caused throughout Nevarro and the Outer Rim, but then again, he's living in a strange Star Wars galaxy.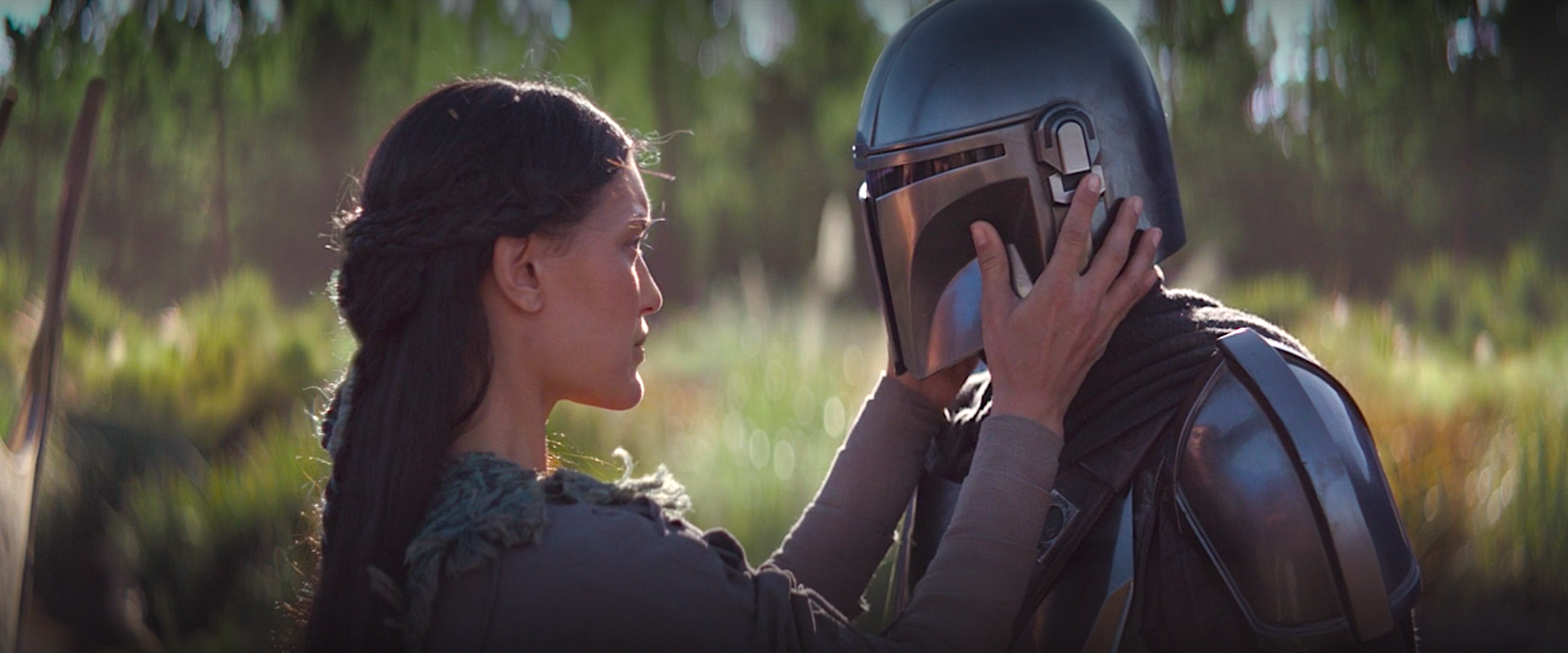 With Grogu safe with Luke Skywalker (CGI Mark Hamill), Boba Fett (Temuera Morrison) and Fennec Shand (Ming-Na Wen) leaving, and Bo-Katan Kryze (Katee Sackhoff) possibly exiling the Mandalorian, Cara Dune returning to Nevarro as a Marshal of the New Republic, Mando is by himself once more.
And he doesn't have a ship!
I say settle down with the nice lady from the farm on the planet Sorgan.
Ladies and Gentlemen, We Got Him
Finally, Moff Gideon has been captured!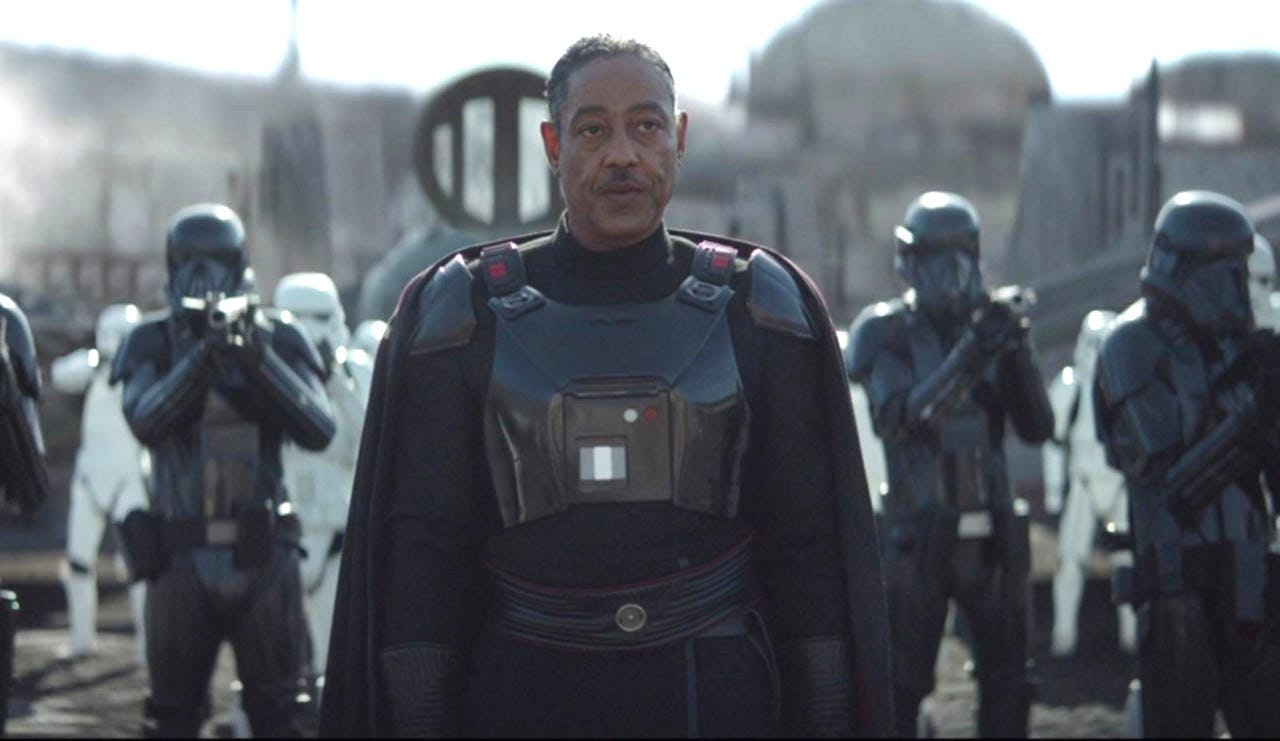 Actually, this isn't good. Much like Batman or Captain Kirk, Din Djarin kept his greatest foe alive and now incarcerated the Imperial. Moff Gideon gave a snide remark to Mando once he lost in combat, stating, "You're sparing my life? Well, this should be interesting."
Like every villain with a lasting impact — including the Joker in The Dark Knight and Palpatine in Star Wars: Episode III – Revenge of the Sith — Moff Gideon has won and is now a seed in the New Galactic Republic.
It could be bold saying Gideon "wanted to be captured," but maybe he did. The Moff will be taken to the HQ of the New Galactic Republic, and now the Imperial leader will know where the bear's cave is. Like Loki escaping in The Avengers, Gideon could transmit his location to the Empire, giving away the hiding place of the New Republic.
Related: Dave Filoni Almost Wrote a 'Baby Yoda' Joke For Ahsoka Tano
Though season three of The Mandalorian is a year away, we're ready to wait and see what treasures lie in the future!
What do you think will happen next? Let us know in the comments below!