This Friday marks the last episode in season two of Star Wars: The Mandalorian, in which Din Djarin will attempt to rescue Grogu (A.K.A. "Baby Yoda") from the evil clutches of Moff Gideon (Giancarlo Esposito) and his Imperial forces. But, will Din Djarin succeed in his mission?
Since the first episode of The Mandalorian, Mando's attempts to protect The Child from Gideon's Imperial remnant and other bounty hunters have proved successful, until Chapter 14: The Tragedy. While Djarin and The Child visited the ancient Jedi Seeing Stone on the planet Tython in a bid to contact any remaining Jedi (possibly Luke Skywalker, Cal Kestis, Mace Windu?!), Moff Gideon captured Grogu with the aid of his new Dark Troopers.
Now, the unstoppable Din Djarin (Pedro Pascal), Cara Dune (Gina Carano), Fennec Shand (Ming-Na Wen), Boba Fett (Temuera Morrison), and, perhaps, even Bo-Katan Kryze (Katee Sackhoff), are mounting up to unload a siege of raw power and revenge upon Moff Gideon for the season finale, but the Star Wars heroes may be in more than they bargained for.
Related: Dave Filoni: Rian Johnson Convinced Me to Do Live-Action
In no way are we hoping the Mandalorian and his team of hardcore heroes fail, but Star Wars may take a note from Marvel's Avengers: Infinity War (2018) and let their protagonists fail in saving Grogu before the third season begins in December 2021.
However, the failure of saving The Child in The Mandalorian's season two finale may spark an internet civil war, of sorts, among Star Wars fans, as the fanbase is only growing with every new episode. We're not here to start those fires, but there's a big clue that Din Djarin may fail in retrieving Grogu.
Showrunner Jon Favreau and executive producer Dave Filoni have saved Star Wars with their live-action Mandalorian masterpiece, shining a light on forgotten characters and Star Wars lore. Both come from successful writing backgrounds, and to add another trophy to their shelves, they may allow Din Djarin to go through the "Revelation" section of The Hero's Journey.
Below is an example of a Hero's Journey template:
The Hero's Journey is a standard template used in stories centered around a hero who goes on a dangerous adventure, but is victorious. Films like The Dark Knight, The Lord of the Rings, and Moana perfectly capture the loss heroes first go through before achieving success.
Related: Lucasfilm May Have Already Leaked Taika Waititi's 'Star Wars' Storyline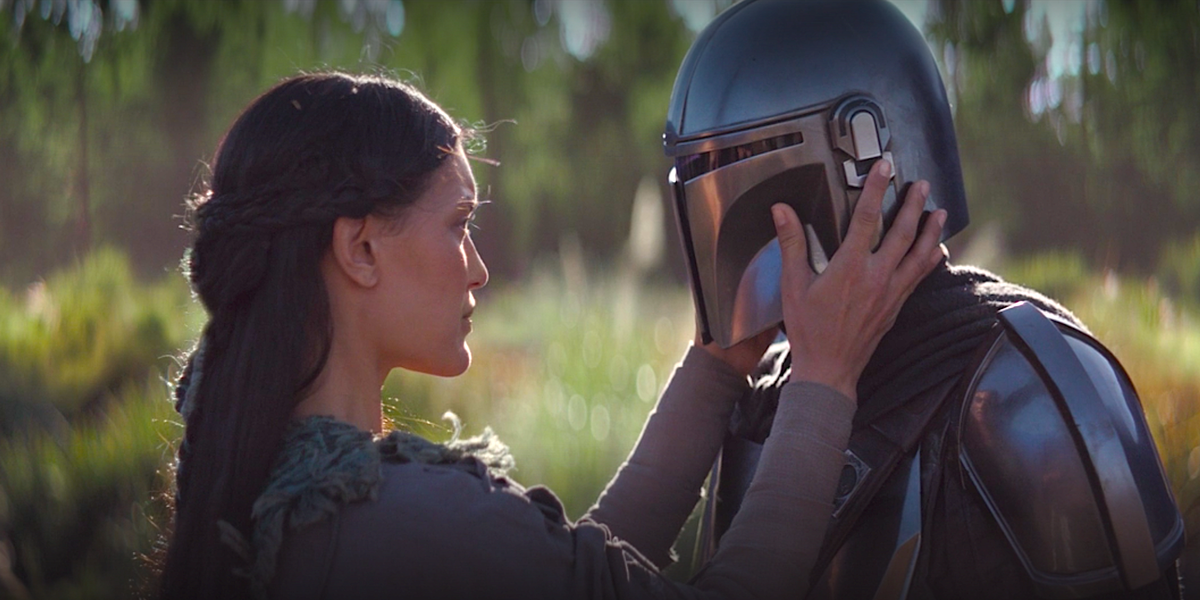 In 2018, Marvel's Avengers: Infinity War showcased one of the best examples of following The Hero's Journey when Thanos, the main villain, actually won. No one saw it coming, but the good guys even lost. Thus marking the "Revelation" stage of "Abyss, Death & Rebirth" in the story template, the Avengers had to go through a Transformation, Atonement, and Return before succeeding and saving their fallen friends.
While it initially seemed that Din Djarin may have already entered the stage of Revelation when he first lost Baby Yoda on Tython, the stage may not actually begin until the end of The Mandalorian season two. The Star Wars season finale will be an all-out shootout — probably literally — and who knows which Star Wars characters may reappear or appear in Chapter 16 tomorrow, but it may not be enough for The Child to be rescued.
If that's the case (which we hope is not), Baby Yoda won't be back in the hands of Djarin until season three (confirmed for a Christmas 2021 release). Hopefully, Mando won't gain weight like Thor did in Avengers: Endgame, but the character would be on the road to redemption and atonement.
Related: Din Djarin May Not Have Broken 'the Way' When He Showed His Face
With Moff Gideon's coordinates, obtained from an Imperial Base on Morak in Chapter 15: The Believer, Din Djarin knows where to find the Imperial leader. Mando's heated and threatening holo message was sent to the Moff, taking inspiration from Gideon's monologue on Nevarro, and now, the bounty hunter is ready to save his kid.
Hopefully, Mace Windu will pop out from nowhere and aid in the attack, but Mando and his team may need a whole fleet to save The Child.
We're rooting for you, Din!
Will Baby Yoda be saved before season three? Let us know in the comments below!