A disturbing trend of antisemitic public sentiments intensified this month after Kanye West (Ye) tweeted that he was going "death con 3 on Jewish people." The musician and fashion designer also discussed the topic on Fox News with Tucker Carlson, going viral after disturbing unaired clips revealed that Ye believed "professional actors" were placed into his home to "sexualize" his children.
Related: Guest Discovers the ONLY Religious Item at Disneyland
While West has since been dropped by many of his business partners, including Gap and Adidas (which helped West create Yeezys), Los Angeles, in particular, has seen an uptick in public antisemitic displays. This week, one hate group targeted residents of Brentwood, California – hours from Disneyland Resort.
Shannon Watts (@shannonrwatts) tweeted a photo of fliers that were placed in Brentwood residents' mailboxes:
A friend sent me images of these flyers appearing in the mailboxes of Brentwood families today.
A friend sent me images of these flyers appearing in the mailboxes of Brentwood families today. pic.twitter.com/elW2GNYXxP

— Shannon Watts (@shannonrwatts) October 23, 2022
One flier accuses Jews of perpetrating the "COVID Agenda," while another says President Joe Biden's administration is Jewish and reads, "LET'S GO BRANDON."
Related: Disney Tried Adding Israel to EPCOT Causing Controversy Amongst Fans
The third – relevant to the California location – accuses Disney of "child grooming" and claims multiple Walt Disney Company executives are Jewish. Each has a blue Star of David on their forehead. These executives include:
The Walt Disney Company CEO Bob Chapek
Senior Executive Vice President Alan N. Braverman
Chairman of Disney Studios Content Alan Bergman
Executive Vice President of Social Responsibility Jennifer Cohen
Executive Vice President, Controllership, Finance, and Tax Brent Woodford
The flier also mentions Former CFO Jay Rasulo, who left The Walt Disney Company in 2015. Christine McCarthy is Disney's current CFO but isn't mentioned on the visible part of the flier.
"Protect your children," the flier repeats, also bearing a rainbow Star of David. It appears to be folded, and it's unknown what is on the other half.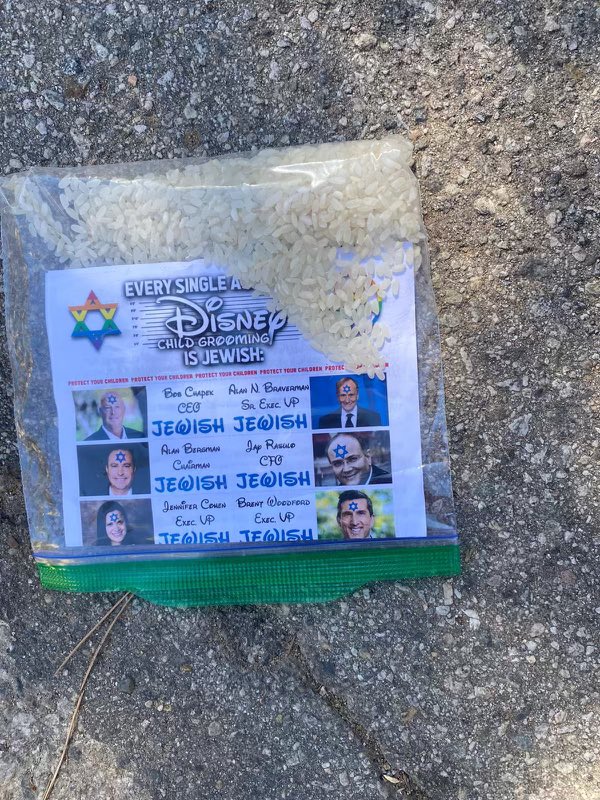 It's important to note that, to our knowledge, these executives aren't Jewish. Even if they were, it would and should have no impact on their roles at The Walt Disney Company. According to the Anti-Defamation League, these myths are regularly presented as evidence of a "cabal" of Jewish people with social power that can be blamed for societal issues.
Related: DeSantis Boasts "Never" Backing Down In New Ad, But May Exit Disney Reedy Creek Battle
Additionally, it's illegal under federal law to tamper with anyone's mailbox. While free speech is protected under the First Amendment, by law, "a mailbox is intended only for receipt of postage-paid U.S. Mail."
The child grooming accusations likely tie back to The Walt Disney Company's public criticism of Florida Governor Ron DeSantis' "Don't Say Gay" law. Disney also promised to pause political donations in Florida after donating $4.8 million to Florida campaign funds in 2020.
Related: Walt Disney World Is Directly Connected to New York By a Series of Tubes
While LGBTQIA+ Disney fans and Cast Members applauded Chapek for condemning the bill, some vowed to #BoycottDisney and accused the company of child grooming. Protests erupted at the Disney Parks, with some groups even removed for flying Nazi and Swastika flags outside Walt Disney World Resort. 
Anti-semitism is a dangerous ideology that has persisted for hundreds of years and regularly puts Jewish people in danger. It's important to condemn these remarks and ideas when you see them.