The Lord of the Rings is one of the most beloved and successful franchises in entertainment history, with six blockbuster films backing author J.R.R. Tolkien's prolific Middle Earth novels. Director Peter Jackson's Lord of the Rings movies solidified Frodo Baggins and Gandalf as household names, and Jackson's Hobbit trilogy only furthered the Middle Earth fandom. Tolkien's work is so immersive that you almost feel like falling into his pages and escaping to Middle Earth.
With other successful film franchises like Harry Potter and Star Wars receiving immersive themed lands, Rings fans are left wondering, why haven't Disney or Universal built a Lord of the Rings theme park yet?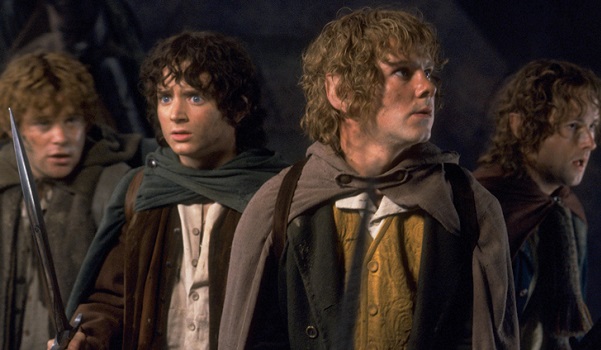 Related: Why J.R.R. Tolkien Never Let Walt Disney Touch 'The Lord of the Rings'
The work of John Ronald Reuel Tolkien CBE has stood the test of time since The Hobbit's release nearly 100 years ago. The English writer's mythical epics — The Hobbit (1937) and The Lord of the Rings (1954-1955) — are considered some of the greatest fantasy works in history. The tales of a Shire-bound Hobbit, Bilbo Baggins, and a forgotten king reclaiming his crown, Aragorn, found their way on nearly every college students' shelves in the 1960s. Middle-Earth inspired Led Zeppelin and The Beatles, and Peter Jackson's film adaptations blew Mordor out of the water.
Star Wars, Harry Potter, and The Lord of the Rings are the trinity of ultimate nerd fandoms, but only two of them have devoted themed experiences in Disney and Universal Studios theme parks. What is that all about?
Star Wars: Galaxy's Edge and The Wizarding World of Harry Potter are groundbreaking adventures that transport Guests into fully immersive worlds. In one day, you can construct your own lightsaber, commandeer Han Solo's Millennium Falcon, and build an R2-unit droid. But why haven't we seen a real-life Middle Earth yet?
It's easy to dream up a Shire-themed land at the Walt Disney World Resort or Universal Studios Orlando Resort, for example, but it's as tough as destroying the One Ring to make it a reality.
The reason why we haven't received a real-life Middle Earth based on Tolkien's work boils down to two factors: franchise rights and money. Now, The Walt Disney Company and Comcast (Universal's parent company) are not afraid to take gambles when it comes to acquiring the theme park rights, or the entirety of the IP rights, to very (very) profitable franchises and turn them into immersive experiences.
However, obtaining the theme park rights to The Lord of the Rings and The Hobbit has been an ongoing battle with Tolkien's estate. J.R.R. Tolkien was very reluctant to allow companies to touch his work, especially Disney. Everyone from Walt Disney to The Beatles aimed to take a shot at adapting Middle Earth into live-action or animated feature films, but the author opposed most who tried to obtain any rights from him.
Related: Anakin and Padmé Have a Secret 'Lord of the Rings' Connection
However, in recent years, the Tolkien Estate is far more willing to discuss future rights to the late author's work. Even before J.K. Rowling was brought into the picture to add Harry Potter into their theme parks, Universal Studios has been in discussion with the Tolkien Estate to add a Middle Earth to the parks. There's even a survey dating back to 2010 when Universal questioned Guests on their interest in a Rings-inspired land.
Since the 1990s, Universal aimed to add The Lord of the Rings to their Orlando Resort, but discussions occurred off and on for the next two decades.
Talks have sparked up between the two once more, most notable due to Universal's Epic Universe theme park gaining traction in recent months. While it's unconfirmed and this is all speculation, various media groups report that a Lord of the Rings-themed land could be coming to Epic Universe or even replace an entire section of Islands of Adventure.
According to Orlando Weekly,
The concept has moved from being a land in the now-announced Epic Universe park to now being a replacement to the less than popular Toon Lagoon area at Islands of Adventure, where it will reimagine the Popeye's themed raft ride, Bluto's Bilge-Rat Barges. Though the specific ride system has yet to be decided on, Young points to two options; one being an underwater rollercoaster-style track, while the other is a magnetic system similar to Shanghai's Pirates of the Caribbean. He also notes that Universal Creative used a recent closure of Bluto's to test some different styles of boats for the new attraction.

Credit: Universal
It appears that Universal may have been testing future "barges" for an update or even an entire retheming of Bluto's Bilge-Rat Barges in Toon Lagoon, but there is no confirmation on this being true. Putting our thinking caps on, Bluto's could turn into a river adventure inspired by Peter Jackson's The Hobbit: The Desolation of Smaug (2013) when Bilbo Baggins and the dwarves escape Mirkwood in barrels (sounds fun!).
Related: One Lightsaber to Rule Them All: 'Star Wars' Meets 'Lord of the Rings'
At the moment, Universal Studios does not own the theme park rights to The Lord of the Rings. Talks between Universal and Middle Earth Enterprises (formerly known as Tolkien Enterprises), a division of The Saul Zaentz Company, seem to be completely under the table, and there's no official source reporting that the two have even discussed the possibility of adding Lord of the Rings to the Universal Orlando Resort recently.
It's worth noting that there are zero reports or confirmations that Disney is aiming to add The Shire to one of their Disney Parks. Considering the overhaul of retheming and renovations at EPCOT and the proposed DisneylandForward expansion at the Disneyland Resort in Anaheim, California, it would appear that Imagineering has its hands full for the next decade.
With Epic Universe's official opening reportedly being pushed back to as late as 2025, it would make sense that Univeral Creative would only shift their focus to adding evil lord Sauron, Legolas, and Frodo to the parks until the third gate opens. That, however, would only happen if they do not intend for The Lord of the Rings to debut at Epic Universe.
With reports from Theme Park University and the Orlando Weekly suggesting that Universal is considering replacing Toon Lagoon with Middle Earth, Islands of Adventure could be receiving a huge facelift in the coming years.
According to Theme Park University,
"Most likely the new land would take over Toon Lagoon at Islands of Adventure. Why? When it comes to IP, comic strips like Popeye and Rocky and Bullwinkle don't exactly resonate with today's audiences. Yet, Lord of the Rings is seen as more of a timeless brand…"

"Most importantly, some of the plans call for not only taking over some of the track layout for Bluto's Bilge-Rat Barges at Toon Lagoon, but expanding it. As many of you know, Bluto's was recently down for a refurbishment. Part of the reason was annual maintenance, the other was due to nearby construction going on for the upcoming Jurassic World coaster [Velocicoaster] out in the lagoon."
Personally speaking, Universal is missing the mark by wanting to replace Toon Lagoon.
Related: Temporarily Closed Universal Attraction Catches Fire
The land is outdated, and the comic characters probably do not resonate with most of today's Guests, but what is going on in Islands of Adventure's Lost Continent?
The land is astronomically forgotten by visitors and only features the Mythos Restaurant and a few run-of-the-mill shops for Guests to enjoy. There's an entire amphitheater, Sinbad's Bazaar Amphitheater, sitting adjacent to the Hogwarts Express: Hogsmeade Station that's completely abandoned.
According to the Orlando Informer, The Lost Continent is,
"an island where ancient myths and legends become reality. Guests who dare to journey here will step into a world of Greek gods, fearsome beasts, and archaic enchantments. The area includes Sindbad's Bazaar, a Middle Eastern marketplace, and The Lost City, a ruinous Grecian city that is home to gods of old. Although there are no rides in Lost Continent, it is one of the most richly themed lands of Islands of Adventure, and guests will enjoy sampling the exotic cuisine, exploring the shops, stopping to chat with a mischievous fountain, and uncovering ancient heroes in Poseidon's Fury."

Credit: Universal
Perhaps The Lost Continent is too small for The Lord of the Rings land, but rather stretching themselves into a third theme park; Universal Creative could replace the outdated and sadly unpopular Lost Continent with a relevant theme.
Keeping some of the rockwork, this new land could feature an attraction inspired by the perilous journey to destroy Sauron's One Ring. But, people would probably resonate more with the beautiful Shire taking up Sinbad's home.
Warner Brothers, the parent company of New Line Cinema, the powerhouse behind Peter Jackson's films, hold the film rights to Lord of the Rings, but considering their previously successful partnerships with Universal adding Harry Potter, owned by Warner Bros as well, talks to add The Shire or even Rivendell to the Orlando Resort could be easier than Disney approaching Warner out of the blue.
Fans could purchase their own Sting, pick up a delicious concoction called "Bilbo's Brew," or even take their picture with animatronic dwarves if this land becomes a reality. But, for now, we'll keep dreaming and hoping Universal surprises us.
Do you want a Lord of the Rings theme park? Let us know in the comments below!