Who's missing being able to hug and say hello to Minnie and Mickey?  I know I am, and so are many other Disney fans, but will we be able to hug Minnie, Mickey, and our other favorite Disney characters when Disneyland Resort reopens?
With Disneyland being the last of Disney Resorts around the world to reopen, let's take a look at what the parks that have reopened have done and what the parks that are reopening soon will do.  And don't worry, you'll still be able to say hello to your Disney friends!
The Disneyland Resort website does state that "characters will be in the parks in new ways to entertain and delight guests." But what exactly will that mean?
Below is more information on how Guests can still see their favorite characters in Disney Parks around the world so we know a bit of what we can expect for after Disneyland and Disney California Adventure reopen.
Shanghai Disneyland, Hong Kong Disneyland, and Tokyo Disneyland
In this order, these Disneyland Resorts have reopened, starting with Shanghai Disneyland on May 11, Hong Kong Disneyland on June 18, and Tokyo Disneyland on July 1.  All of these parks reimagined character meet and greets in a new fashion.  You aren't able to walk up to characters anymore for snuggles and selfies, but you can say hello from afar.
The Disney Characters often walk around the Resort to still say hello to all the guests and to have physical distance photo ops.  Sometimes, they'll wave from the castle, parade float, or a Main Street U.S.A. Vehicle, but if you're lucky, you might even get to ride an attraction alongside them…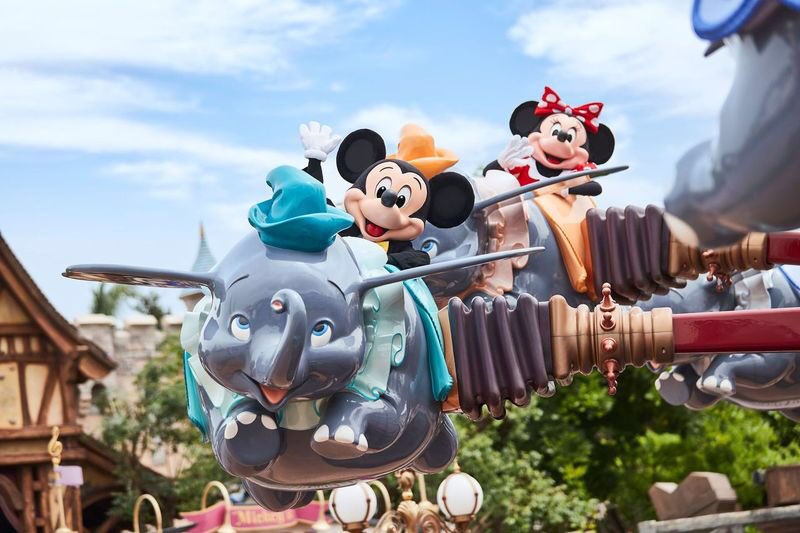 Walt Disney World and Disneyland Paris
These two resorts are set to reopen in the next couple of weeks with Magic Kingdom and Disney's Animal Kingdom at Walt Disney World reopening on July 11, Disney's Hollywood Studios and EPCOT reopening July 15th, and Disneyland Paris also reopening on July 15th.
Though we haven't heard much about what Disneyland Paris will be doing in terms of character meet and greets, we know they will be back in some way as they started hiring for the Dream Character roles. (Shh… Don't tell your kids about the performers!)
Walt Disney World has announced they would be reopening without traditional character meet and greets, but they are changing character experiences so that we can still enjoy our favorite magical personalities on cavalcades much like the ones you see on rainy days instead of parades. You can also read about the character cavalcades planned for Disney World here — we expect to see something very similar at Disneyland and Disney California Adventure theme parks when they reopen.
If you're looking for more information on what potentially won't be available at Disneyland, you can take a look at this article about Disneyland amenities, or this list of frequently asked questions!