The official trailer for Marvel's Hawkeye series on Disney+ released today, and every Marvel fan is dissecting every frame of the teaser. Quickly after the trailer was released, actor Vincent D'Onofrio posted a tongue-in-cheek Tweet that's possibly hinting at the return of a major Marvel villain.
Related: 'Hawkeye' Is the Most Anticipated Marvel Project, According to Twitter
D'Onofrio (Jurrasic Park, The Magnificent Seven) made his Marvel Universe debut with Netflix's Daredevil. Though his character Kingpin (Wilson Fisk) isn't technically a part of the Marvel Cinematic Universe (yet), the crime lord has major ties to Peter Parker/Spider-Man, New York, Matt Murdock/Daredevil, and possibly Spider-Man: No Way Home (2021).
Kingpin is undoubtedly one of the most famous villains residing in Marvel's New York and stole the show in Daredevil and Spider-Man: Into the Spider-Verse (2018).
Rumors circulating Charlie Cox's Matt Murdock/Daredevil appearing alongside Tom Holland in No Way Home are certainly plausible, given that Peter Parker needs a lawyer. Tieing together even more dots is the fact that Hawkeye resides in Hells Kitchen — the stomping ground of Kingpin, Daredevil, and Spider-Man.
New York is without Iron Man (Robert Downey, Jr.), Captain America (Chris Evans), and Black Widow (Scarlett Johannson). As a result, crime is drastically increasing after the events of Avengers: Infinity War (2018) and Avengers: Endgame (2019).
Moments after the official Hawkeye trailer — starring Jeremy Renner (Clint Barton/Hawkeye) and Hailee Steinfeld (Kate Bishop) — released, D'Onofrio Tweeted:
The three legged dog. Run'n, jump'n and with an incredible case of the wiggles. This dog does not ask for pity.
The three legged dog.
run'n, jump'n and with an incredible case of the wiggles.
This dog does not ask for pity.
This dog looks up to us.
Wants to know what's next.
Head tilted it says.
Where should we go,
what should we do?
Why are we waiting?

I say to myself.
This dog is right

— Vincent D'Onofrio (@vincentdonofrio) September 13, 2021
D'Onofrio, a writer and poet at heart, seems to have crafted a heartfelt spoken word for a three-legged dog. Nothing too serious, right?
Hold the phone. One of Kate Bishop's (Hailee Steinfeld) key characteristics is her love for a three-legged dog in Marvel Comics, and D'Onofrio reportedly released the Tweet 10 minutes after the trailer debuted on the internet.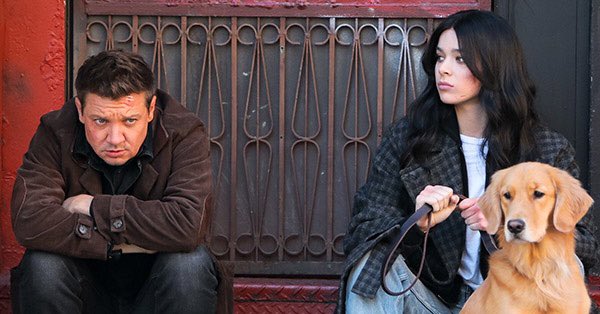 Related: Charlie Cox Finally Addresses Rumored Appearance in 'Spider-Man: No Way Home' Trailer
Hawkeye befriends a three-legged Golden Retriever in Hawkeye while fighting crime goons in New York City, and it made a special appearance in the teaser trailer.
What's more, is that D'Onofrio has been liking Tweets related to Kingpin's return in Hawkeye.
Marvel fan Overpolito shared his encounter with D'Onofrio on Twitter:
THE KING RETURNS IN HAWKEYE.
YOOOO @vincentdonofrio Fisk def in #Hawkeye bro pic.twitter.com/5dVka1xLsq

— Everything Marvel News   (@spidervenom69) September 13, 2021
Related: Benedict Cumberbatch Declares Final MCU 'Spider-Man' Movie "Vastly Brilliant"
While Charlie Cox, Andrew Garfield, and others have denied their involvement in Spider-Man: No Way Home, the release of Hawkeye three weeks before the web-slinging movie hits theaters offers the perfect setup for Kingpin to make his MCU debut on Disney+.
D'Onofrio isn't scared of causing a little social media storm by liking Hawkeye Tweets. Given that Clint Barton and Kate Bishop are most likely fighting criminals under Kingpin's grip offers the perfect explanation behind who's the next villain in Marvel's New York.
Hawkeye is coming to Disney+ exclusively on November 24, just in time for the Thanksgiving and Christmas seasons. One month later, Spider-Man: No Way Home hits theaters, and the two will undoubtedly expand the Marvel collection with new superheroes and villains like never before.
Are you excited to see Hawkeye? Let us know in the comments below!