Fireworks are finally back at Universal Orlando Resort!
That's right — Universal Orlando Resort has brought back nighttime entertainment to Universal Studios theme park on select nights. Social distancing and proper mask-wearing are, of course, being enforced during viewings of the show. But this makes us wonder — could Disney do the same at their theme parks? Could we see nighttime spectaculars return to Magic Kingdom or EPCOT? Let's discuss!
Related: Universal Orlando Resort February 2021 Refurbishments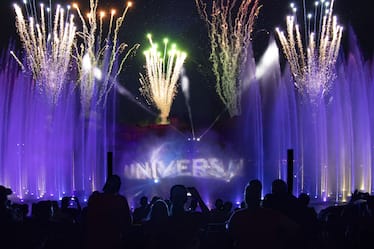 Universal brought back Universal Orlando's Cinematic Celebration for Mardi Gras 2021: International Flavors of Carnival which will run through March 28. The show was played for Guests on February 7 and will be shown again on February 13 at 9:45 pm.
Universal describes the show as:
An epic show is lighting up the night at Universal Studios Florida™ with a colossal celebration of music, water and light that transforms the park and takes you into the movies like never before.

As music from the world's biggest films fills the air, scores of shining, dancing fountains erupt. Massive walls of water blaze with incredible movie moments and powerful projections bring the entire waterfront into the movies. You'll see and hear roaring dinosaurs from Jurassic World, feel the adrenaline rush of high-speed cars from Fast & Furious, watch the mischievous antics of the Minions from Illumination's Despicable Me, and so much more.

Don't miss the amazing new show that's making nights at Universal Studios™ brighter and bolder than ever.
This is the first nighttime show that has returned to Universal Orlando Resort or Walt Disney World Resort, Guests have noticed that Universal is taking safety seriously at the first showing of Universal Orlando's Cinematic Celebration.
Could we see Disney World similarly bring back their nighttime spectaculars?
Fireworks at Disney World
Disney has tested fireworks at the Magic Kingdom and EPCOT, but they have not yet announced a return date for nighttime shows at the parks.
The last time Magic Kingdom tested fireworks was back in December 2020. Since then, Disney has not given any indication on when Magic Kingdom may bring back full fireworks shows for Guests to view, though they did send off some small fireworks for the holiday season at Cinderella Castle.
In regard to EPCOT, the theme park also tested fireworks in December, but the difference here is that Disney has officially confirmed that HarmonioUS, the new EPCOT nighttime spectacular, would be debuting sometime in 2021.
Related: Good News Points to the Return of Disney World Fireworks
Disney and Universal both have health and safety policies that are in place to protect both Guests and Cast Members / Team Members now that the parks have continued to operate amid the ongoing pandemic since summer 2020. Some of these policies, such a requiring physical distancing and face mask-wearing, are the same at both theme park destinations, but other protocols are different. For example, Universal does not require an online reservation in order to enter the theme parks, unlike Disney which does require advanced reservations with their Disney Park Pass system.
So, while Universal is hosting nighttime entertainment on select nights, it does not mean Disney World will necessarily bring back nighttime spectaculars at their parks yet, but it is interesting to see how the two compete with one another as the major theme parks in the Orlando area.
We will just have to wait and see when Disney will return to hosting nighttime entertainment, but in the meantime, you can enjoy the Universal Orlando's Cinematic Celebrations, which is back at Universal Studios on select nights. Check the official website for more information.
Won't be able to make it to one of the performances of Universal Orlando's Cinematic Celebration? Watch a full video here!
When do you think Disney will bring back nighttime entertainment to Walt Disney World Resort? Let us know in the comments!