We're getting into a heated topic here: Disneyland vs. Walt Disney World. Now, while this article isn't about which resort is better, it's definitely why both resorts are uniquely awesome!
Disneyland and Walt Disney World are distinctly different and mean something special to everyone as separate things, but why? It's not just the size difference, but what magic is offered at each resort. Let's take a closer look.
6) Haunted Mansion Overlay
Kidnap Mr. Sandy Claws
Haunted Mansion fans across the globe can all agree that the Nightmare Before Christmas overlay at Disneyland's Haunted Mansion is seriously amazing. The Haunted Mansion Holiday is a fan favorite at Disneyland every Halloween and Christmas season, but why isn't it at the Magic Kingdom?
When you consider the thousands of more foreign visitors that visit Walt Disney World over Disneyland Resort, Disney has decided to keep the Magic Kingdom's 100% the same year-round. This allows first-time guests to experience a classic Disney Parks attraction without any interruptions or interferences, and the Haunted Mansion can stay extra spooky for Halloween.
Related: Fans Want Haunted Mansion Character Meet and Greets for Halloween
The Haunted Mansion at Disneyland opened two years before Walt Disney World's did. Though each attraction is very similar, Imagineering ensured that each Haunted Mansion would compliment each other, not copy or compete.
Imagineers utilized old ideas for the Magic Kingdom's Haunted Mansion that never materialized for Disneyland's version. This way, they could create an entirely new experience that fits within their separate lands.
Plus, this makes you want to travel out to Anaheim to visit Jack Skellington, Oogie Boogie, and all of their Halloweentown friends.
5) Snacks, Meals, and Drinks!
Specialty snacks like Mickey-shaped beignets, the famous Mint Julep drink, and Plaza Inn Chicken Dinner are a must-have when visiting Disneyland Park in Anaheim, California.
Although you can grab beignets from Disney's Port Orleans Resort – French Quarter, it would be super cool to have them in one of the four parks!
However, Walt Disney World is home to the world-famous Cheeseburger Rolls, Corn Dog Nuggets, and Cream Cheese Pretzels.
Boy, those pretzels are making me thirsty! Better wash it down with that disgusting Beverly soda that you can only find at Walt Disney World (actually, Disneyland is okay without that!).
4) Parades
Pretty sure everyone can agree that Walt Disney World and Disneyland both have awesome parades.
We love Festival of Fantasy, Mickey's Boo-to-You Parade, and the Character Cavalcades at Walt Disney World. After all, it wouldn't be right to watch the Boo-to-You parade coming down Disneyland's Main Street USA. It just wouldn't make sense!
However, you're going to have to travel out to the West Coast to catch the brand new Magic Happens parade. It features characters like Moana and Merlin from Disney's 1963 animated film, The Sword in the Stone.
3) Indiana Jones
Even though both Walt Disney World and Disneyland offer thrilling adventures with Indiana Jones, they're incredibly different!
In Disneyland, you'll take part in venturing deep into the South American jungle and dig through old caves to retrieve the Eye of Mara! Dodge falling boulders, lasers, and huge snacks while tagging along with Indy and Salah. Don't forget to drive under that huge boulder!
Related: Disneyland's Indiana Jones Ride – Forgotten History & Fun Facts
Hop on over to the East Coast, and you'll find a sit-down extravaganza that's Indiana Jones Epic Stunt Spectacular. Sit back and relax as you learn about the movie-magic that went into the making of the Indiana Jones franchise as Indy and Marion Ravenwood lead you throughout the Raiders of the Lost Ark plot.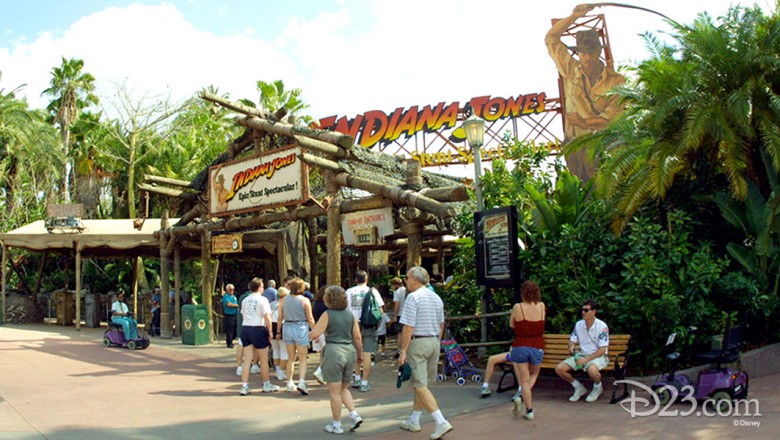 2) Fireworks and Nighttime Spectaculars
No matter what Disney Resort you visit, the fireworks are a show-stopper for your action-packed day at Disney!
Walt Disney World's Happily Ever After fireworks show is sure to bring a few (or a whole lot) of tears to your eyes. However, catching Disneyland's Mickey's Mix Magic fireworks while riding on Big Thunder Moutain is a definite bucket list item!
If you really want to talk about a difference between Walt Disney World and Disneyland, then Fantasmic is the prime example of that. Everything from where the shows take place and what occurs during each show is insanely unique and makes each version magical, even how Steamboat Willie's Steamboat and Maleficent look distinctly different in both versions.
And we can't forget to mention how World of Color is only offered at Disney California Adventure Park at the Disneyland Resort.
Look's like you're going to have to buy that plane ticket and hop on over to Disneyland to catch this nighttime spectacular!
Every Disney fan of all ages and generations know that Disneyland IS Walt Disney's playground. From themed entertainment to surround-sound speaker systems, the man behind all of the world's magic gave up every penny he had to make his Disneyland dream a reality.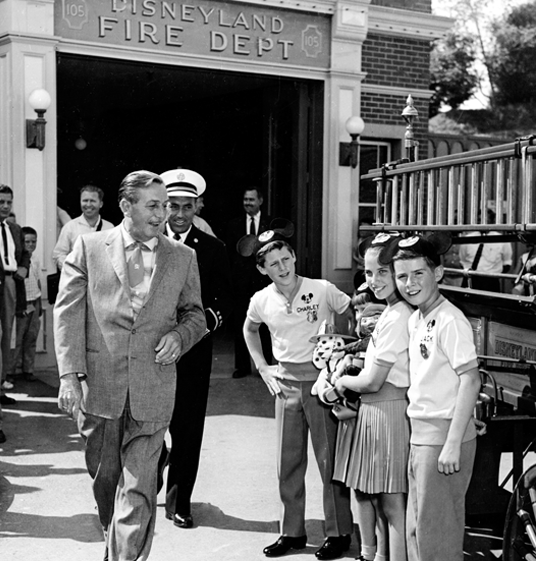 Everything from Walt sleeping above the Main Street Firestation to easily commute to his new park, or playing on his scaled model trains truly make Disneyland "Walt Disney's Magic Kingdom."
From 1955 to Walt Disney's passing in 1966, the man behind the mouse would casually walk around his Disneyland in his pj's to overhear how guests thought of his park, hosted kings, presidents, and celebrities at the Golden Horseshoe, and invited the biggest name's in Jazz history for Dixieland.
Walt's legacy is cemented in Disneyland and truly adds that difference between Walt Disney World and Disneyland.
What makes Disney Parks distinct to you? Let us know in the comments below!