Tim Allen is widely known for voicing Buzz Lightyear in all four Toy Story movies, quickly becoming a household name in the 1990s and 2000s with his multiple TV and film appearances.
To many, Allen is Buzz Lightyear and the only voice for everyone's favorite space cadet, much like actor Tom Hanks with Sheriff Woody. With the news of Marvel's Chris Evans taking over the Lightyear belt from Allen, fans wonder why Tim Allen isn't voicing Buzz Lightyear in Pixar's upcoming movie, Lightyear.
Related: OpEd: Why is Chris Evans Voicing Buzz Lightyear in New Pixar Film?
During the Disney Investors Day 2020 event, The Walt Disney Company confirmed Pixar's new film Lightyear, a prequel to the Toy Story franchise and a closer look into Buzz Lightyear's journey.
The Pixar film blasts into theaters on June 17, 2022, and features a brand new voice for the beloved Space Ranger: Chris Evans (Knives Out, Scott Pilgrim vs. the World).
Blasting into theaters June 17, 2022, Lightyear is the definitive story of the original Buzz Lightyear. Voiced by @ChrisEvans, get ready to go to "infinity and beyond" with Lightyear.
Here's a first look of the young test pilot that became the Space Ranger we all know him to be today. Lightyear launches into theaters June 17, 2022. pic.twitter.com/QfXnHsBLcO

— Pixar (@Pixar) December 11, 2020
Related: Disney Fan Calls For Buzz Lightyear's Space Ranger Spin to Be Refurbed
Pixar's official Twitter posted a teaser video and photos of Lightyear last December, stating that actor Chris Evans would voice the "original Buzz Lightyear."
Possibly jumping to conclusions, Pixar fans began to speculate that Tim Allen was supposedly fired by Pixar or flat out replaced by Evans for this Toy Story spin-off movie. That's not the case, however. There are no reports of Pixar and Allen having any disputes, nor has Allen spoken out on Chris Evans being the voice for the real Space Ranger.
Rather, Pixar is focusing on the origin story of the real Buzz — the one the iconic toy was based on.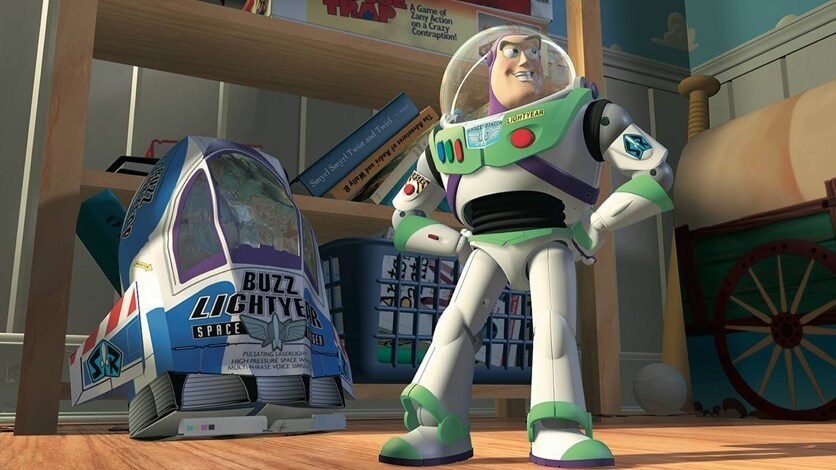 Instead of watching the adventures of Buzz Lightyear (Tim Allen), Sheriff Woody (Tom Hanks), Jessie (Joan Cusack), Little Bo-Peep (Annie Potts), or Rex (Wallace Shawn), fans are being introduced to the man that inspired the popular children's toy.
Like any American hero, they're turned into a toy. In this case, Tim Allen would be the voice of the official Buzz Lightyear toy in the Toy Story world — not Chris Evans.
Since Lightyear is a backstory to the Buzz Lightyear we see in Toy Story 1-4, Chris Evans most likely will be the "voice before the voice" of Buzz Lightyear, a younger version of the character, the real Buzz.
What do you think of Chris Evans voicing Buzz? Let us know in the comments below!