The PeopleMover in Disneyland (now extinct) and Walt Disney World's Tomorrowland have played an integral role in conveying Walt Disney's vision and promise for an innovative future.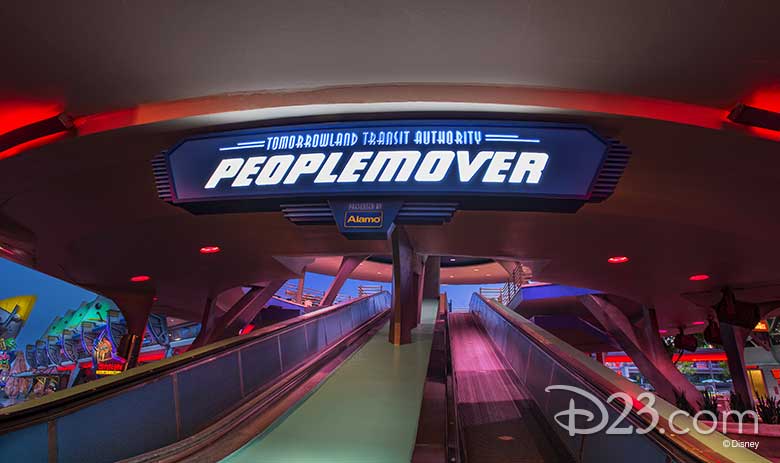 Related: Fans Petition for PeopleMover to Return to Disneyland
Once aboard the PeopleMover at Walt Disney World, guests can sit back, relax, and enjoy a 10-minute long ride throughout Tomorrowland, observing the themed land from above and zoom through fan-favorite attractions like Space Mountain and Buzz Lightyear's Space Ranger Spin.
In his book Designing Disney: Imagineering and the Art of the Show, Disney Legend and Imagineering-whiz John Hench provides the perfect explanation of the PeopleMover:
In Tomorrowland the view from the Submarine Lagoon was dedicated to action, an orchestration of movement, including the aerial Skyway, the surface-level Autopia, the elevated Monorail and PeopleMover, and the underwater and surface Submarine Voyage. These were all woven into a pattern looping through, around, over, and under each other. The vehicles were streamlined forms with modernistic lines that implied movement. The entire area was staged kinetically to suggest the energy of modern urban life.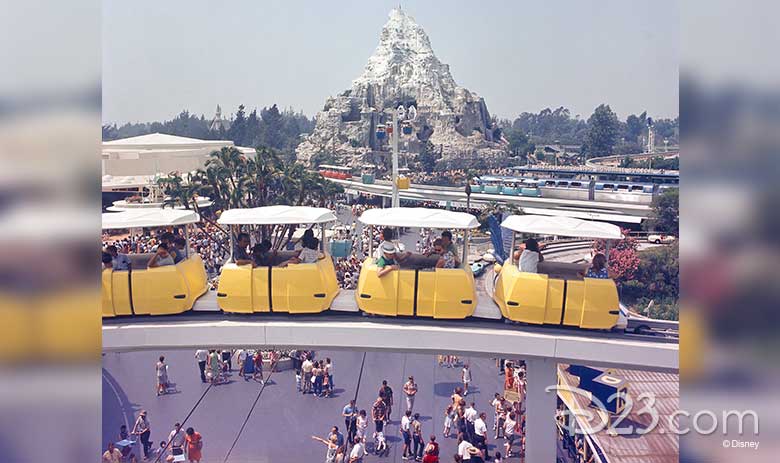 History of Disney's PeopleMover
The PeopleMover in Disneyland first opened on July 2, 1967. After seeing the success of Ford's Magic Skyway at the 1964-65 New York World's Fair, Walt Disney had his legendary Imagineering team of John Hench, Bob Gurr, and Marty Sklar (amongst many others!) utilize the conveyor system for a new attraction in Disneyland.
In his book, John Hench writes about how Walt Disney first came about the idea of transporting people through the sky. D23.com shared the following excerpt:
"Walt was always looking for inventive new ways of moving guests around. We discovered the idea for the New York World's Fair WEDway PeopleMover system while on a business trip to the Ford Motor Company in Detroit. Walt and I were invited to visit the mill where Ford made steel for car bodies. We saw a device for handling steel ingots, masses of glowing red-hot metal. The ingots were moved around on tracks of powered rollers from one area to another while being transformed into sheet steel for making cars. Walt asked, 'Do you think we could put some kind of seat on that type of conveyor, or some kind of arrangement for people to ride on… do you think this thing would handle it?" I said, 'Sure, look at the weight carried here. I bet that Roger Broggie would know how to do it.' Roger devised a platen, a flat metal surface, for the bottom of each guest vehicle to make contact with the powered wheels in the conveyor track. We could check the bed of rollers at night to make sure that they were all working. The system was so simple that it never failed to provide guests with a smooth ride."
This time, Walt focused his attention on telling a story of progress through movement. That is, moving people in forms of automated public transportation to eliminate traffic in big cities like Los Angeles and New York City.
Goodyear Tires were placed in the track every nine feet to propel the PeopleMover cars through and around Tomorrowland attractions.
Once aboard the PeopleMover at Disneyland, guests enjoyed a relaxing tour of the Submarine Voyage, Autopia, Skyway, Adventures Thru Inner Space, and Space Mountain in 1977. Guests got to sit back, take a relaxing break from the park buzz, and listen to that sweet Tomorrowland music.
Related: Working From Home? You Need These Ambient Disney Music Channels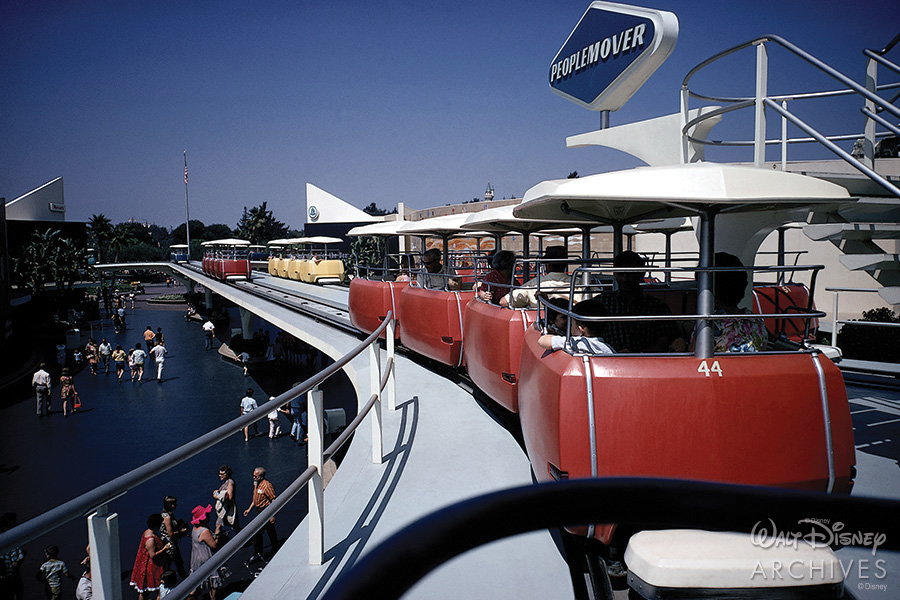 Hey, going on a so-called "train" with no one powering or controlling the cars was pretty impressive in the late 60s and early 70s!
Throughout the years, Disneyland's PeopleMover saw various updates and remodels. In 1977, the SuperSpeed tunnel was added to the upper level of the Carousel of Progress building that housed America Sings at the time.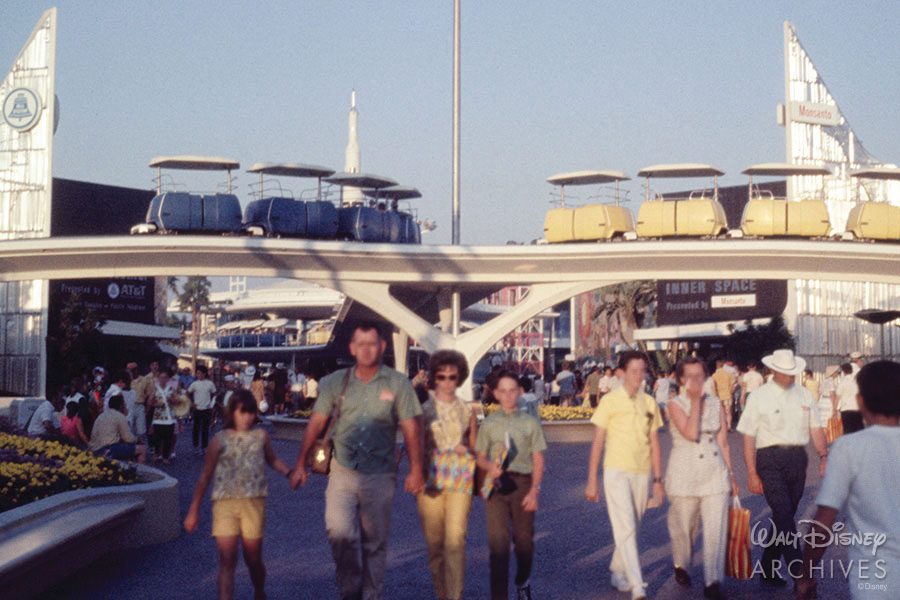 In 1995, Disneyland's PeopleMover closed after Walt Disney Imagineers thought it ran its course and was no longer a prototype of the future, but rather a reminder of the past. The short-lived Rocket Rods took its place in 1998.
Don't fret, the PeopleMover still exists! Guests visiting the Magic Kingdom at Walt Disney World can beat that Florida heat when they board the Tomorrowland Transit Authority PeopleMover.
Originally titled" WEDWay PeopleMover," the TTA PeopleMover first opened in the Magic Kingdom's Tomorrowland on July 1, 1975. Five-car trains, powered by linear induction motors (magnets) and give guests a bird's-eye view of Tomorrowland.
One of the highlights of the Walt Disney World PeopleMover is the chance to see the original model of Walt Disney's proposed EPCOT plan from the early 1960s- Progress City. It placed above the now-extinct Stitch's Great Escape attraction and gives guests a preview of Walt Disney's endless imagination.
With the proposed Tomorrowland overhaul coming to Disneyland in Anaheim, California, over the next few years, who knows if we'll ever get to the ride the PeopleMover on the West Coast again, but at least we can in Walt Disney World!
In the words of Disney Legend Bob Gurr:
Speaking for myself historically, I seriously valued its 'not-too far-out' conservative attraction configuration… One that might be a bit mundane, but very reliable. I've discovered this fact many times over as more state-of-the-art attractions encountered difficulties. Having never been a trained engineer, that is my big discovery!
Do you love the PeopleMover? Did you get to ride it in Disneyland? Let us know in the comments below!