Get ready world, there's a new version of a delicious snack hitting shelves soon, and it's not a Disney Parks snack!  The snack that smiles back is coming in the form of some new faces!  Well, they're not new faces to us Disney fans.  Coming this June, we'll be seeing some very familiar characters in the form of a special edition of our favorite snack: Goldfish!
Pepperidge Farm has teamed up with Disney before to create Mickey Mouse Goldfish for Mickey's 90th Birthday.  Shortly after, we got a Toy Story and Minnie Goldfish collectible packages.  This summer, you're going to love the next installment of Disney magic meets cheddar Goldfish crackers.  You'll be able to grab these at your local Target store.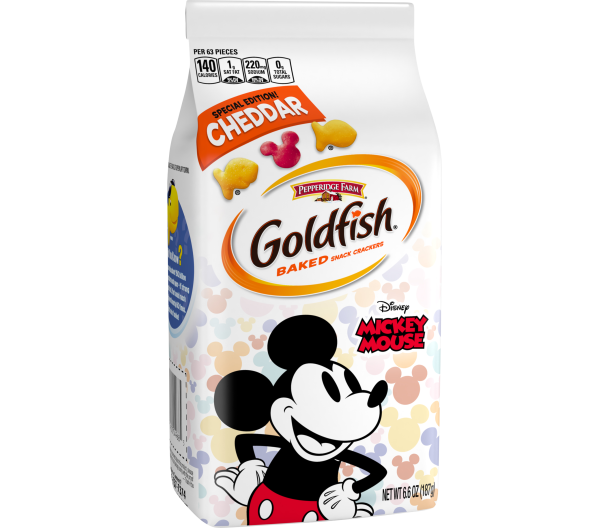 Disney Goldfish: Princesses
Come June, your normal Goldfish friend is going to give you a smile with Disney Princess and Marvel Superhero faces.  Some faces you may see in your bag are the Little Mermaid, Moana, Cinderella, Tiana, Jasmine, and Rapunzel.  These bags will arrive in pink, blue, and purple.  It's going to be a royal parade of beauty with this special edition mix.
Disney Goldfish:  Marvel Superheroes
If you're a fan of the Marvel Cinematic Universe, then you'll be excited to find Avengers characters in the next bag of Goldfish crackers that you pick up.  It will arrive in stores the same time as the Disney Princess Goldfish in blue, red, and green bags.  These real cheese snacks with no artificial preservatives are a perfect pairing for kids' lunch or snack.  Oh wait, I eat these–they're great for adults too!
Other Disney Grocery Store Foods
The Pepperidge Farm snack, Goldfish isn't the only Disney food or snack that you can find in stores.  Star Wars fans are super excited for the coming soon is the Baby Yoda cereal by General Mills. And for those who need an easier way to get churros outside the Disney Parks without having to make them at home, those can be purchased in stores too!  One of the all time grocery store favorites is the ice cream aisle, where you can now find Mickey ice cream sandwiches, Pixar ice cream, and more.
Next time you're at the grocery stores, be sure to stock up on your Disney snacks!