Actor Ben Mendelsohn will reprise his villainous role of Director Orson Krennic from Rogue One: A Star Wars Story (2016) in the upcoming Disney+ series Andor, according to numerous reports.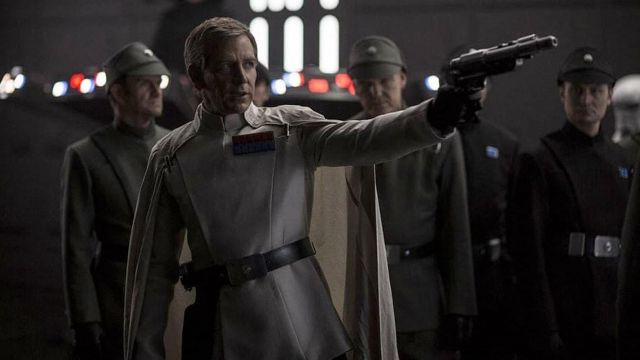 New reports from The Direct and ComicBook.com confirm that Mendelsohn will return to the Star Wars universe and reprise his fan-favorite role of Empire Director Orson Krennic, Darth Vader's right-hand-man (not really) in constructing the Death Star in Rogue One (2016).
This news comes only a day after actor Forest Whitaker's reprise of Star Wars rebel extremist leader Saw Gerrera was confirmed by Andor co-star and Star Wars saga newcomer Stellan Skarsgård (Avengers).
While there is no confirmation from Disney, Lucasfilm, or Mendelsohn himself, The Direct's exclusive report states,
"According to The Direct's sources, Rogue One Ben Mendelsohn will reprise his role as Orson Krennic in Star Wars: Andor. Mendelsohn's rumored role in the series has yet to be confirmed by Disney and Lucasfilm."
Ben Mendelsohn's performance was met by great praise from Star Wars fans and critics alike, with many claiming him as stealing the show whenever Krennic was onscreen.
At the end of last year, Lucasfilm's Kathleen Kennedy announced Andor and a plethora of other Star Wars projects that would be coming to the streaming screen and big screen in the coming years. From director Taika Waitit's unknown Star Wars feature film to The Book of Boba Fett, Andor will be joining the new wave of Star Wars that are helping reshape the Skywalker saga and tell new stories.
Related: George Lucas Confirms He Expected 'More Say' in 'Star Wars' Sequels
In April, a Twitter thread shared leaked photos of the Andor set that featured what looks like Orson Krennic's classic white uniform.
Probably the Cassian Andor show. She sent me loads of pics. Look down the end. Krennic uniform
Probably the Cassian Andor show. She sent me loads of pics. Look down the end. Krennic uniform pic.twitter.com/wcbdjNB5ky

— Force Ghost David ?? (@davidintheforc1) April 11, 2021
Related: New 'Star Wars' Series Will Be Much Longer Than Expected
Twitter user Force Ghost David shared the thread, revealing a stand-in that looks incredibly similar to Orson Krennic. Since Andor is reportedly taking place five years before the events of Rogue One, it's possible that Krennic has not received his signature white cape yet.
Andor will feature rebel spy Cassian Andor (Diego Luna), who alongside Jyn Erso (Felicity Jones), K-2SO (Alan Tudyk), and Bodhi Rook (Riz Ahmed) in Rogue One: A Star Wars Story (2016) retrieved the sacred blueprints to the Empire's Death Star for the rebellion that caused a major shift in the galactic civil war.
Currently slated for a 2022 release, Andor is one of the most anticipated original streaming titles coming to Disney+ next year.
Do you think Orson Krennic will return to Star Wars? Let us know in the comments below!