Jurassic Park River Adventure is a thrilling water ride that can be found at Universal's Islands of Adventure theme park. I love this attraction, as it is filled with massive dinosaur animatronics and a splashdown drop at the end! Unfortunately, dinosaur animatronics in the attraction have been noticeably aging over the years.  Now a new video has appeared online showing a dinosaur animatronic completely disassembled — and it is shocking!
Related:Universal Unveils New Pteranodon Flyers Attraction!

Credit: Universal
A video was posted on YouTube on February 4, 2021, showing that Ultrasaurus animatronic has been completely disassembled. The long neck and head have been removed, black mesh is covering the body, but the tail is sticking out of the water. It is not a good look, to say the least.
Related: Universal Orlando Resort February 2021 Refurbishments
It also appears that the large Stegosaurus animatronic is motionless. This is all very strange as the attraction was just down for winter maintenance and has recently reopened. Perhaps there was not enough time to fix all the animatronics before the attraction was set to reopen?
This video is from theme park reporter Keena Kindragon on YouTube:
This video was taken on February 4, 2021, and we do not know if the animatronics have since been fixed.
Jurassic Park River Adventure is described by Universal as:
his scenic water cruise starts out innocently enough. You're gliding along in your raft, watching a baby stegosaurus and its mother share a moment.

When out of nowhere, you're bumped off course and thrust into the ominous "restricted area" of Jurassic Park™. This is where they keep the other creatures. The dangerous ones. Suddenly, a T. rex stands before you. There's nowhere to turn. Your only possible escape from his razor sharp teeth is to take the pitch-black plunge before you.

Did we mention it's an 85-foot drop? Hope you brought a towel.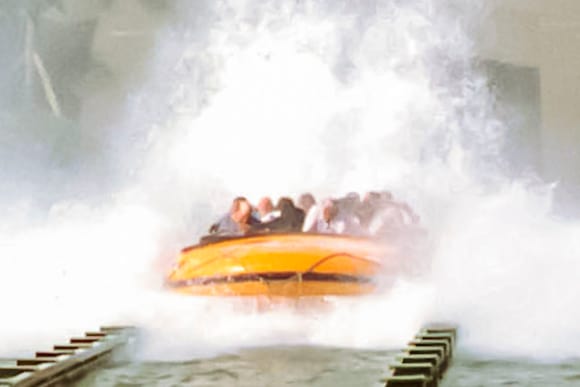 Recently Universal Studios Hollywood updated their Jurassic Park River Adventure attraction to Jurassic World -The Ride. Could Universal similarly retheme this attraction? With the VelociCoaster opening this summer, which will be themed to Jurassic World, it is certainly a possibility. The Jurassic World themed VelociCoaster brings a crossover into the Jurassic Park themed land in Islands of Adventure. Only time will tell if Universal will slowly transition the theme of the land to Jurassic World.
Related: VelociCoaster May Be the Start of Universal's 'Jurassic World' Land
What do you think of the Jurassic Park River Adventure being open when some major animatronics are down? Let us know in the comments!
We can help you plan the perfect Universal vacation — click here for more details!