"Here you leave today and enter the world of yesterday, tomorrow, and fantasy." – Walt Disney
65 years ago, the original Disney Park, the Disneyland Park in Anaheim, California opened its door to welcome Guests from all over.  A plaque with the quote above sit atop both tunnels at the Entrance Plaza that leads you underneath the Main Street, U.S.A. Disneyland Railroad Station and into the park.  The Disneyland Railroad also stops in Tomorrowland, as does the Monorail, and it's a land that embodies Walt Disney's outlook on not only Disney, but life.
Tomorrowland Vintage Posters
The future brings more imagination and innovation which Walt always challenged his employees to bring to the table.  The original Disneyland Park isn't the only Disney Park with a Tomorrowland or a futuristic space themed area, but it is the first.  That's why you will find vintage attraction posters right in the Entrance Plaza where you get past the gates and turnstiles.  To commemorate 65 years of Disney Parks bringing us into the land of Tomorrow, today, D23 shared some of the vintage attraction posters from Disney Parks Tomorrowlands.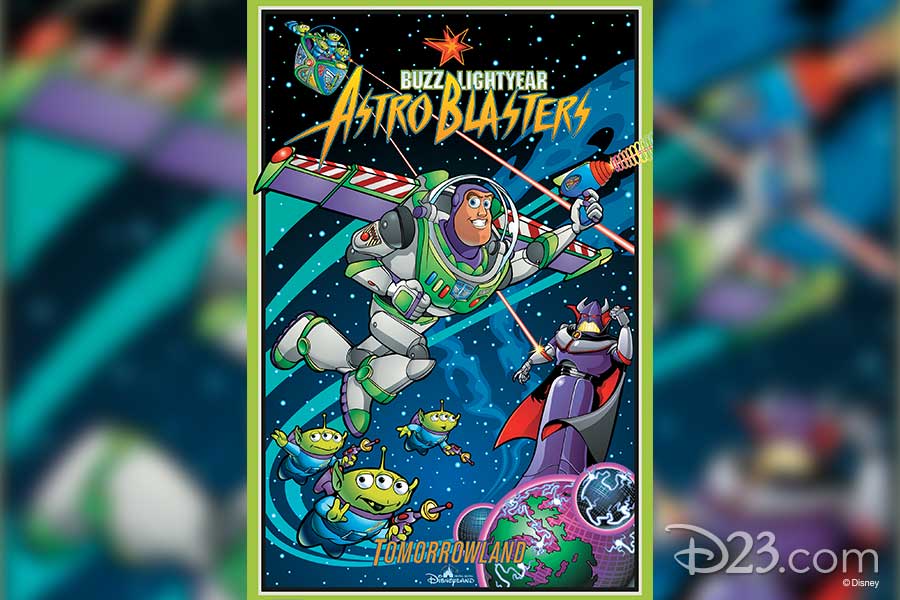 Disneyland is the pioneer of tomorrow.  Though some of the nostalgic attractions, like Autopia, are less futuristic now, it's still incredible to look back and see how innovative it was for Imagineers before.  Plus, who could forget about that very familiar smell of Autopia.
Visit the future… today.  Launch into an epic Star Wars adventure, rocket through the inky darkness of space, help defeat the evil Emperor Zurg and dive deep under the ocean to find Nemo.  You're cleared for out-of this world fun in Tomorrowland!
Blast off to infinity and beyond, cruise the galaxy in a Starspeeder and meet some of your favorite characters from a galaxy far, far away!
Walt Disney World
One of the most popular attraction at Walt Disney World's Magic Kingdom is the Tomorrowland Transit Authority PeopleMover.
Embark on a 10-minute tour of Tomorrowland aboard this mass transit system of the future.
Board an elevated tram for a leisurely voyage through Tomorrowland. During your narrated tour, go behind the scenes of attractions like Buzz Lightyear's Space Ranger Spin, Space Mountain and Star Traders retail shop. See architectural models of Progress City, the prototype for Epcot. 
You'll enjoy amazing up-close views of the park from a unique vantage point.
Always ahead of its time, the Tomorrowland Transit Authority PeopleMover accelerates magnetically using linear induction motors.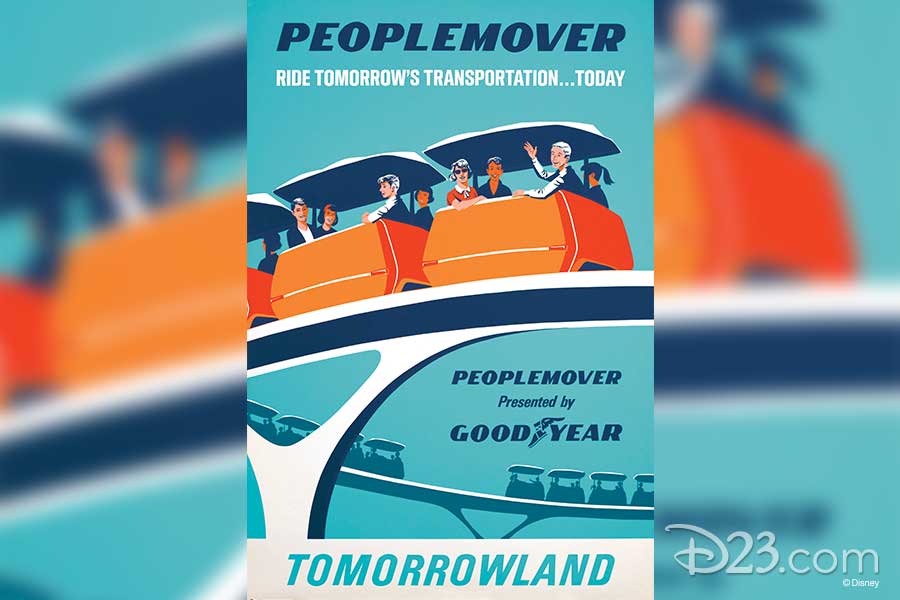 International Disney Parks
The newest of the Disney Parks, Shanghai Disneyland had attraction posters that were a mixture of both retro and international.  It seems that retro has been a trait for all attractions posters throughout all the Disney Parks around the world.  For example this one from Tokyo Disneyland looks like it could just as well fit into the opening of the Disneyland Park.
Disney Posters
Vintage Disney Parks Attractions Posters have really become a popular home decor item for Disney fans all over the world just to bring a piece of the nostalgic magic into their homes.  Some Walt Disney World 'EPCOT Forever' Posters recently became available for purchase last month on shopDisney as a limited edition in addition to the EPCOT Posters from earlier this year. Attraction posters have changed over time as seen by Mickey's Runaway Railway, one of the newest attractions at Walt Disney World.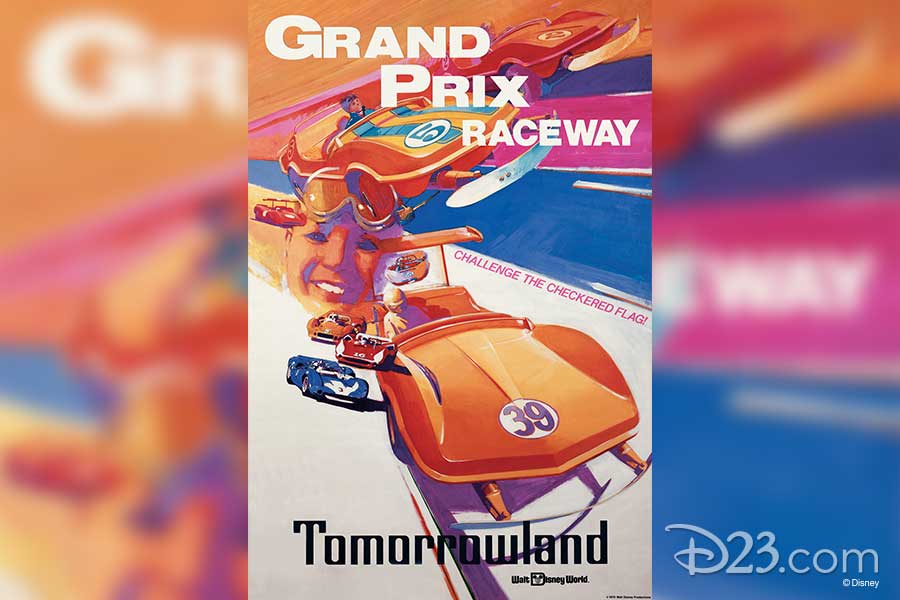 Releasing these attractions posters was only one of the ways that D23 is celebrating 65 years of Disney Parks.  Some other fun ways they're celebrating are offering exclusive experiences and pins, for all your pin-traders out there!