Walt Disney World guests this morning reported on twitter and other forms of social media that Epcot's France Pavilion suffered a major power outage, causing the park to temporarily close restaurants and the new Beauty and the Beast-themed Sing-a-long.
A power outage in The France Pavillion in Epcot is affecting Beauty & the Beast sing along as well as the kiosks in stores and the fountain. #Epcot #WaltDisneyWorld #Disney pic.twitter.com/Ym8EAWYse0

— ???? ?? ??? ?????? ????? (@WhatintheDworld) February 11, 2020
Beauty and the Beast Sing-Along has been temporarily interrupted. On average, an interruption takes 240 minutes. https://t.co/8TtFULh9iZ #Epcot #WDW #WaltDisneyWorld #DisneyWorld

— WDW Stats (@WdwStats) February 11, 2020
The news was backed up with Walt Disney World confirming that their new musical attraction was temporarily closed. Guests report the French restaurants attempting to re-open using back-up generators. None of the other areas in Epcot or Walt Disney World appear to be affected.
There is no word yet on when the power will be back on in Epcot's France Pavilion, or how many baguettes will perish from these events. But we'll update Inside the Magic as soon as possible when we know more information.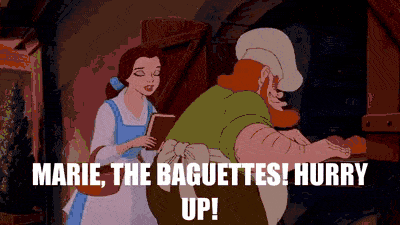 Related: Breaking: Gusteau's Sign Installed at EPCOT's France Pavilion for Disney's New Ride!
EPCOT's France Pavilion
Nestled in the World Showcase just adjacent to the International Gateway park entrance, Epcot's France Pavilion is about to become the theme park's most popular pavilion yet. It is playing a key role in Epcot's major rejuvenation project which includes the introduction of many more Disney IPs.
The France Pavilion will feature two new attractions inspired by the Disney films. The first being the Beauty and the Beast Sing-A-Long show held in the same theater as the pavilion's original show, Impressions de France. Beauty and the Beast will take the morning shift with Impressions de France returning in the evenings.
The second attraction is still being completed: Remy's Ratatouille Adventure. A copy of the original attraction of the same name at the Disneyland Paris Resort, Remy's ride takes guests through the world of Disney-Pixar's film, Ratatouille. Remember the scene where Remy arrives in Gusteau's kitchen and runs across the gauntlet-like kitchen floor? If you do, you have some idea of what to expect with this ride. You will be shrunk down to the size of a rat and scurry through Gusteau's kitchen as well as other beautiful spots around Paris.
Epcot's France will also open a new restaurant this summer called La Crêperie de Paris. It will offer both quick service and table options with a menu from celebrity chef Jérôme Bocuse.
Planning to Visit EPCOT Soon?
EPCOT's French Pavilion is bound to be better than ever before, and if you are planning a trip to experience it for yourself, our friends at Academy Travel are here to help. Click here to receive your free no-obligation quote today!
Why do you think the power went out at EPCOT's France Pavilion? Are you surprised it did? Let us know in the comments!