Word is coming out of Germany that Burger King reportedly put some Star Wars fans to their ultimate test. In an effort to capitalize on the release of the highly-anticipated movie Star Wars: The Rise of Skywalker, Burger King gave free Whoppers to customers willing to face their greatest fear: spoilers.
Partnering with a Hamburg-based advertising agency, Burger King filmed a commercial called "The Spoiler Whopper" at one of its locations designated a "spoiler restaurant." According to The Hollywood Reporter, this place was the stuff of nightmares to a Star Wars fan. THR described the scene as having spoilers everywhere! They had spoilers written on the menus, on the straws, and if you opened something, a sound chip would play spoilers out loud!
But Burger King did not stop there. Burger King employees greeted guests at the register as well as walked up to their tables to tell another Star Wars spoiler. It was a verbal, visual, and spiritual assault on these Star Wars fans just trying to get a free burger.
Self-described Star Wars fans were invited in with the promise of a "free meal," but only if they were willing to have major plot points of The Rise of Skywalker ruined for themselves. Many, regretfully, took the bait.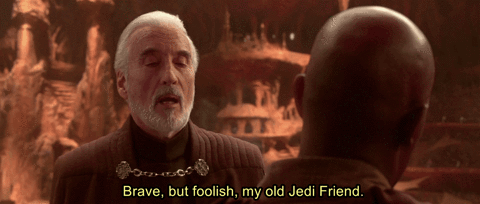 Klaus Schmäing, director of marketing at Burger King Germany, said, "We wanted to challenge people's Whopper love and put it to the ultimate test by asking them to choose between their love for our flagship product and their love for the most epic sci-fi movie ever."
Related: J.J. Abrams Teases Return of Ahsoka Tano in "Star Wars: The Rise of Skywalker"
Ordinary German customers that didn't get chosen for this commercial can earn a free Whopper coupon by opening the Burger King app and reading a Star Wars spoiler out loud. Once they do so, they can download the coupon.
Burger King released a completely "safe" and censored version of the commercial and you can watch it here:
But here's the worst part: Nothing these fans saw is confirmed legit!
Nothing has been confirmed! Not only could Disney not be reached for comment, but no official Star Wars character names or terminology is used in this commercial! Spoilers begin with "the young sword lady.., " "the hairy roaring creature..," and "the dead hooded villain." Even the words "Star Wars" are censored out!
Schmäing explained that all spoilers were sourced by a cinema team website called filmstarts.de as well as other online blogs and internet "spoiler" posts. He said, "Whether the spoilers really correspond to truth will ultimately only be revealed once the film is released."
Burger King and Star Wars teach us once again there is no such thing as a "free lunch"!
Regardless of whether or not these spoilers turn out to be true, the point of this ingenious marketing play rings true.  It simply asks, "Is it worth it?" In the same way, we were asked "What would you do for a Klondike Bar," Burger King is showing us their food is so good, die-hard Star Wars fans are willing to face potential spoilers to get it for free.
Americans have a habit of depicting Germans as having a rather sadistic sense of humor, but even this seems a little over the top. But honestly, it's a hilarious ad and at the end of the day, it's just a movie.
Star Wars: The Rise of Skywalker opens in theaters THIS WEEK!
Would you do it? Would you face the "spoilers" for free Burger King? Let us know in the comments!