The wonderful world of Disney may have all started with a mouse, but it wasn't long after Mickey's debut that the first dolls, watches, and other merchandise were created. Over more than eight decades, Disney has sold countless items to collectors, from early apparel to today's trading pins. When Christmas time rolls around each year, it's a chance for fans to ask for the latest and greatest pieces of Disneyana, hoping Santa will come through.
But it can be tough to narrow down the vast options to a select few favorites to pass along as gift recommendations to friends, family, and the big man in red. Likewise, it's tough to buy for a fan who seems to own everything Disney. So the list below is my compilation of some of the newest Disney items for 2011 that not only will please collectors but are also likely not already in their collections. And mixed in are a few recent favorites from prior to 2011 that couldn't be overlooked.
(Note: All the products below are linked to Amazon or Disney Store via affiliate programs, which means if you purchase any of these items, or any other items after clicking one of these links, Inside the Magic will get credit for your purchases and receive a small percentage in return. It all helps to support us! Thanks.)
The Muppets
When The Muppets return to the big screen on Wednesday, fans around the country will temporarily forget about the upcoming turkey day to flock to theaters and enjoy the new film. And as with any new movie, Disney is there with plenty of merchandise to back it up. (Yes, for those not aware, the Muppets are owned by Disney.)
Walter Plush – $16.50

This 18″ Walter plush looks just like the new Muppets character from the new movie and is the only merchandise available (for now) featuring him. Fans of the new film won't want to pass this up.
---
The Muppets Soundtrack (MP3) – $4.99
The soundtrack to The Muppets features 30 memorable songs, new and old, featured in the new film. Featuring both comedy and nostalgia, the album is a great companion to listen to after seeing the movie.
---
Muppet Whatnot kit – $99.99 on Amazon (linked here), $59 at Toys R Us!
And who doesn't want to create their own Muppet? This kit allows for customization with 3 wigs, 3 pairs of eyes, 3 noses, glasses and a pupeteer rod. Blue and orange versions are available.
---
Not quite Disney but along the same lines as the Muppets were another Jim Henson creation, the Fraggles from Fraggle Rock. And while there have been many plush variations of Fraggles over the years, a few new ones were recently released that fans of the show will want on their Christmas lists this year. (Myself included.)
Fraggle Rock – Sprocket dog – $22.25
Fraggle Rock – Uncle Traveling Matt – $23.66
Traveling Matt and many of the other Fraggles are also available as both plushes and hand puppets, all on Amazon.
---
Movies and Music
Next year Disney will celebrate 75 years of filmmaking, which leaves thousands of titles for a Disney fan to choose from to add to a movie library. But for this Christmas list, two stand out as must-haves for me.
The Rocketeer – Blu-ray anniversary edition – $18.99 (Pre-order with delivery in time for Christmas)
---
Winnie the Pooh – Blu-ray $29.99
---
And to go with the films, particularly Winnie the Pooh, Disney fans should ask for one album that unites so many memorable tunes throughout decades of movie and theme park history:
Sherman Brothers Songbook – $16.25
---
Video Games
In recent weeks, Disney has released two games that bring various aspects of movies and theme parks to home video games. One faithfully recreates Disneyland park down to every last detail and the other simply allows for random frenetic character-inspired fun.
Kinect Disneyland Adventures – $49.96
(This game requires an Xbox 360 and Kinect system.)
---
Disney Universe – $39.99
---
A slightly older game has also seen a dramatic decrease in price, bringing a theme park attraction to your living room:
Toy Story Mania – -20
---
Books
You could fill an entire library with books written for or about Disney. Below are three very different titles, each worth owning for different reasons. One is new, one is somewhat new, and one is older but a must-own for any Disney fan.
Walt Disney's Mickey Mouse Collector's Box Set (Vol. 1-2) – $29.40
---
The Vault of Walt – $19.95
---
---
Toys & Games
Disney has many, many, many toys available. But only one has made it to my Christmas list this year.
---
Families looking to play together can enjoy the latest edition of a popular board game, designed so even the biggest Disney trivia nut won't completely dominate their competition:
---
Fashion & Accessories
Even Disney fans can be stylish and one of the latest trend is a line of handbags from a popular designer:
---
Disney fans often like to show off their love of the company by wearing a variety of shirts, and Disney keeps getting more creative with the clothing that's available.
Vault 28 Villains Collection by Noah – $38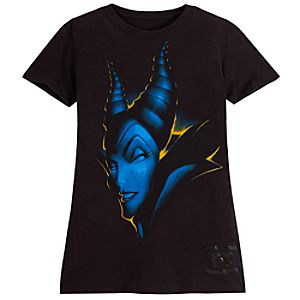 For women, artist Noah has designed a line of "fashion tees" featuring Disney Villains, like Maleficent above, and also including Cruella De Vil, Ursula, and Evil Queen from Snow White. (Guys can own these images as giclee artwork as well.)
---
Despite the fact that it's November and still 80+ degrees outside here in Florida, there are plenty of parts of the country that are cold. And Disney recently unveiled one warm hoodie that will take everyone to infinity and beyond:
Buzz Lightyear Hoodie for Adults – $59.95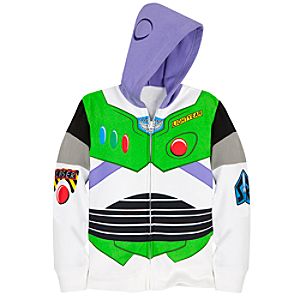 (A fleece kids' version is available too.)
---
And despite it being Christmas, Halloween fans like me may still be lamenting the spooky season being over. Fortunately, Disney has one unique shirt that's on sale (and will be going on my list):
Halloween Mickey Mouse Tee for Adults – $9.99 – $12.99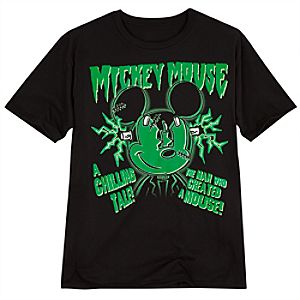 ---
The Perfect Present
When all else fails, there is one gift that is always the perfect present for any Disney fan:
Disney Gift Card – Any Amount
---
More Ideas
Instead of a list of specific items, last year I compiled a list of general categories to help in buying for a Disney fan, from Club 33 swag to animation cels. The list is just as good today as it was a year ago, so click here to get more gift inspiration.
---
Now dash away and pass this list along to your friends, family members, and, of course, to Santa Claus, and let them know exactly what you want for Christmas.
Comment below with any other Disney items you'll be hoping to find under your tree on December 25!
---
And if you plan on doing any Christmas shopping on Amazon this year, please visit InsideTheMagic.net/amazon first. We'll receive credit for any items added to your shopping cart after clicking through that link. Thanks for your support!
---