2020 hit the global theme park industry hard. Many theme park resorts faced lengthy closures that greatly affected pipelines for grand openings and construction projects. Now that COVID-19 vaccinations are becoming more widely available, there is hope that life will get back to some semblance of "normal" in the not-too-distant future.
Normalcy for Disney Parks fans includes leisure travel to Disney's theme park properties around the world.
Recently, reporter Carlye Wisel wrote an article for Bloomberg in which she made a prediction that Disney fans will be flocking to Tokyo Disneyland once leisure travel resumes and honestly, we have to agree. We also believe that Universal Studios Japan will be a big draw for theme park fans as well!
Let's talk about why.
Tokyo Disney Resort
Bloomberg's article stated that the combination of nostalgia and new, unique experiences will be the driving factor that brings Guests from all over the world to the Tokyo Disney Resort. And, it is easy to see why that assertion is likely to be true!
There are experiences at Tokyo Disney that are completely unique to the resort, especially at Tokyo DisneySea. Prior to the pandemic, visiting Tokyo Disney Resort had truly become a pinnacle for many Disney fans worldwide, as the reputation for outstanding quality and service at this particular theme park is well known.
Geoffrey Koester, a Disney fan, told Bloomberg that, "It truly does feel like the ultimate pilgrimage."
Related: Splash Mountain in Tokyo Disneyland May Also Get Retheme
So, how did Tokyo Disney Resort become known for this incredible level of service, especially within a company that takes pride in spreading magic in all of its endeavors?
Tokyo Disneyland, Tokyo DisneySea, and their associated Resort hotels are owned and operated by the Oriental Land Company (OLC). OLC is able to pour all of its time and energy into Tokyo Disney Resort and it has lead to sparkling clean parks, new attractions unique to the resort, and outstanding parades and shows.
Bloomberg put it best in their article:
Unlike Walt Disney Co., OLC's business entities almost completely revolve around the theme park resort, resulting in well-funded experiences, along with forward-thinking expansions that celebrate nostalgic Disney icons rather than flashy commercial acquisitions. (That comes with a flip side; a less-diversified balance sheet means the company lost its only real source of income during its four-month closure in 2020.)
The Walt Disney Company owns multiple resorts around the globe, which can spread funds thin when talking about new attractions, large-scale expansions, or even creating new theme parks.
So, what are the biggest draws right now for fans to visit Tokyo Disney when leisure travel resumes?
Beauty and the Beast Attraction
Tokyo Disneyland recently opened a massive expansion to the Fantasyland area of the park. Part of that expansion was a near identical "Belle's Village" section straight out of the beloved animated classic, Beauty and the Beast (1991). Belle's Village features a brand new attraction called The Enchanted Tale of Beauty and the Beast. This trackless dark ride system features some of the most advanced animatronics ever seen at a Disney theme park!
Tokyo Disneyland's official description of the attraction is as follows:
Guests board magical cups that "dance" in rhythm to the well-known music from Beauty and the Beast, as they take Guests through scenes depicting the story of the animated film.
The Enchanted Tale of Beauty and the Beast can only be found at Tokyo Disneyland and will be a big draw for international Guests to visit the theme park resort in Tokyo. Currently, this is the only Beauty and the Beast ride at any Disney theme park, making it a surefire destination for fans of the iconic animated movie.
New and Exclusive
As part of its recent expansion, Tokyo Disney Resort also opened up the world's first Big Hero 6 (2014) ride. Happy Ride with Baymax, uses the same general ride system as Mater's Junkyard Jamboree in Cars Land at Disneyland Resort's Disney California Adventure and Alien Swirling Saucers in Toy Story Land at Walt Disney World Resort's Disney's Hollywood Studios.
Changing the theme to include the popular robot is sure to appeal to fans of the movie, which many feel is one of Disney's most underrated animated feature films.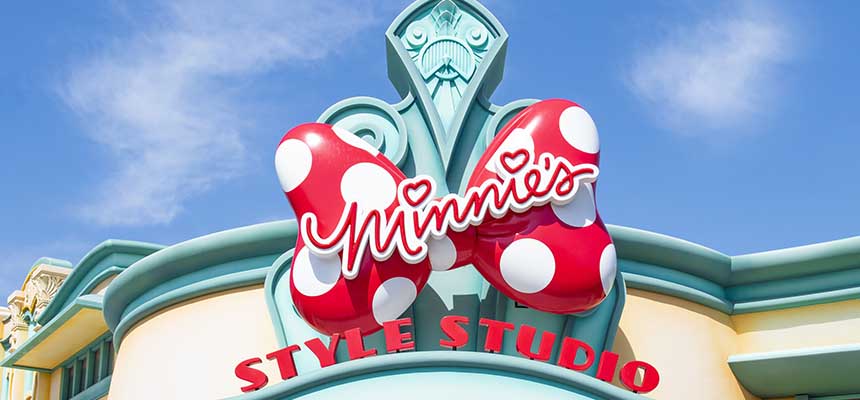 The final new experience in the Fantasyland addition was a brand new immersive Minnie Mouse meet and greet area called Minnie's Style Studio.
It is not just these new additions that will help drive fans to the Tokyo Disney Resort. Both Tokyo Disneyland and Tokyo DisneySea are home to attractions that are entirely unique to their parks and cannot be found in any other Disney Park in the world. For example, Journey to the Center of the Earth, Aquatopia, Tokyo DisneySea's version of Tower of Terror, parades, shows, and much more.
If you have visited both Walt Disney World and Disneyland it may be tempting to get the same familiar Disney you love, while being delighted by new attractions and experiences.
Alexa Starkey who is a Disney fan put it best when she told Bloomberg:
"I often find myself wishing I could erase all of my memories and experience our Disney parks again for the first time, Tokyo Disney Resort represents a way to get that first-time Disney feeling again."
Universal Studios Japan
Tokyo Disney Resort is not the only incredible theme park experience in Japan. Osaka is home to Universal Studios Japan which is home to unique nostalgic experiences and the brand new Super Nintendo World!
Universal fans have probably heard all about the unique offerings at Universal Studios Japan. Some of the attractions the theme parks hosts are no longer available at other Universal parks. For example, remember the Jaws attraction at Universal Studios in Orlando? It may have been removed to make way for the Wizarding World of Harry Potter, but at Universal Studios Japan you can still enjoy that chilling water adventure!
Super Nintendo World
Super Nintendo World, once it has an official grand opening, will be a draw for theme park fans to visit Universal Studios Japan. This brand new immersive expansion to USJ is truly eye-catching. The highly themed area combines physical sets with interactive elements to create a unique theme park experience.
The new land is home to Mario Kart: Koopa's Challenge — a new attraction that combines augmented reality technology and physical sets to transport riders into the world of Mario and friends!
Universal describes Mario Kart: Koopa's Challenge as:
Race your way to victory! Iconic Mario Kart courses have been brought to life with cutting-edge technology. Challenge enemies with shells! Aim for the finish line with Mario and Peach! The world's first interactive Mario Kart theme park ride will leave you with a rush of adrenaline!

Credit: universal Studios Japan
Additionally, Super Nintendo World will be home to a family omni-mover attraction called Yoshi's Adventure. This adorable attraction will seat you in a colorful Yoshi on an adventure with spectacular views of Super Nintendo Land. Here is what Universal had to say about Yoshi's Adventure:
Hang on to Yoshi as you search for Captain Toad on a treasure hunt! Get a spectacular view of the Mushroom Kingdom from Mount Beanpole while having fun on this ride that's perfect for the whole family.
Just like Tokyo Disney Resort, Universal Studios Japan is the perfect blend of nostalgic theme park experiences with new exciting adventures. Proving that Japan has truly become the ultimate destination for theme park enthusiasts.
Disneyland and Universal Studios Hollywood remain closed, but if you don't want travel restrictions to be lifted before you go to Japan to experience theme parks both Universal Orlando Resort and Walt Disney World are open. Remember, any travel while the pandemic is ongoing has an inherent health risk.
I cannot wait until the travel restrictions are lifted and leisure travel can return to Japan as I am ready for a trip to Tokyo Disney Resort and Universal Studios Japan!
Are you planning a trip to Japan in the future? Let us know in the comments below!
We can help you plan the perfect Disney or Universal vacation, click here for more information!