If you are a Disney fan you may be feeling a little fatigued by all the sequels and live-action remakes that Disney has been pumping out lately. Thankfully, at the recent Disney investors day meeting, there were SO many announcements. Here is what's coming to theaters and Disney+ that is NOT a live-action remake or sequel!
There are other movies and series that are based on book series, those were not included in this list.
Raya and the Last Dragon
This exciting new movie is coming to both Disney+ AND theaters on March 5th, 2021.
Here is what you can expect from this new tale of adventure coming from Disney:
Long ago, in the fantasy world of Kumandra, humans and dragons lived together in harmony. But when sinister monsters known as the Druun threatened the land, the dragons sacrificed themselves to save humanity. Now, 500 years later, those same monsters have returned and it's up to a lone warrior, Raya, to track down the last dragon in order to finally stop the Druun for good. However, along her journey, she'll learn that it'll take more than dragon magic to save the world—it's going to take trust as well. From directors Don Hall and Carlos López Estrada, co-directors Paul Briggs and John Ripa, producers Osnat Shurer and Peter Del Vecho, and featuring the voices of Kelly Marie Tran as Raya and Awkwafina as Sisu. Walt Disney Animation Studios' "Raya and the Last Dragon" opens in U.S. theaters on March 12, 2021.
A star-studded voice acting cast, set in a mythical land? We are in! Watch the latest trailer for Raya and the Last Dragon here:
Big Shot
This upcoming series to Disney+ will have ten episodes and tell the story of a college basketball coach played by John Stamos, who loses his job and must teach and coach an all-girls high school basketball team. This series suffered some delays in productions due to the pandemic, but it has an all-star cast and a great original storyline.
Iwájú
Not much is known about this new series coming to Disney+, but this is what D23 says that it, "will be produced in collaboration with the Pan-African comic book entertainment company Kugali."
Turning Red
A brand-new original movie coming from Pixar animation called Turning Red.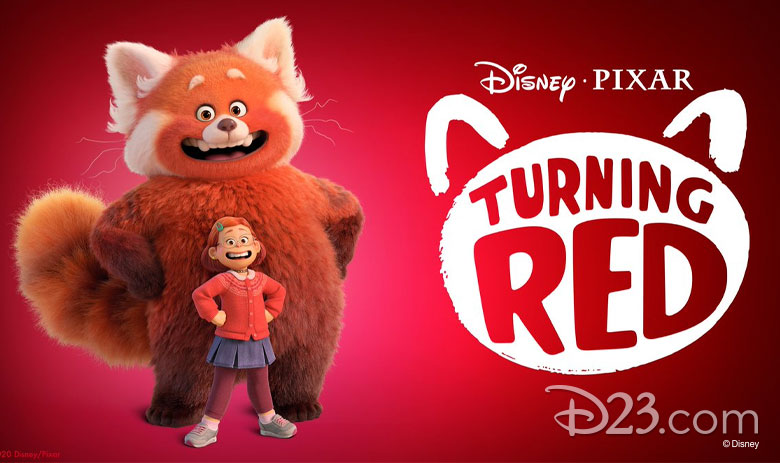 Here is the description for Turning Red, which will be released to theaters on March 11th, 2022. You can read more details about all of the upcoming Pixar movies here.
In Turning Red, fans will meet Mei—she experiences the awkwardness of being a teenager, with an added twist: when she gets too excited, she transforms into a giant red panda. Turning Red comes to theaters March 11, 2022
Luca
Coming to theaters in June of 2021 the story of Luca will be the adventures of a boy named Luca set in the Italian Riviera.
Win or Lose
The first-ever animated series by Pixar will debut on Disney+ Feb, 2023. It will tell the story of a middle school softball team as they work up to their championship game. This is still in its early phases of production as it will not debut until 2023.
We cannot wait to see the first animated series out of Pixar — it is sure to be great!
Soul
Coming exclusively to Disney+ on Christmas day 2020. Disney describes Soul as:
What is it that makes you…YOU? This December, Pixar Animation Studios' all-new feature film "Soul" introduces Joe Gardner (voice of Jamie Foxx) – a middle-school band teacher who gets the chance of a lifetime to play at the best jazz club in town. But one small misstep takes him from the streets of New York City to The Great Before – a fantastical place where new souls get their personalities, quirks and interests before they go to Earth. Determined to return to his life, Joe teams up with a precocious soul, 22 (voice of Tina Fey), who has never understood the appeal of the human experience. As Joe desperately tries to show 22 what's great about living, he may just discover the answers to some of life's most important questions. Directed by Academy Award® winner Pete Docter ("Inside Out," "Up"), co-directed by Kemp Powers ("One Night in Miami") and produced by Academy Award nominee Dana Murray, p.g.a. (Pixar short "Lou"), Disney and Pixar's "Soul" is streaming exclusively December 25, 2020 on Disney+.
You can watch the latest trailer for Soul here. It's only a few more weeks until this debuts on Disney+ and we hope this movie will be a special treat for families to enjoy together on Christmas day.
Star Wars & Marvel
Both Star Wars and Marvel also announced line-ups of brand new content coming to theaters and Disney+.
You can read about the Star Wars announcements here!
So what movie and series are you most excited to watch? Let us know in the comments!