As I sit here enjoying the cozy scent of my Haunted Mansion Holiday candle, I'm easily transported back into a "Doom Buggy" riding through the dining hall scene with the extra large gingerbread house atop the dining table and the undead waltzing around right next to it.
This scented scene is only one of the things that makes the Christmas overlay of Haunted Mansion at Disneyland Resort so spectacular. Disneyland really does some pixie dust type of magic to bring this overlay, the "it's a small world" holiday, and once upon a time, Jingle Cruise to all of us Disney fans.
Unfortunately, it's looking unlikely that we'll be able to enjoy these holiday overlays at Disneyland this year, so this got us all at Inside the Magic thinking, what if these overlays came to Walt Disney World? The Jingle Cruise version of Jungle Cruise has already moved over Walt Disney World, which is why it's no longer at Disneyland. But since it's not likely that we'll have a Disneyland holiday this year, could we pay homage to Disneyland Resort's Christmas overlays on attractions that Disney World has too?
Walt Disney World Attraction Overlays
Well, we polled our readers to see if you would be for a Haunted Mansion and "it's a small world" Christmas holiday, and guess what? A majority of you would like to see the holiday overlays for these attractions come to Walt Disney World. This sparks some other questions as to whether or not this could happen, or if it's really even a good idea.
Every year at the Disneyland Resort, Haunted Mansion and "it's a small world" are closed for refurbishment over quite a long period of time to make the transition over for the holidays. Although this isn't done all at once because the Haunted Mansion overlay is done before the spooky season and "it's a small world" before the Christmas season, both run through the holiday season into the first week of the new year. Months of preparation and planning go into making these holiday attractions so special, so it would be tough for Walt Disney World to make that happen for this holiday season, but could it come in the future?
Last year for Mickey's Very Merry Christmas Party, Walt Disney World brought holiday overlays to Tomorrowland Speedway, Monsters Inc. Laugh Floor, Space Mountain, and Mad Tea Party — so why not add these iconic ones to the mix?! Well, there's definitely some pros and cons to bringing them versus not bringing them to Disney World.
Pros and Cons
As we saw when Walt Disney World got Jingle Cruise, we no longer had it at Disneyland Resort, so if Walt Disney World got Haunted Mansion Holiday and "it's a small world" holiday, would it be gone from Disneyland as well?
The cost, labor, and time factors would definitely play a huge part in why it would be tough to bring it to both parks. Return of investment could also bring a bunch more Guests into the parks on both coasts during the holiday season, not that they need much help in that department. These Christmas overlays are a big part of what makes the holidays at the Disneyland Resort so incredible, and it would be awesome to share it with all the Guests who visit both parks.
Though both of these Disney Parks have these attractions, the ones at Disneyland could be argued to be more iconic. As the original Haunted Mansion at Disneyland, it has that white exterior that just suits the spooky and Christmas colors. The "it's a small world" attraction at Disneyland has its white color with gold trim that is perfect for holidays and unique from the multicolor of its counterpart attractions at the other Disney Parks. It makes for a more harmonious changeover to match the seasons.
Haunted Mansion Holiday
Haunted Mansion at Walt Disney World embraces the spookier side of things with its more gloomy paint color on the exterior, even with the same grim grinning ghosts that fill the interior with their happy harmonizing. There is something extremely grandeur about the Haunted Mansion at Disneyland as it really fits the New Orleans Square architectural style and as Disney describes it, gets "decked out for the Hallow-Days":
Pumpkin King Jack Skellington has been busy decorating the Haunted Mansion with frightfully festive touches inspired by Tim Burton's The Nightmare Before Christmas.
Experience some of your favorite sights, special seasonal surprises—and scare-aracters from the movie. Sally, Oogie Boogie and other Nightmare nasties will be on hand to wish you "Season's Screamings!"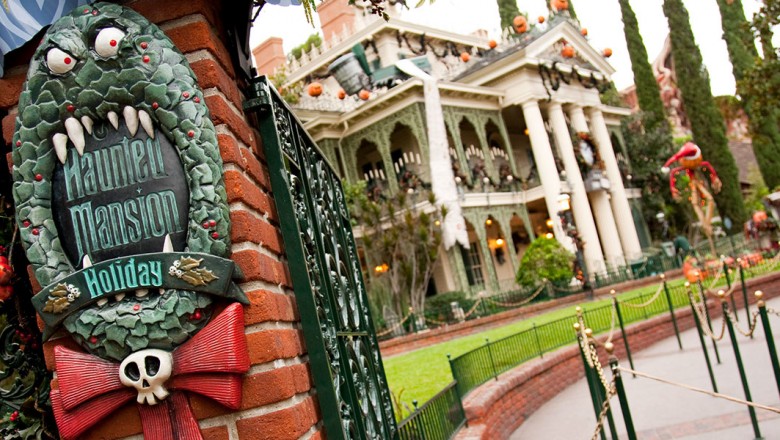 "it's a small world" Holiday
It would hard to replicate the "it's a small world" Holiday overlay at Walt Disney World as it doesn't have the same outdoor canvas at the Disneyland Resort does. The inside could be transformed and decorated as the little people of the world sing "Jingle Bells," but Walt Disney World wouldn't be able to get the light up "it's a small world" projection show outside that Disneyland does which is why it could be able to be at both parks while keeping it special at Disneyland!
An Exuberant Holiday Experience
Set sail along a wondrous wintry waterway transformed with whimsical décor. Behold delightful regional adornments all along your world tour of good cheer. Listen as the costumed chorus of children sings a medley of traditional holiday tunes—plus the classic "It's a Small World (After All)."
The enchantment begins as you approach the iconic façade, which is adorned with thousands of shimmering lights for the season.

Light Up Your Holidays
As you approach, you'll hear the classic song playing along with a medley of holiday tunes. As dusk begins to fall, gather in front of the attraction's iconic façade and watch thousands of twinkling lights come to brilliant life.
Then, every 30 minutes throughout the night, watch in wonder as a joyous light projection show animates the façade with a kaleidoscope of charming holiday colors and images.
It's a memorable nighttime treat—and the perfect way to kick off the most wonderful time of the year!
Note that Disney has not said that these attraction overlays could or would be moved to Magic Kingdom from Disneyland Park. But it's definitely fun to think of all of the ways Disney could bring holiday cheer to Guests all across the country!
For help with planning your future holiday vacation at either Walt Disney World Resort or Disneyland Resort, experts at Academy Travel are here to guide you through all these fun holiday Disney activities!