Disney's remakes are not a new topic of conversation here at Inside the Magic, but there comes a time when we go past the overall idea of the remakes, start to look at the cast, and ask the blunt question, "Who did it better?"
In the case of Genie from Aladdin, we at ITM are in agreement that NOBODY can top Robin Williams' amazing performance. But who was the best replacement? Looking at Disney's Broadway adaptation and live-action remake, a few of our writers chose their second-favorite Genie and plead their case:
James Monroe Iglehart
Not counting the voice actors who played the Genie in Disney Channel's Aladdin series and Disneyland's Aladdin show at the Hyperion (who deserve an honorable mention here), James Monore Iglehart was the first man to take up the Lamp after the late great Robin Williams in Disney's Broadway version of Aladdin. 

Growing up on Broadway, I have learned that it doesn't necessarily matter who is playing the role but really how he plays the role. Because for most Broadway shows, I only have the cast recording to decifer to make my judgement. When I listened to the album in preparation of seeing the show, Iglehart's vocals blew me away. Then I saw him on stage with the original Aladdin, Adam Jacobs, and the man's size and vebrado steals the show. 

In my opinion he's the only one who has been able to not just embody but literally keep up with Robin's jazziness, zaniness and outright jolly cookiness, and thanks to the extended Broadway format Iglehart actually adds to Robin's Genie and his story rather than cutting it down and replacing elements. If it ain't broke don't fix it, and Genie's story and Howard Ashman's lyrics were already perfect. Rather than competing with and changing Robin's Genie like Will Smith, Iglehart complimented it by becoming Broadway's Genie, and since he stepped down, no other actor–including Michael James Scott–has been able to fill the Lamp quite as well. 
-ITM Reporter/Editor, TJ Muscaro
Michael James Scott
Michael James Scott was the first actor I had the pleasure of seeing portray Aladdin's Genie onstage — in the touring production of the Broadway musical — and he will forever be my favorite post-Robin Williams Genie actor. 

There's something about the veteran stage actor's portrayal of the larger-than-life character that encompasses the iconic animated version's energy better than any other Genie actor. I'll never forget the moment he stepped onstage to perform "Friend Like Me" and absolutely brought the house down. 

Scott truly transported us to Agrabah and had every person in the audience dancing and singing right along with him. As a lifelong Broadway fan, I give credit where credit is due to everyone who has portrayed Genie on the Great White Way — including, of course, James Monroe Iglehart. 

But, the fact remains that nobody will ever encompass Genie's passion and energy quite like Scott. Loving what you do plays a major role in success and, just like Genie came to love his role in Aladdin's life, Scott's passion for the part is evident in this quote from Broadway.com:

"I am beyond blessed and grateful that I actually have made a career out of my dreams and that people have literally taken a chance on me," he said. "I just want to laugh in life, you know what I mean? I feel very blessed that I get to come to work and people are throwing glitter at you. You can't have a bad day. I've also gotten to do every aspect of it: I've been a swing, an understudy, ensemble, standby, lead, associate choreographer. I am the luckiest!" 
-ITM Reporter/Editor Rebekah Barton
Related: Disney Broadway's 'Aladdin' Reportedly Coming to Disney+
No matter how much you want to hate on Will Smith's version of the Genie, there is not a soul who is not grooving when he performs "Friend Like Me" or "Prince Ali". Personally, Aladdin is my favorite live action Disney film, even though Beauty and the Beast is my favorite Disney film (cartoon of course). Aladdin was able to get actors who could actually sing, and did not need auto-tune to generate a decent sound, and having a Genie who can sing is important! 

Well, I guess in this case it was a mix of singing and rapping, which I thought was very unique to Will Smith. You definitely got major 'Fresh Prince of Bel-Air' vibes when you see Will's take on the Genie, but I thought he was super fun, energetic, and brought a sensitive side out to the character with the love-interest story line. 
-ITM Reporter/Editor Alessa Dufresne
When the live-action Aladdin was announced, my first thought was "who is going to be able to fill Robin Williams' shoes? No one. Well, I was wrong. 

Though there are so many great actors who have taken on the role of Genie, including Michael James Scott and James Monroe Iglehart, there was something different about Will Smith's take. I had very high expectations going into the movie theater to see the live-action film, but the Fresh Prince himself somehow managed bring an entire new personality to the Genie and really made him his own. Smith somehow, someway, brought a bit of Robin while also making the Genie his very own, which I 100% respected and absolutely loved. 
–ITM Senior Editor/Reporter Kelly Coffey
While Inside the Magic may be a house divided on who was the best, one thing the three of us can agree on is that Genie is one of the most iconic characters to come out of the Disney Renaissance period and any actor who has the guts to take up the lamp and do Genie justice deserves our respect and admiration.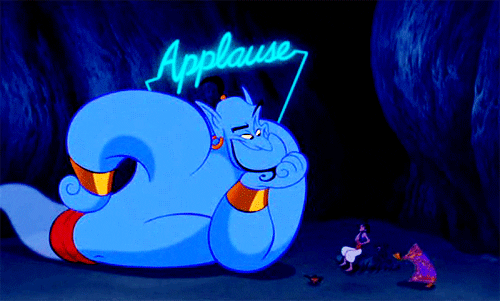 Editor's Note: The opinions expressed in this article do not necessarily reflect the views of Inside the Magic overall.