Lilo and Stitch is a feel good Disney movie that has the love of Disney fans of all ages.  You can't help but get attached to this ohana and all the fun that they have on the island.  It's really hard to sing and dance along to every song in the background.  But what a lot of people don't know is you can learn a lot about the Hawaiian culture from the movie.
In the making of the Disney film, the movie makers did a lot of research in order to create an animated film that was as authentic to Hawaiian culture as possible.  In Hawaii, Hula dance is a very large part of the Hawaiian arts.  And, of course, there would be no hula without Hawaiian music which in the movie has multiple song including, "He Mele No Lilo," sung by Mark Keali'I Ho'Omalu & Kamehameha School Children's Chorus.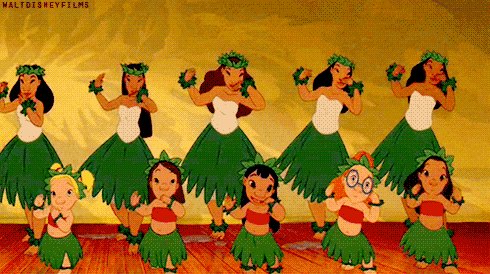 Behind the Making of "He Mele No Lilo" Hula
In order to protect Hawaiian history, the Lilo and Stitch film makers went to Mark Keali'I Ho'Omalu's Halau to capture a traditional hula dance.  When they brought the video back to the studios for the animators, they wanted to make sure that every little detail of the choreographed hula dance was in drawing.  This allows for those watching the movie to see an authentic version of hula, although I'm not sure they had a Stitch hula dancing in the real version.  We'll have to see when the live action Lilo and Stitch comes to Disney+.
Disney Fan Recreates "He Mele No Lilo" Hula
One Disney fan posted a Youtube video recreating this hula.  As the film makers needed to do a lot of research in order to create an accurate account, so did she.  When you watch the animated film, the hula dance is mixed in with shots of Lilo running in late to the Halau.  From the watching the behind the scenes video and her understanding of hula, she recreated and released what she believe is very close to the original.