It can get pretty hard to figure out what to do with your spare-time.
If you are just looking for something to take your mind off of all the stress in your life why not read a book online — whether it is on your laptop or on a Nook.
And if you are not into reading, but you do like listening — you can try an audio book!
Related: Read These Magical Books Before Your Next Disney Vacation!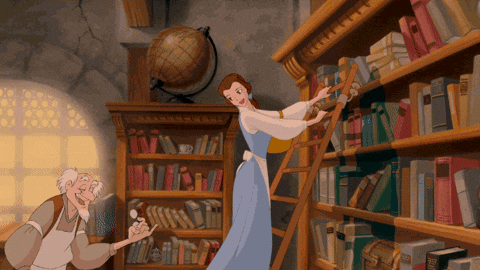 But what makes it even better is if the book is Disney related! Here are some book suggestions for you to dive into the magical world of Disney.
Related: Disney at Home: Add These 6 Disney Coffee Table Books to Your Collection
DisneyWar by James B. Stewart
DisneyWars tells the story of a scandal that drove The Walt Disney Company into civil war and the downfall of former Disney's chairman and CEO, Michael Eisner.
This ebook gives the public access to thousands of pages pf never-before-seen letters, memos, transcripts and documents from Eisner, Roy Disney [Walt Disney's nephew], current and former Disney executives.
A story that might as well have been part of a Disney movie, full of sudden twists, vivid, larger-than-life characters, and thrilling climax. Except for the fact that it's all true.
Available for Kindle and as a Audiobook.
A Mouse Divided: How Ub Iwerks Became Forgotten, and Walt Disney Became Uncle Walt by Jeff Ryan
The story of two friends-turned-rivals, Walt Disney and Ub Iwerks, that invented Mickey Mouse, and how success tore the apart. This is a story of betrayal, love, war, money, power, tragedy, intrigue, humor, despair, and hope, that will make you love and hate both underdogs.
Available for Kindle and as a Audiobook.
Walt Disney: The Triumph of the American Imagination by Neal Gabler
Neal Gabler's book is the result of seven years of research into Walt Disney's life. From childhood to the creation and of The Walt Disney Company, Walt Disney: The Triumph of the American Imagination tells the reader how, despite the worldwide success, Disney struggles with financial problems, suffered a nervous breakdown, and at times retreating into seclusion Disney showed the world how a wish can come true.
Gabler is the first writer to be given complete access to the Disney archives, giving this book a full access to the story of the man behind the Mouse.
Available for Kindle and as a Audiobook.
The Ride of a Lifetime: Lessons Learned From 15 Years as CEO of the Walt Disney Company by Robert Iger
A memoir of Robert Iger, the executive chairman of Disney and CEO for 15 years. In 2005, Iger stepped in during one of The Walt Disney Company's most difficult times.
In The Ride of a Lifetime, Robert Iger shares the lessons he learned while running Disney, and explores the principles for leadership: Optimism, Courage, Decisiveness and Fairness.
Available for Kindle and as a Audiobook.
Magic Journey: My Fantastical Walt Disney Imagineering Career by Kevin P. Rafferty
The forty-year story of Kevin P. Rafferty's career – starting in the dish room at the Plaza Inn in Disneyland to the overseen and creation of some of the Disney Parks attractions like Typhoon Lagoon and Blizzard Beach water parks, Cars Land, Toy Story Mania, Test Track, Tower of Terror, MuppetVision, and many more.
This ebook tells the story of how a young man – who was studying to be a priest – became an Imagineer.
Here are some other books that might interest you as well:
The Unofficial Guide to Walt Disney World 2020
Be Our Guest: Perfecting the Art of Customer Service
Creating Magic: 10 Common Sense Leadership Strategies From a Life at Disney
The Illusion of Life: Disney Animation
Walt Disney's Mickey Mouse — The Ultimate History
Extra Secret Stories of Walt Disney World: Extra Things You Never Knew You Never Knew
One Day At Disney: Meet the People Who Make the Magic Across the Globe
Cleaning the Kingdom: Insider Tales of Keeping Walt's Dream Spotless
Hidden Mickeys: A Field Guide to Walt Disney World's Best Kept Secrets
How to Be Like Walt: Capturing the Disney Magic Every Day of Your Life
I Am Walt Disney
The Art of Disney Costuming: Heroes, Villains, and Spaces Between
Travels With Figment On the Road in Search of Disney Dreams
The Disneyland Railroad: A Complete History in Words and Pictures
So, which ebooks are you interested in reading? Have you read any of these before? Let us know in the comments down below.