Marvel fans, prepare you stomach!  Even if you're not a Marvel fan, prepare your stomach!  Nick Fury says, "I still believe in heroes."  Well, so do I, and it's a food hero named Justin Warner!  This isn't the first we've seen of him either.  On Marvel.com, you can find a digital series Justin Warner did with Marvel named Eat the Universe. Warner is publishing the official Marvel cookbook of the same name that will launch this summer. Here's what we know so far.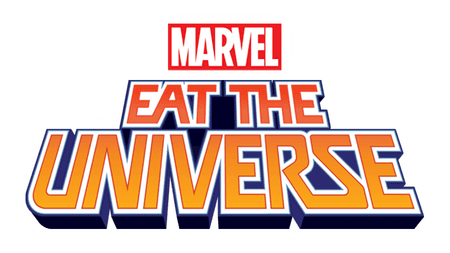 Timing is absolutely spot on with this cookbook dropping on July 28th, 2020 just ten days after Avenger's Campus at Disney California Adventure was originally set to open on July 18th, 2020 in Anaheim, California.  We're not sure if that is still the day that Avenger's Campus will open, but at least we have some other Marvel things to look forward to while we anticipate the arrival of Avenger's Campus.  We don't even need to leave our homes for this one!
With this cookbook, we are transported into the Marvel comic world.  It has sixty recipes that are inspired by Marvel characters throughout the Marvel timeline (Deadpool can be seen on the cover!).  The recipe variety ranges from quick and easy to more of time consuming project, as well, that super hero and villain alike.  Some of the recipes include Phoenix Hot Chicken and Egg Oyakodon, Storm's Tournedos, Dazzler's Glittering Pizza Bagels, Hulk Smashed Potatoes, and Green Goblin Pumpkin Bombs.
One of the most exciting recipes that we're looking forward to trying is the Nova Space-Cop Galaxy Doughnuts.  I mean look at how mesmerizingly galactic these look!
These creative dishes are just incredible which speaks volumes about the cookbook author and celebrity chef Justin Warner.  If you don't know much about him, this Food Network Star has always known for having a very out of the box perspective on cooking with his recipe style and a kid like personality.
This could be such a fun summer activity.  You can leave this Earth and have an immersive experience traveling the Marvel universe.  Try your way though the cookbook, which also features some of the Marvel comics, while you watch the Marvel movies in chronological order.  Once you've done that, you can have a family debate on which Marvel movies are the best!