What if I told you that the Walt Disney Studios we know today exists because of Cinderella? Yes, "it was all started by a mouse." Yes, Snow White was a game-changing production. But 70 years ago today, Walt Disney once again found himself betting his studio's future on another angelic princess. That princess was Cinderella. 
The Bombs of WWII
Snow White and the Seven Dwarfs was celebrated as a major artistic achievement and earned tremendous success. But many in Hollywood saw the feature-length animated feature as a stunt. Walt received a special achievement award from the Oscars rather than any real nominations. But now it was up to Walt and his studios to prove a feature-length cartoon was more than just a stunt. Unfortunately, he did not get a fair chance to do so.
World War II broke out at the same time Disney planned to release its second picture, Pinocchio. The lack of European revenue caused the picture to bomb. Then came Fantasia which could only be played in certain cinemas. That bombed. Then Disney slashed its budget by 66% and produced Dumbo. That film managed to break even. But still didn't make much.
Building Back Up
Walt had Cinderella in the pipeline a lot earlier. But the struggles after Pinocchio left his second princess on the shelf. His studio began to climb back up with the minorly successful release of Bambi, and they were able to raise the funds needed to make Cinderella with the minor success of Saludos Amigos (1943), The Three Caballeros (1945), Make Mine Music (1946), Fun and Fancy Free (1947), Melody Time (1948), and The Adventures of Ichabod and Mr. Toad (1949). 
Finally, Walt had enough cash to make his second princess picture.
Related: Disney is Serving a Cinderella Dole Whip – But Only for a Limited Time!
Bibbidi Bobbidi Boo!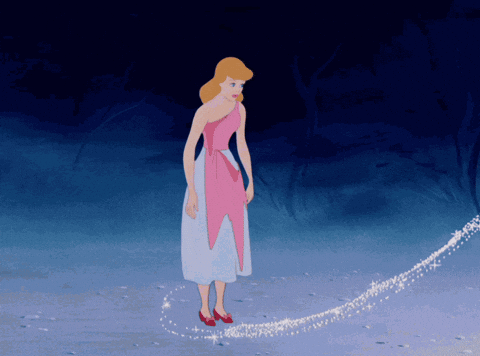 Walt Disney's Cinderella opened in theaters and was a massive hit. Earning more than Disney's past three feature-length films combined, it was the third biggest hit of 1950 following King Solomon's Mines and All About Eve. 
Disney took those profits and put them to use, producing arguably its most successful stretch of animated films outside of the Disney Renaissance: Alice in Wonderland, Peter Pan, Lady and the Tramp, Sleeping Beauty. Walt was then able to ride that successful streak to begin creating his theme park, Disneyland, which opened in 1955.
Cinderella also solidified the success of "the Disney formula" the studio returned to for "The Disney Renaissance" which began with The Little Mermaid and gave moviegoers Aladdin, Beauty and the Beast, Hercules, Mulan, Pocahontas, and others.
But even though Disney has moved on to create even more successful films, Cinderella remains one of the most popular and prominent Disney films. And the Walt Disney Company has never forgotten the impact one little princess continues to have on their brand.
It was only fitting that Walt's brother Roy chose to put Cinderella's Castle as the centerpiece of Walt Disney World. Because without her, none of this–the Disney World we know today–would have been possible.
Related: Contest Alert! Enter to Win a Night in the Cinderella Castle Suite
Where does Walt Disney's Cinderella rank among your favorite Disney films? Let us know in the comments!