Coming out of a rare weekend with no special events to cover, it's time for another ParkSpotting adventure!
Our last was from the Disneyland Resort. Today's photo tour takes a trip through the Magic Kingdom at Walt Disney World, noting ongoing changes, updates, and a few fun moments.
Easter is on the way, so Mr. and Mrs. Easter Bunny are now meeting and greeting with guests near City Hall, giving out free Peeps to those who see them.
The much talked-about repainting of the turrets on Cinderella Castle has completed. No, they're not silver as they appeared to be for a while. That shiny undercoat allows them to shine in the sunlight, as they do now, back to their traditional blue color.
Construction is well underway on the Central Plaza transformation project, with walls blocking large areas around the Hub.


Fortunately, Disney's artists find ways of making these construction walls interesting, adding plenty of characters to them.
The moats surrounding Cinderella Castle were drained for a while as part of the project, but were being refilled over the weekend.
But the old Swan Boat dock has become a casualty of the project, completely gone from the park, now replaced by a flat, freshly-mulched area just beyond the rose garden.
Ducks continue to waddle through the park, with one young new addition receiving a double Cast Member escort.
The new Festival of Fantasy parade is delighting guests twice a day during the busy Easter week. The FastPass+ viewing area is a great place to watch from, allowing ample room to spread out without having to stake out a spot in advance. Located around half of the Hub facing Cinderella Castle, it's a perfect way to follow favorite floats to watch them more closely after they arrive from Liberty Square.
The fan favorite parts of the parade that draw the most excitement are still those moments of fire and ice: Maleficent and Frozen. Screams come from the crowd as guests spot Anna, Elsa, and Olaf while "oohs" and "aahs" are heard whenever the giant dragon spits fire.
And after the parade passes, it's fun to turn around and see the unusual sight of the dragon casually meandering amongst the crowd down Main Street USA.
FastPass+ is certainly handy to snag that prime parade viewing spot without waiting and though MagicBands are not required to use it, they are prominently featured and on sale throughout the park along with accessories. A lot of guests seemed to just be using their RFID-enabled tickets though – which is how I use the system. On hot days, wearing a rubber wristband isn't exactly comfortable.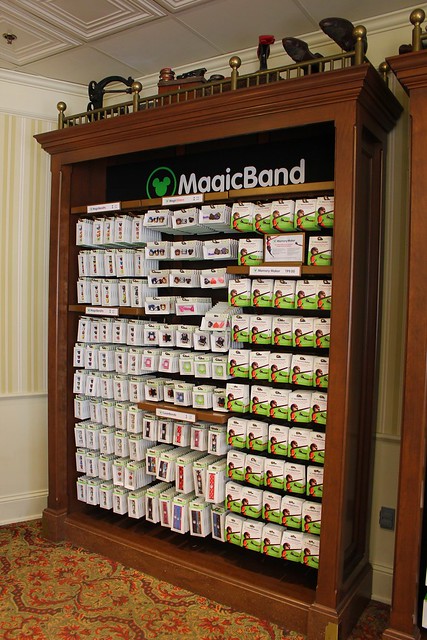 Since Disney currently limits each guest's daily allotment of FastPass+ selections to just 3, the many available kiosks become fairly empty as the day goes on, since no one has any use for them after using up their choices. Soon, however, Disney will allow repeat visits to these kiosks to schedule more FastPass+ selections once the initial 3 are used.
That will certainly come in handy for the Seven Dwarfs Mine Train when it officially opens in early May. Though some workers have been spotted riding the new roller coaster, no guests have ridden it yet. And it's clearly not quite ready, with scaffolding, extension cords, and other signs of construction still present. But it's close.
A peek beyond the construction walls offers glimpses at the Dwarfs' cottage and vultures overhead.
On the backside of the Mine Train mountain lies a Disney Vacation Club sales area themed to The Little Mermaid, opposite Ariel's ride. This location was once planned to be a merchandise store but ultimately became timeshare sales instead. At least it's well themed.
Close encounters with unusual characters can often be found in the parks. Meeting Cinderella's wretched stepsisters was a highlight of one young girl's day while a female clown from the Giggle Gang somehow reminded me of Kristen Wiig.
Over in Tomorrowland, the thumping sounds of dance music ringing out means it's time for the #IncrediblesSuperDanceParty. (Yes, the official name is a hashtag.) It features Mr. and Mrs. Incredible along with Frozone dancing to pop hits.
Nearby, one custodial Cast Member was making a few magical moments in Cosmic Ray's Starlight Cafe by way of soap art.
In Liberty Square, it was clear that the beginning of Easter week was already bringing bigger crowds as the Haunted Mansion consistently had upwards of a 40-minute posted wait time. The installation of FastPass+ into this attraction brought a reworking of the iconic entrance gates, pushing the plaques to the outside in favor of a more prominent entrance for those who schedule a time to skip the line. (It is a handy feature to have.)
Finally, the nearby Sleepy Hollow counter service eatery dishes out one of the park's best lunch offerings in waffle sandwiches. This sweet and spicy chicken sandwich lives up to both of the adjectives in its name. Other options include ham, prosciutto and cheese, as well as a Nutella-filled dessert version.
That's all for this edition of ParkSpotting. More to come – here and there!
(I really need to do these more often, right?)