Ever wish you could go back and ride your favorite extinct Disney attractions? For those Disney fans that loved the 20,000 Leagues Under the Sea attraction, there's still hope! Thanks to Defunctland's virtual reality project, you can now hop back onto the Nautilus submarine ship and sail with Captain Nemo and the crew.
Ride Disney World's 20,000 Leagues Under the Sea Attraction
VR (virtual reality) has been an up-and-coming entertainment form for a few years. Thanks to systems like the Facebook Oculus, Vive, and Index, a YouTube page hosted by Defunctland shares a virtual reality experience for 20,000 League lovers.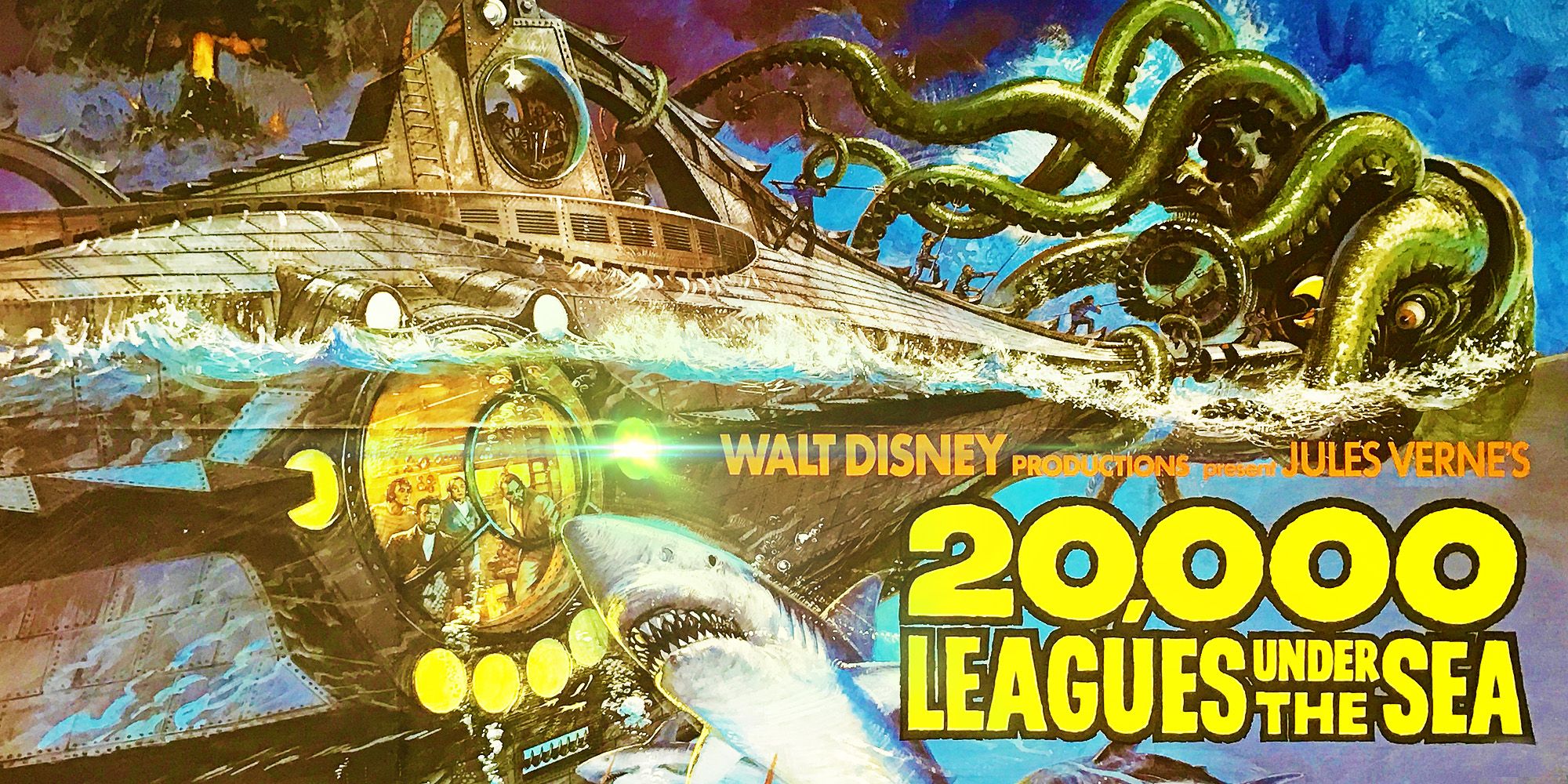 An entire YouTube series hosted and created by Kevin Perjurer takes a look at extinct Theme Park attractions like JAWS the Ride, ExtraTERRORestrial: Alien Encounter, Back to the Future, Captain EO, and more. Each episode of the Defunctland series is a history and Imagineering mashup, creating a digital Theme Park out of beloved attractions that once were. Even Disney Hollywood Studios' Sorcerer Hat gets a VR experience.
After expressing the want to create a digital experience for users, a few volunteers experienced in virtual reality reached out to Perjurer and the two VR videos were born. This particular attraction video follows Disney World's Magic Kingdom attraction 20,000 Leagues Under the Sea, which operated from 1971 to 1994.
The video "was created in the Unreal Engine by a team of volunteers, using old camera footage from the 1980s and 90s as reference. The VR experience isn't just a resurrection for resurrection's sake – it's a preservation effort. When Theme Park attractions shut down, they're basically lost forever." What's amazing is that you can see all through the ship as well as left and right through the experience by toggling the upper left keypad. (Remember the giant squid tentacles?)
The video on Defunctland's YouTube Page is about 14 minutes long and offers nostalgic looks at our favorite submarine voyage attraction through some interactive means. The caption reads,
Defunctland VR is a non-profit, volunteer-run preservation/passion project. If you would like to join the team, please email us at defunctlandvrteam@gmail.com.

Link to Download Build (.exe): https://bit.ly/392VIRX Build includes a VR and Non-VR version. The VR version is compatible with Oculus, Vive, and Index. Oculus Quest with the link cable. This project contains certain copyrighted works that we believe in good faith are protected by federal law and the "fair use" doctrine for the purposes of research, preservation, and education.

[…]Donate on Patreon: https://patreon.com/defunctland For more great content, visit defunctland.com
Wasn't that so much fun? Disney fans that were able to ride this attraction in the early years of the Park will feel a pang of adventure and remembrance, while younger fans that may not have made it to the Theme Park in time will be able to get a real feel of what it was like to board the Nautilus and experience Disney's 20,000 Leagues Under the Sea attraction.
20,000 Leagues Under the Sea TV Show: Nautilus
If that wasn't enough undersea adventure for you, you'll be happy to know that Disney+ has ordered a ten-episode series adaptation of Jules Verne's science fiction tale, 20,000 Leagues Under The Sea, which will tell the origin story of the mysterious Captain Nemo and his famous undersea ship.
The 10-part live-action series will be based on the 1872 novel that inspired the attraction and Walt Disney Productions film, 20,000 Leagues Under The Sea (1954, starring Kirk Douglas and directed by Richard Fleischer).
The U.S. Government assembles a team to find and destroy a "sea monster" that's been terrorizing the waters, only to find that it's actually a high-tech submarine captained by the mysterious East Indian scientist, Captain Nemo. He has been exiled to sea in his vessel and dedicated to scientific research. Will Nemo be involved with the Disney SEA Society? We're excited to review the upcoming series.
What did you think about getting another chance to ride Disney World's 20,000 Leagues Under the Sea Again? Leave us a comment below!