Two things definitely don't go together: Disney and David Fincher. Nonetheless, the House Mouse just snuck a sneaky reference to one of the most hailed movies of all time in their new series on Disney+.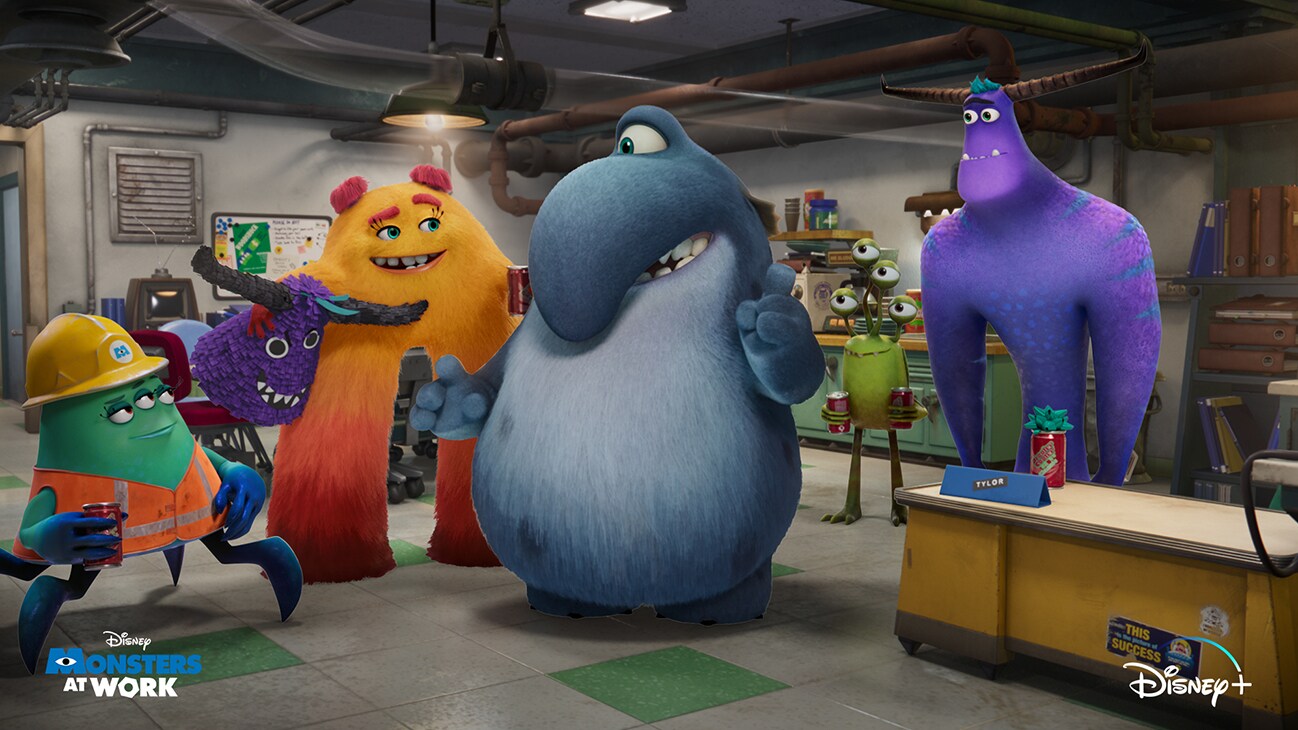 Related: Watch a Hilarious Deleted Scene from 'Monsters at Work'!
Monsters At Work, an original series on Disney+, is one of the newest shows Disney and Pixar fans are enjoying on the insanely popular streaming platform. Following the adventures of a new "scarer" Tylor Tuskmon (Ben Feldman) at Monsters, Inc., the 10-episode series features a slew of brand new characters, as well as Monsters, Inc. (2001) stars Mike Wazowski (Billy Crystal) and James P. Sullivan AKA Sulley (John Goodman).
Amazingly enough, rather than recasting Mike and Sulley or omitting the legendary Pixar characters from Monsters Inc., most of the original cast and crew, including Jennifer Tilly as Mike's girlfriend Celia, has returned for this new Disney+ series.
Now, when it comes to watching Disney shows — especially shows that are aimed toward families — you don't expect many pop culture references, especially one to Fight Club (1999).
Related: How to Watch 'Monsters, Inc.' Sequel Series 'Monsters at Work'
Yes, we've broken the first rule, so don't tell Tyler Durden (Brad Pitt/Edward Norton).
Director David Fincher's Fight Club was a sleeper hit at box offices at the end of the 20th century. Slowly gaining a cult following, the bizarre movie is now hailed as one of the greatest examples of cinema in history. With an 8.8/rating on IMDb from over 1.9 million voters (sitting right behind The Lord of the Rings, The Godfather, and The Shawshank Redemption in movie ratings), Fight Club reigns in film study courses and 'Top 10″ watch lists across the internet.
Here's an official synopsis of Fight Club:
A depressed man (Edward Norton) suffering from insomnia meets a strange soap salesman named Tyler Durden (Brad Pitt) and soon finds himself living in his squalid house after his perfect apartment is destroyed. The two bored men form an underground club with strict rules and fight other men who are fed up with their mundane lives. Their perfect partnership frays when Marla (Helena Bonham Carter), a fellow support group crasher, attracts Tyler's attention.
In episode four of Monsters at Work, "The Big Wazowskis," (a reference to the Coen Brother's The Big Lebowski), Tylor and his fellow MIFT co-worker Duncan (Lucas Neff) meet in a small and secluded room in the underbelly of Monsters, Inc.
There, Duncan confronts Tylor on his bowling team dilemma, as Tuskman wishes to impress Mike with his "all-star" bowling team for the annual Mosnters, Inc. bolwing tournament. Duncan offers Tylor a new team, but only under the strict rules of a binding contract.
In the background of the scene, however, you can see a very small piece of paper reading "Fright Club" with two boxing gloves under the title.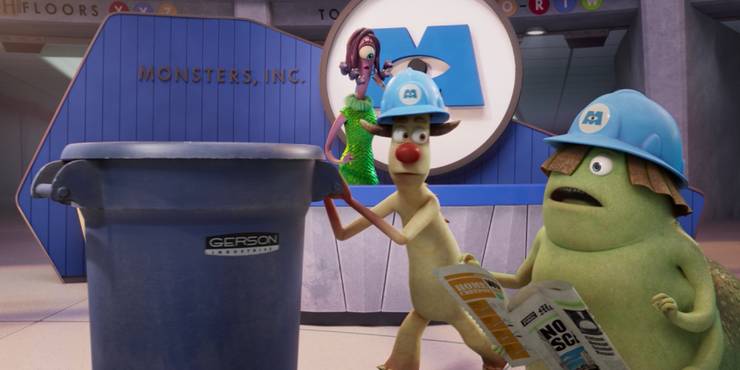 Related: How Woody Almost Destroyed Pixar Before 'Toy Story' Came Out
It's not much of a reference until fan-favorites Needleman and Smitty (Daniel Gerson) burst into the secret room asking for their room back with Smitty saying, "Oh, but we have Fright Club in here."
Needleman cuts off his voice-cracking friend by yelling, "Don't tell him that! Did you forget the first rule of Fright Club?"
In the words of Tyler Durden, "The first rule of Fight Club is: You do not talk about Fight Club. The second rule of Fight Club is: You do not talk about Fight Club."
Just like "F**** C***" you don't talk about "Fright Club" in the Monsters world. If you are to break this rule, let's just say things aren't that funny.
Funny enough, the two main characters of the movie and Disney+ series are named Tyler.
Currently sitting at a 7.2/10 on IMDb, Monsters at Work is fairing quite well with critics and fans alike. Of course, the show isn't on par with the previous animated films that inspired the spinoff series when it comes to computer animation, but nonetheless, it's an enjoyable watch for all Disney/Pixar fans alike.