'Tis the season to be jolly — and cozy up by the fire with our favorite holiday and wintertime cocktails!
This year, why not drink your way into the Christmas spirit with these three Disney-inspired cocktails presented by yours truly?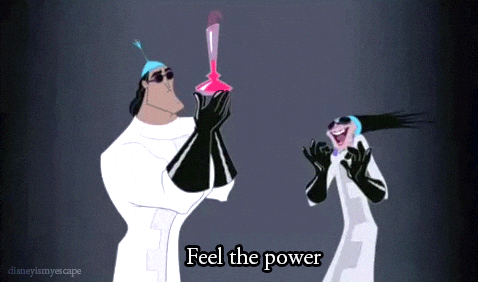 These special holiday Disney cocktails are a bit of a departure from spiked dole whip and other drinks you can find in Disney Springs, Trader Sam's Grog Grotto, and elsewhere around Disney World and Disneyland, but still bring out the special holiday magic only Disney can provide.
Oaken's Frozen-tini
Let's start off with Oaken's Frozen-tini. This blue drink has just the right amount of chilling winter magic needed to melt a frozen heart. Vodka-based, topped with fresh cinnamon, the Frozen-tini is a creamy treat with hints of orange and cinnamon fit for any occasion.
Recipe: 
Pour equal parts whipped cream vodka, RumChata, and blue curacao in a cocktail shaker.
Shake over ice while singing the chorus to "Show Yourself."
Pour into a martini glass, garnish with dashes of ground cinnamon, and enjoy.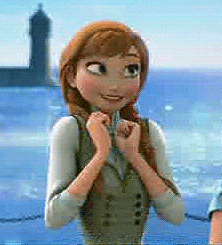 (Take away the cinnamon, and this drink could also pass for the blue milk from Star Wars: Galaxy's Edge)
The Mad [Holiday] Tea Party
What happens when Captain Jack Sparrow and Winnie the Pooh show up to the Mad Hatter and March Hare's holiday tea party? You get this delicious drink.  The Mad [Holiday] Tea Party takes the madness–and the classic cocktail "Hot Toddy"–to a whole new level.
Recipe
While the water for the tea is heating to a boil, take your teacup and add the following:
Once ready, pour the hot water over the mixture, stir thoroughly with the candy cane, and enjoy!

Add an optional cinnamon stick if you want.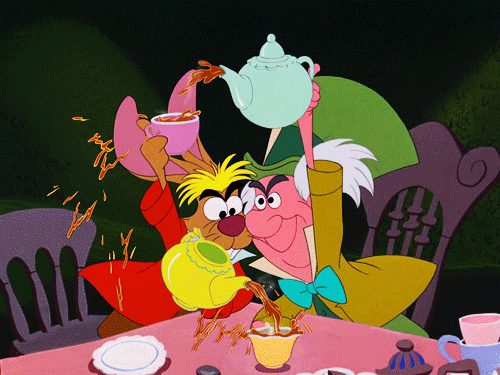 Related: 3 Last Minute Budget Friendly Disney Holiday Gifts!
Don't ask me how, but I got it. I'm not proud of it. A very talented, up-and-coming reindeer may be out of the job, and I'm almost certain I'm on the naughty list for life. But, I can now share with you the secret hot cocoa recipe crafted by Judy the Elf for Santa Claus himself (formerly Scott Calvin), and that makes it all worth it!
So, here it is, the recipe 1,200 years in the making. "Not too hot. Extra chocolaty. Shaken not stirred." See Disney's The Santa Clause on Disney+ for reference.
Recipe
Begin by heating your milk of choice over the stove.

Mine was Silk's vanilla-flavored almond milk and I highly recommend it.

 Add 1 pack of cocoa mix 3 oz of whipped cream vodka into a cocktail shaker.

marshmallow mix also acceptable.
add actual whipped cream for a non-alcoholic version.

Add heated milk into the shaker, seal it, and shake the mixture to the rhythm of "Jingle Bells."

WARNING: the metal shaker will absorb the heat of the milk inside. I highly suggest utilizing a towel to protect your hands.

Pour shaken mixture into your favorite holiday cocoa mug over a candy cane, and enjoy!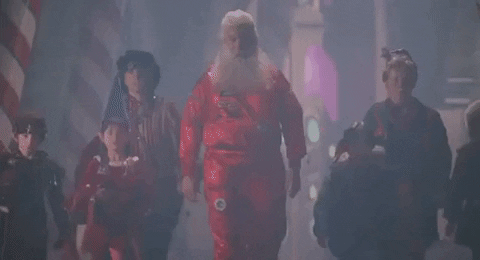 Despite everything that's happened this year, my Christmas wish is that all who read this will still find a way to feel the warmth of some Disney holiday magic, and I hope that these delicious drinks help make that happen.
As always, please drink responsibly, and NEVER drink and drive.
Cheers and Happy Holidays!