Where you are a cat mom or dad, an animal lover, or just a Disney fan you probably have watched Disney's 1971 animated film The Aristocats!  The movie tells the story of a lost cat family looking for their way bdack home, and it is just adorable and fun to watch. It is also almost impossible to think of Aristocats without starting to sing "Everybody Wants to Be a Cat."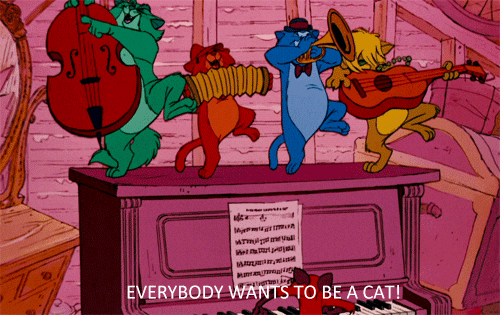 The feline animation is apparently not only appealing to humans — but real-life cats too! One cat on TikTok has a special fascination with the classic Walt Disney Animation Studios film.
Related: Real-Life 'Aristocats': Kittens Named After Disney Characters
A TikTok user named @stressed.writer showed that her cat, Gatsby, is obsessed with watching The Aristocats! During the video, she films her cat one-hundred percent concentrated on watching his favorite Disney cat movie, while she tells the people watching about Gatsby's compulsive need for the movie.
I wanted to watch Tangled today, once I got out Disney+ and put my laptop down, this little man here (Gatsby) decided to start screaming at me until I turned on Aristocats. This is the seventh time he has watched Aristocats! He watched it two times yesterday. He gets upset when the movie pauses or glitches or ends."
Related: Disneyland Cats: The Feral Cats Who Live in the Park 
Such a puzzling and funny attitude from little Gatsby, don't you think?
The video has over 1.2 million hearts and was shared over 46.8 thousand times! However, another interesting detail about @stressed.writer's video is that the audio talking about her cat has been used in other 144 videos.
These other videos using @stressed.writer's audio are a mixture of other people filming their feline friends watching Aristocats and social media users reacting to the feline phenomenon.
If you listen to the video until the end, you will see that stressed.writer's TikTok video goes on to ask vets and cat specialists to help her understand Gatsby's odd, but adorable, behavior.
"And vets, or like, cat experts want to duet this and tell me why he likes Aristocats so much? Can he understand it? Does he get that there are cats on the screen? Does he like the colors? Why does my cat like Aristocats so much? Gatsby, why do you like this movie so much? He doesn't do this with any other TV show or movie, just with this one. And he will yell at me to turn it on. Why does he like it so much?"

Related: VIDEO: Stray Cats Spotted at EPCOT
Her questions were answered by a vet, @_andrewwoods_ , on TikTok who created the response:
In his video, Dr. Andrew makes two points as to why Gatsby probably loves to watch The Aristocats so much:
"Cats typically watch the TV for two reasons:
Movement on the screen turns on their prey drive

Whatever is on the screen can be entertaining to the cat"
The best part of the reply is when Dr. Andrew shows his own cat watching Aristocats and enjoying it as well!
After all the responses and duet from the TikTok community,
If you click here, you can go watch all the other videos that use @stressed.writer's audio on TikTok. The original poster did another video saying that she got her answers.
What did you think of Gatsby's obsession with Aristocats? Do you have a theory that would explain why cats are drawn to this Disney animation? If you have a cat, does it like to watch anything in specific? Let us know in the comments below.