Walt Disney World Resort Guests got an extra adorable experience this week at EPCOT. Whether they were brave enough to take on a mission to Mars, Guests standing in Future World were greeted with the rare sight of some of Disney World's feral cats.
Videos from Twitter user @TPUJosh show at least three cats walking across the top of the Mission: SPACE Cargo Bay in Future World.
Check them out:
Cats… in… space! (Part 1) pic.twitter.com/KKKaGj0pX4

— TPU (@TPUJosh) September 3, 2020
— TPU (@TPUJosh) September 3, 2020
— TPU (@TPUJosh) September 3, 2020
Outside of a Character Meet and Greet with Marie, it is very uncommon to come across such adorable creatures of the feline variety at the Walt Disney World Resort. Most of the time, Guests will be greeted by very polite Disney World ducks, overly courageous squirrels, shy bunnies, and of course plenty of birds.
It appears that these kitties are sticking together as one group and using the roof of the Mission: SPACE gift shop to go from one point to another. Where they came from or where they are going remains a mystery.
From their behavior, the three cats appear to be a more confident, watchful mama (the white and brown one) and her two understandably-skittish kittens: one that's black and white, and another that's all-black and is giving off major Berlioz vibes.
Perhaps, like the ducks, these cats have become ever more courageous in their theme park strolls during the multi-month park closure. Let's just hope they don't scare away Remy! His ride is not even done yet!
But at the Disneyland Resort in Anaheim, California, it is a different story. A feral colony of over 200 are known to inhabit the property. First being discovered by Walt Disney himself inside Sleeping Beauty Castle they cats were adopted by Disney, they are watched over constantly by Cast Member and Guest alike and are employed Cast Members to tend to the pest control.
Read More: Disneyland, The Happiest Place on Earth For.. Cats?
Disneyland cats enjoy a level of celebrity fitting a true Aristocat. But there is no such popular love for their Central Florida cousins. One can only hope that these videos spark a new interest in these new-found Disney cats.
After all,
"Everybody wants to be a cat, 

because a cat's the only cat 

who knows where it's at. 

Everybody's pickin' up on that feline beat, 

'cause everything else is obsolete."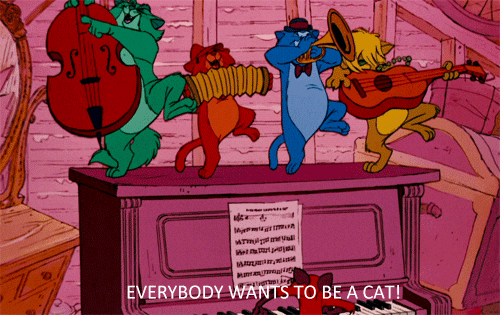 Have you ever seen feral cats while you were visiting the Walt Disney World Resort? Please feel free to share your pictures and stories in the comments for the chance to be featured in a follow-up story!