The annual Candlelight Processional at Disneyland Resort has officially been canceled.
Because it is currently unclear when Disneyland and Disney California Adventure will reopen, Disney has had to cancel the Candlelight Processional, an event that takes months of planning ahead of time. This doesn't mean that there will be no holiday season at Disneyland — Disney has confirmed that, should the theme parks reopen in time, Disneyland and Disney California Adventure will be decked out for the holidays. But when it comes to an event like the Candlelight Processional, that cannot take place this year.
The news, announced by OC Register who confirmed it with Disney officials, was shared just one day after Walt Disney World Resort confirmed that the 2020 Candlelight Processional at EPCOT would be canceled, as well.
Disneyland is disappointed that event attendees, choir members and cast members unfortunately will be unable to gather in this way in this unprecedented environment, according to Disney officials.

Disneyland was unable to commit to the monthslong planning process for the Candlelight Processional without a clear understanding of when theme parks can reopen from the State of California, according to Disney officials.
If you are unfamilar, the Candlelight Processional is a holiday tradition at Disney Parks. A variation of the event took place during the Christmas season shortly after Disneyland opened in 1955, and it is known as one of the oldest traditions in the 65-year history of Walt's original theme park. Since the first holiday carolers sang at Disneyland in 1955, the Candlelight Processional has grown to become one of the most widely-attended and anticipated events in the theme park's history. And once Magic Kingdom opened in 1971, the event began taking place at Walt Disney World, as well.
During this separate ticketed event, performers (and often a celebrity narrator) share a 45-minute musical tribute to the Christmas story from the New Testament of the Bible. And while this may be the most religious event that takes place on Disneyland Resort property, it welcomes fans from all ages and walks of life to celebrate in the spirit of the holiday season.
The image below shows the Candlelight Processional in a 1976 performance: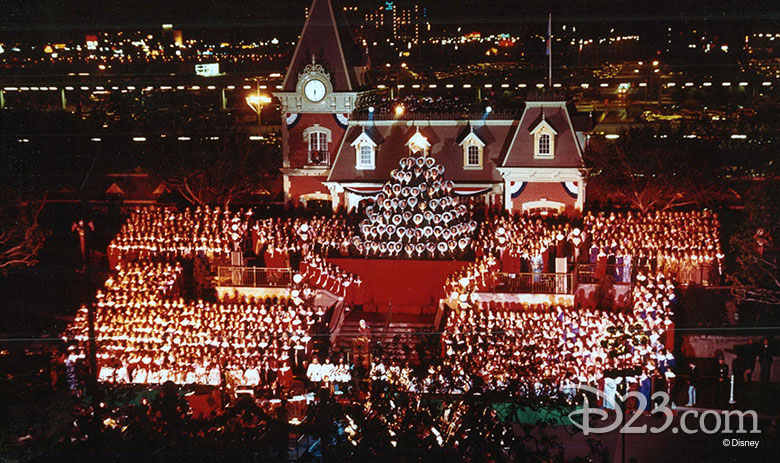 To get a better idea of this holiday tradition, watch the video below, which shows Chris Hemsworth at the 2017 Candlelight Processional at the Happiest Place on Earth:
We continue to wait for more news regarding the holidays at Disneyland and Disney California Adventure, and we recent reached out to Disney officials for information regarding whether the southern California Disney Parks would be decorating for Christmas this year.
More news on holidays at Disneyland Resort as soon as we receive it.