Ask an 90s Disney fan and you'll get an EARFFUL from them about when MGM Studios opened in 1989. Disney's Hollywood Studios' longstanding park icon was the Earfful Tower on the backlot; a white water tower wearing a Mickey Mouse ears hat topper. The tower, often misspelled "Earful," was taken down in 2016 to facilitate the building of Toy Story Land, but we still hold it very dear to our hearts. Relive the good old days of the backlots with the whimsical Earfful Tower Planter in your home!
Earfful Tower Planter
Standing on a white square base, the Earrful Tower planter raises high on five legs to a very well proportioned (nearly exact replica) water tower with classic Mickey ears on top. Toss either a real succulent in the planter to bring not only live greenery to your home but also remembrance for a beloved Orlando park icon. (Internationally knowledgeable readers may know that an Earfful Tower still stands in Paris at Walt Disney Studios Park.) Gardeners with a black thumb can easily "grow" faux plants or flowers for personal magic!
Often advertising sales in Instagram Posts, Galactic Garden Arts showed followers a sneak peek of the Earful Tower planter in a post, saying,
"*SOLD OUT !*Can't go to the Studios? Bring the studios to you !! ? ⭐️Tonight at 6 PM EST we will be back open for orders of our Water Tower Planters ?? The link to our shop is in our profile. We are a TWO person small shop ??‍♀️??‍♂️and 3-D print and ship all orders personally, so quantities are limited, once we reach our cap will be sold out for this round.Don't forget to set your alarm ! ? THANK YOU for your support as always! ❤️"
Inventory from this shop is small since it is run by only two people with full-time jobs. When passions become business, it's hard to keep up, but you can follow them for advertised shop openings and restock alerts. And if you happen to be more of an EPCOT Center Disney fan, you can thank the Phoenicians. There are Disney theme park Spaceship Earth planters in several sizes from both Galactic Garden Arts as well as on Etsy from SteevilLabs.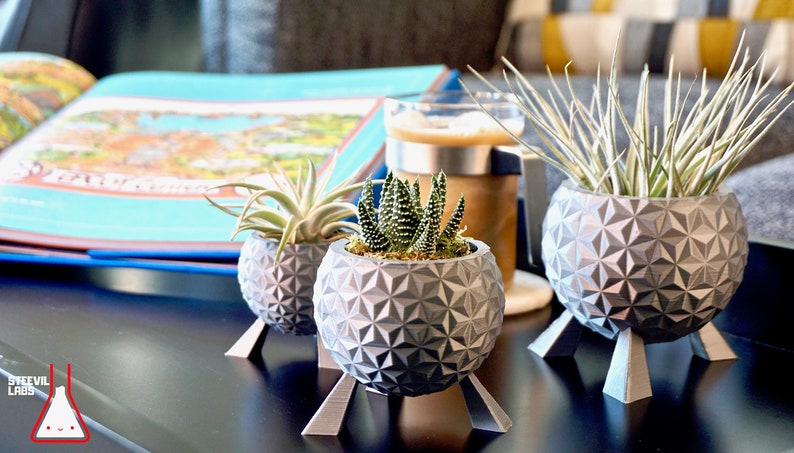 For those using the Force to craft their native plants can channel the Star Tours ride with teeny Star Wars planter heads. Chewy, Porgs, Jabba and Leia bring whimsical plantings inside with air plants and sweet pop culture characters. They almost resemble Pop Funko toys!
If you're crafty, you can take on this easy Mickey Ice Cream succulent planter to keep cool on warm days. A couple of wooden discs and some paint turn heads and tastebuds alike.
Now if only these companies would indulge our wish for a Sorcerer's Hat that stood in front of Grauman's Chinese Theater entrance!? Or perhaps a beautiful Gertie standing beside Echo Lake? As Disney guests that have adored the Studio-centered park for years, these craft additions would be much loved!
What sort of greenery will you plant in the Earfful Tower planter? Leave us a comment below!